The Brief: May 11, 2015
The news organization Breitbart Texas confirmed that it has received footage of lawmakers shot by a nonprofit tied to conservative causes, but it has no plans to release any of it before the end of the legislative session in three weeks.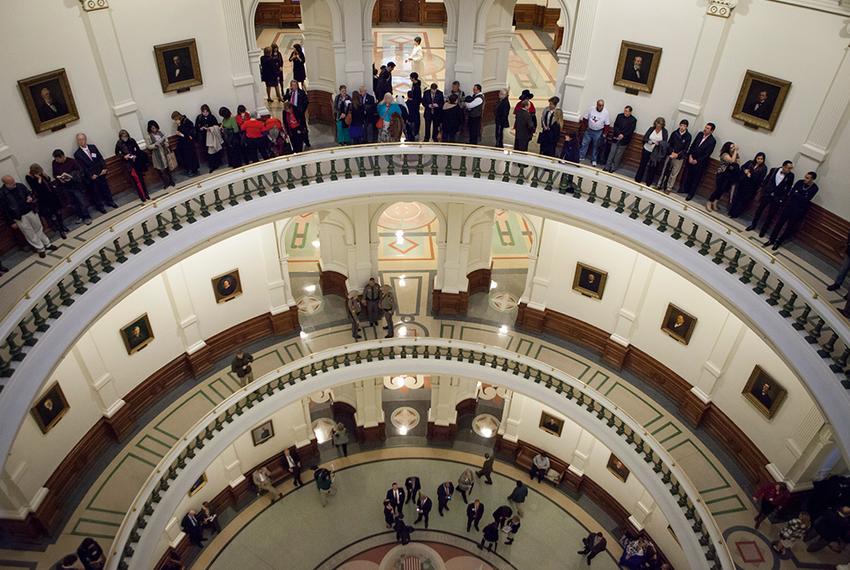 The Big Conversation
The news organization Breitbart Texas confirmed on Sunday to the Tribune that it has received a copy of the footage of lawmakers shot by a nonprofit tied to conservative causes. But Breitbart Texas has no plans to release any of the footage before the end of the legislative session in three weeks.
Managing Director Brandon Darby told the Tribune's Terri Langford that "he, his fellow Breitbart Texas staffers and their legal team have to go through all of it first. 'I don't really think that something like this coming out during the ending of the legislative session is helpful to the state at all.'"
The work of the videographers caused a stir last week after several lawmakers told reporters that they were confronted at the Capitol and, in the case of one lawmaker, at dinner with his wife. On Friday, one of those videographers had the tables turned on him by a pair of lobbyists.
Joseph Basel, president of the American Phoenix Foundation, told Langford the plan is "to give entire copies of archives to other trusted media outlets in the future after the project comes to completion" and the group is seeking to highlight lawmakers' behavior while in Austin.
Darby said he's seen just a fraction of the 800 hours of video made by the group but he signaled interest in what he saw. "Some of it is very newsworthy," he said.
Trib Must-Reads
Sylvester Turner's Exit Leaves Void for Democrats, by Alexa Ura — During a quarter century in the House, Rep. Sylvester Turner gained influence as his party lost power by learning the rules and working with Republicans. As the chamber's Democratic pillar leaves to chase the Houston mayor's post one more time, many wonder who will step up in his place.
Slideshow: Prisoners Become Preachers, Seek Redemption, by Marjorie Kamys Cotera and Jim Malewitz — The inmates received their bachelor's degrees in biblical studies, marking their completion of a four-year program aiming to reform the nation's biggest prison system by softening the hearts of the hardened criminals inside.
Reveal Radio: "Cop Watchers" Police the Police, by Neena Satija — Most of the high-profile cases of alleged police abuse today are caught on tape by people who happen to be walking by. But there's also an organized movement of "cop watchers" who consider it their jobs to police the police.
Texas a Flashpoint in Debate Over Right to Film Police, by Neena Satija — As videos play an ever larger role in cases of alleged police brutality, "cop watching" is attracting organized activists in communities across the country. Clashes with police are inevitable, and now both sides are asking lawmakers to help clarify the ground rules.
2 Advance to Runoff in San Antonio Mayoral Race, by Patrick Svitek — San Antonio Mayor Ivy Taylor and former state Sen. Leticia Van de Putte are expected to advance to a runoff in the race for the city's top job.
Perry, Cruz Make Their Mark at South Carolina Forum, by Abby Livingston — Speaking at a presidential contender forum, U.S. Sen. Ted Cruz and former Gov. Rick Perry took on issues like foreign policy and religious freedom laws, and they both remembered a certain Alamo commander and South Carolina native.
Spotlight Finds Abbott, and It's Not Flattering, by Jay Root — With one letter that he says the media mischaracterized, Gov. Greg Abbott drew a national spotlight, riling up fellow Republicans, national pundits and pro-military friends. But that doesn't mean questioning Jade Helm was a mistake.
Texas House Again Takes Aim at Denton's Fracking Ban, by Jim Malewitz — Four days after the Senate approved landmark legislation that would pre-empt local control over a variety of oil and gas activities, the Texas House advanced another response to Denton's vote to ban hydraulic fracturing.
Wendy Davis Fined $5,000 for Ethics Violation, by Terri Langford — The Texas Ethics Commission has fined former state Sen. Wendy Davis $5,000 after finding "credible evidence" she failed to disclose her relationship with two lobbyists on financial disclosure forms filed during her 2012 re-election campaign.
The Day Ahead
• The House convenes at 10 a.m.; the Senate convenes at 11 a.m.
Elsewhere
In Jade Helm operation, Texas gives early lessons on the 'human domain', Austin American-Statesman
Van de Putte, Taylor begin runoff campaigns, San Antonio Express-News
Williams ready to lead as Arlington's new mayor, Fort Worth Star-Telegram
In crowded field, Perry turns to national security, foreign policy, Houston Chronicle
Huffines jabs back at Dallas-area mayors over local control concerns, The Dallas Morning News
Fikac: Ahead for property-tax break: one tough House hearing, San Antonio Express-News
New call-in line helps business leaders shape Texas laws, The Associated Press
Seniors at risk of not graduating await new law, Houston Chronicle
Fast-growing school districts fear double whammy in Texas House, The Dallas Morning News
Bill to end deadly shootings of dogs heads to governor's desk, Fort Worth Star-Telegram
Tips for wading through Texas Capitol swirl, San Angelo Standard-Times
Quote to Note
"The way it's been playing out is that this place has lost its rocks or something. People aren't crazy around here. People have just been through a lot."
— Mizzy Zdroj, arguing the effects of the devastating 2011 wildfires must be considered when looking at Bastrop residents' reaction to the planned Jade Helm 15 military exercise
Today in TribTalk
Hailstorm lawsuits are threatening Texas homeowners, by Julian Alvarez and Abraham Padron — The Legislature can't stop thunderstorms from hitting Texas, but it can do something about the lawsuit storm that now follows them.
Trib Events for the Calendar
• A Conversation With Rep. Dennis Bonnen on May 13 at The Austin Club
• How'd the House Do? A Conversation About the 84th Legislative Session on May 21 at The Austin Club
• How'd the Senate Do? A Conversation About the 84th Legislative Session on May 28 at The Austin Club
• A Conversation About Texas Monthly's Best and Worst Legislators 2015 on June 18 at The Austin Club
Your New Year's resolution list isn't complete without …
… supporting the Tribune. This new year, resolve to do your part to sustain trusted journalism in Texas. Join thousands of readers who power The Texas Tribune's nonprofit newsroom.
Donate now