Cruz, Perry Take Different Approaches to Targeting Hillary Clinton
While U.S. Sen. Ted Cruz and former Texas Gov. Rick Perry unsurprisingly agree former Secretary of State Hillary Clinton would make a bad president, they have taken different approaches to explaining why.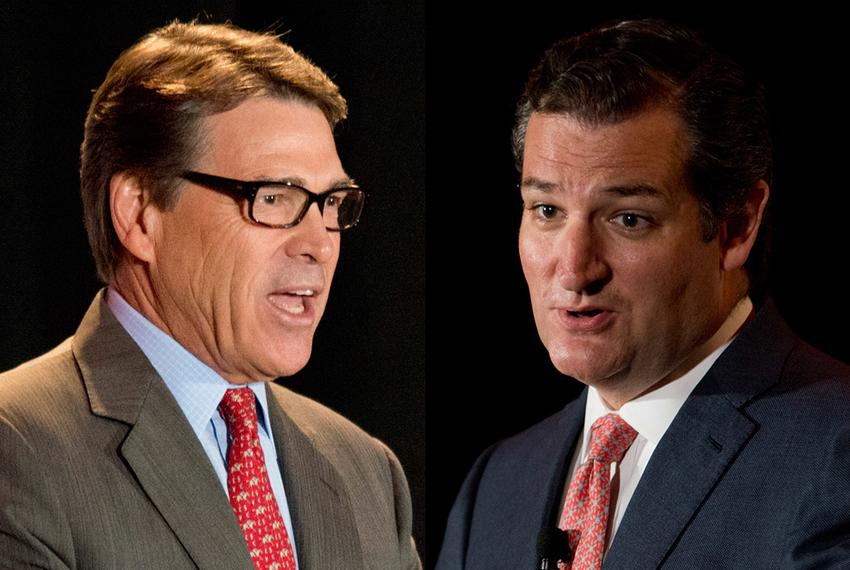 For months, the White House hopefuls from Texas have been fine-tuning their lines of attack on former Secretary of State Hillary Clinton, hoping to show they've got the chops to go toe-to-toe with her in a general election. Now that Clinton has made it official, they get to go from practice rounds to game on.
But while U.S. Sen. Ted Cruz and former Texas Gov. Rick Perry unsurprisingly agree she would make a bad president, they have taken different approaches to explaining why — a process that demonstrates the kind of candidates they themselves plan to be. Perry, who is widely expected to run but hasn't announced yet, is angling to be the elder statesman — a longtime chief executive whose life in public service dates back to when Clinton was the first lady of Arkansas. Cruz, the first presidential contender to throw his name in, is positioning himself as the unflinching conservative who will provide the starkest contrast with Clinton in a one-on-one matchup.
"Hillary Clinton represents the failed policies of the past and there's going to be a very clear choice to make in 2016," Cruz said in a statement Sunday following Clinton's announcement. "Does America want a third Obama term or are we ready for strong conservative leadership to make America great again?"
Cruz's statement went on for 10 paragraphs and accompanied a 30-second web video in which he declared he and his supporters are "ready for Hillary," playing off the name of a group that has been laying the groundwork for Clinton's campaign. While he used some of the same rhetoric, Perry's reaction was much more understated: He opted for a single tweet promoting a petition to "Stop Hillary."
There's little daylight between Cruz and Perry on the substance of their arguments against a Clinton presidency. Both have denounced Clinton's time at the State Department as riddled with failures, from her efforts to "reset" the U.S.-Russia relationship to the 2012 attack on the U.S. consulate in Benghazi. While Cruz routinely blasts the "Obama-Clinton foreign policy," Perry occasionally amends his diatribes against Obama's "feckless" foreign policy with a mention of Clinton's complicity. To varying degrees, they both have seemed to relish the prospect of Clinton's time at the State Department factoring prominently into the campaign, a tenure Democrats see as an asset and Republicans a liability.
"If she's planning on running on her foreign policy record, that may be like Jerry Brown running on his economic record," Perry told conservative radio host Hugh Hewitt last year, likening Clinton to the California governor who serves as his favorite punching bag.
"She owns the Obama-Clinton foreign policy," Cruz told the Washington Times last month. "She designed and implemented 'lead from behind' – and the whole world is on fire right now."
Clinton has been a regular part of Cruz's stump speeches, especially in light of revelations that her family foundation took money from foreign governments and that she exclusively used a private email account while she was the country's top diplomat. He has joked to audiences that Clinton was not in attendance because a foreign nation refused to "foot the bill." And amid increasing reports that Clinton's nascent campaign was staffing up, he quipped she should hire a key post: director of email security.
Since becoming an official candidate, Cruz's needling of Clinton has morphed into full-on taunting.
"If Hillary Clinton is going to join with Barack Obama and the gun grabbers and come after our guns, then what I say is, come and take it!" Cruz said Friday at the National Rifle Association's annual conference in Nashville.
Perry, meanwhile, has been a bit more restrained in his criticism of Clinton, at least stylistically. In recent weeks, he has not brought her up unless explicitly asked. And when he has, he has avoided direct attacks in favor of a broad lament of the "Clinton years."
"This whole deal with the money going to the foundation, the foreign sources of money coming in, Benghazi and the cover-up that seems to, appears to be, going on — I can't get past all the drama that you see with the Clintons to really remember we had a good economy" when Bill Clinton was president, Perry said last month during a Bloomberg interview in Houston.
Sometimes Perry prefaces his Clinton critique with a note of respect. On multiple occasions, he has expressed admiration for her decades of public service before questioning her foreign policy resume. And in June 2014, he commended her as a "very, very capable public servant, great secretary of state, first lady," according to the Los Angeles Times.
In the heat of a Republican primary, those words could haunt him. Democrats have already made clear they plan to use Perry's past praise for Clinton against him. A book circulated in December by the opposition research group American Bridge flagged a 1993 letter Perry — then Texas' agriculture commissioner — wrote to Clinton calling the first lady's health care reform efforts "most commendable."
For now, though, Cruz and Perry face a more immediate task: convincing GOP primary voters they are the party's best hope against Clinton. Early polling suggests both Cruz and Perry would lose to Clinton if either of them faced her in the general election today. She would beat Cruz by 10.6 percentage points and Perry by 9, according to polling averages maintained by the political news website RealClearPolitics.
Cruz and Perry's potential rivals were already lining up on Sunday morning to offer pre-rebuttals of Clinton's impending announcement. Former Florida Gov. Jeb Bush released a web video in which he says America "must do better than the Obama-Clinton foreign policy."
Shortly before Clinton's announcement, the campaign of U.S. Sen. Rand Paul, R-Ky., announced it will begin airing an ad Monday on cable TV that says she "represents the worst of the Washington machine." The one-minute spot rattles off a list of grievances not unfamiliar to the two Texans looking to best both Paul and Clinton: "the arrogance of power, corruption and cover-up, conflicts of interest and failed leadership with tragic consequences."
---
Information about the authors
Quality journalism doesn't come free
Perhaps it goes without saying — but producing quality journalism isn't cheap. At a time when newsroom resources and revenue across the country are declining, The Texas Tribune remains committed to sustaining our mission: creating a more engaged and informed Texas with every story we cover, every event we convene and every newsletter we send. As a nonprofit newsroom, we rely on members to help keep our stories free and our events open to the public. Do you value our journalism? Show us with your support.
Yes, I'll donate today