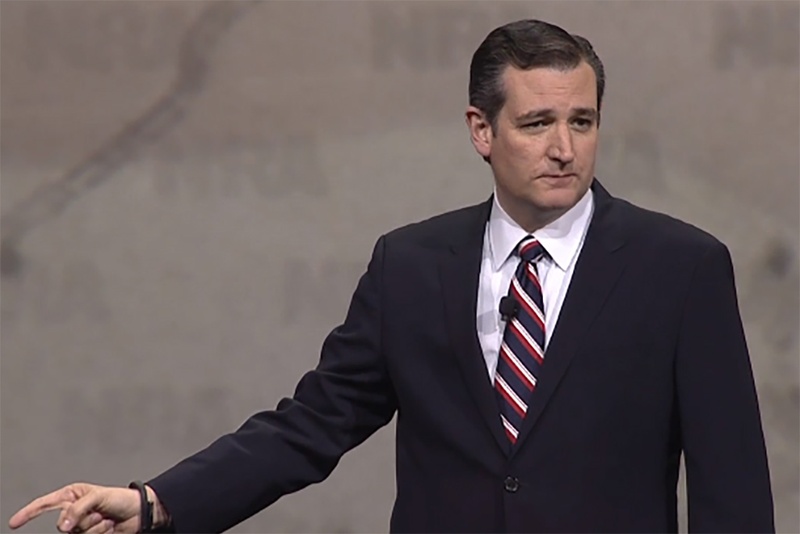 Invoking the Battle of Gonzales cry "Come and Take It," U.S. Sen. Ted Cruz took his case for the presidency to National Rifle Association activists at the organization's annual spring meeting in Nashville on Friday.
"That was the opening battle of the war for Texas independence," he said of the 1835 skirmish. "And I'll tell you, we've seen in the news, this weekend, Hillary Clinton is announcing for president."
"Well, I'll tell you, if Hillary Clinton is going to join with Barack Obama and the gun grabbers and come after our guns, then what I say is, come and take it."
Besides knocking Clinton, Cruz revisited the campaign theme that he has uniquely demonstrated his conservative bona fides in comparison to the rest of the Republican presidential field.
The Texas Tribune thanks its sponsors. Become one.
In the spring of 2013, after the Sandy Hook Elementary School shootings left 20 children and six adult staffers dead, President Obama pushed for gun control measures, and heavily lobbied Republican senators to join in. Cruz pointed to his work defeating gun control legislation then as evidence that he is the NRA's best presidential advocate.
"In the weeks and months that followed Sandy Hook, if you guys were sitting in the Senate Republican lunch, you'd have jumped out the window," Cruz said, describing a resignation that tighter legislation was inevitable.
He argued that his filibuster threat, along with those of U.S. Sen. Mike Lee of Utah and fellow presidential candidate Sen. Rand Paul, R-Ky., "slowed it down and it shined a light on what was happening and that's when the men and women in this room began to take over."
"Each of you and millions of Americans lit up the phones," he said of the pressure brought to bear on Republican senators who were not committed to his efforts.
"Heaven and earth descended on those senators," he said of the response that eventually killed the legislation.
Beyond Gonzales, Cruz detailed Texas culture to ingratiate himself to the crowd.
"The Second Amendment? In Texas, there's a right answer: 'I support the Second Amendment,'" he said. "Unless you're clinically insane – even if you're a Democrat — that's the right answer in Texas."