Analysis: A Grand Jury With a Taste for Commentary
A grand jury in Travis County did a peculiar thing this week. It decided Wallace Hall had not broken the law, and then recommended removing him from the University of Texas System Board of Regents.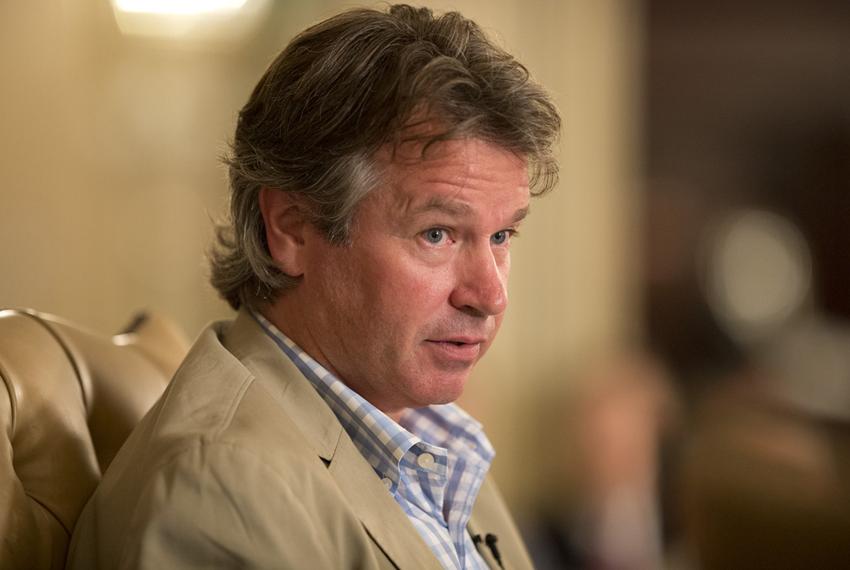 A Travis County grand jury set up a de facto editorial department this week, campaigning for the ouster of a public official even as it announced that he had violated no state laws.
Funny way to clear a guy's name.
Maybe you have never felt sorry for Wallace Hall, and perhaps you never will. Hall, a University of Texas System regent, has subjected the flagship campus in Austin to a barrage of records requests and turned up some evidence of people with clout getting kids admitted to that school who would not have been otherwise.
It's possible to see what's wrong with that kind of influence even if you think it is entirely unsurprising.
And Hall has been vilified for his efforts. A legislative panel considered impeaching him and declined to do so. The Travis County district attorney's office investigated allegations that he had illegally shared student records and abused his position. Prosecutors took their case to a grand jury. It decided not to indict Hall, but put out a report this week taking him to task and saying he should lose his appointed position at the UT System.
Grand juries are the citizen panels that review the work of prosecutors and decide whether there is enough evidence to take someone to trial on criminal charges.
If the answer is yes, the grand jury issues an indictment, everybody who is not already lawyered up hires a lawyer, and they hold a trial to determine whether the person who was charged in the indictment is innocent or guilty.
If the answer is no, the grand jury issues a "no bill," saying that the information jurors saw was too thin to justify criminal charges.
And then they're supposed to shut up. In fact, there is a quaint, old-fashioned idea buried in all of this: In a perfect system — not to imply that there is such a thing — nobody is supposed to know that you were investigated if the result is something short of a charge.
Hall met the grand jury news by blasting the legislators he blames for his troubles, saying their effort "to criminalize my service as a regent constitutes abuse of office. Their use of the levers of political power to cover up wrongdoing by legislators should now be investigated, and those exposed for their abuses should be driven from office."
Hard to say what will happen next. The UT System has three new regents who change the political tenor of that nine-member board. There is a new chancellor at the system, and a new president has been selected to run the Austin campus. The grand jury's decision ties up a loose end. And Hall is still pushing for a change in influence-peddling and college admissions. That's something for the new people to work out.
Then there is this letter, which seems to jump the fence that separates the grand jury's business from somebody else's. To borrow a phrase, they set to meddling.
"The grand jury took no action on this complaint," the jurors wrote. "However, we have chosen to issue this report because, as citizens, we are appalled at the behavior of the regent subject to the investigation."
They recommended some changes in how the UT System handles regents' requests for information. And the grand jurors, after finding no violations of state law, wrote that it would be "in the best interest of the state of Texas to remove Regent Hall from office."
People in public life survive inquiries all the time. Investigations don't always lead to charges or convictions. Most of the time, nothing much comes of the tips and allegations that drive the crime and punishment machinery.
It happens to relative unknowns like Hall and to big shots like then-Comptroller Bob Bullock, who was investigated in the late 1970s for using a state plane for travel that didn't have anything to do with state business. He was not indicted.
"I don't think they had the votes, so they put out this pretty sleazy report and didn't indict him," said Randall "Buck" Wood, an attorney who worked for Bullock in various jobs over the years, and who was called to testify before the grand jury that investigated his old boss.
Bullock's lawyers asked for the report to be expunged, and a judge agreed. Wood said Bullock's request was granted because the report was outside the panel's authority. "Grand juries are not supposed to be running around shooting their mouths off," he said.
Glen Castlebury worked for Bullock at the time and said the report itself wasn't any more damaging than anything that was already being said about his boss. Bullock served another decade as comptroller after the report and was elected lieutenant governor in 1990 and 1994.
"The accusations that the grand jury made were no worse, no more grievous, than Bullock's normal flamboyancy," he said.
"Bullock just thought it was wrong and it just shouldn't be there," Castlebury added. But "it was a public record. Expunging something when it was a public record, the text of something that had been published in every newspaper in Texas, you don't gain a lot."
Hall hasn't asked for his report to be expunged, and it might not matter. The letter is already public.
"The core problem and the core issue with the report is that the grand jury's duty is to indict or not indict, and there's nothing in the code about the grand jury having the authority to follow up with a strong-worded letter to follow," said Rob Kepple, executive director of the Texas District and County Attorneys Association.
Prosecutors often have no control over what grand juries do, and that was apparently the case with the Hall report. "They're a body that can issue reports, issue indictments, do what they want," said Gregg Cox, an assistant Travis County district attorney. "It's not our deal. They are impaneled by the court, they operate under the purview of the court and they are a judicial body that we do not control."
It certainly is a bad piece of timing for the Travis County DA's office: Republican lawmakers are trying to move the state's public integrity unit — the division that handles ethics violations against state officials, among other things — out of it. Lawmakers' beef is that the current setup puts cases involving conservative state officials in the hands of prosecutors in one of the state's most liberal counties. They want to move the unit to the office of the attorney general, which is run by Republican Ken Paxton, and farm out cases to elected officials' home counties.
The grand jury slap at Hall seems to bolster their argument. He's a conservative appointee of former Gov. Rick Perry, and here is a band of grand jurors in the state capital trying to get him fired.
The grand jury was trying to spur the state to do something. But you have to be careful what you ask for.
Disclosure: The University of Texas at Austin is a corporate sponsor of The Texas Tribune. A complete list of Tribune donors and sponsors can be viewed here.
---
Information about the authors
Quality journalism doesn't come free
Perhaps it goes without saying — but producing quality journalism isn't cheap. At a time when newsroom resources and revenue across the country are declining, The Texas Tribune remains committed to sustaining our mission: creating a more engaged and informed Texas with every story we cover, every event we convene and every newsletter we send. As a nonprofit newsroom, we rely on members to help keep our stories free and our events open to the public. Do you value our journalism? Show us with your support.
Yes, I'll donate today