Report: Powers Overruled UT Admissions Office
University of Texas at Austin President Bill Powers has helped secure college admittance for students over the objections of the admissions office, according to an external review of lawmaker and regent influence at the flagship campus.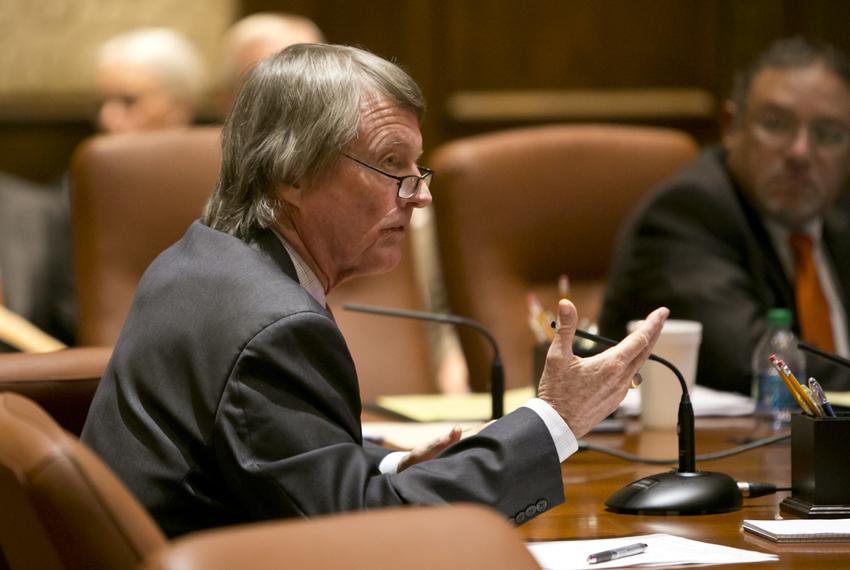 *Editor's note: This story has been updated to include reaction from university and elected officials.
University of Texas at Austin President Bill Powers has helped secure college admittance for some students over the objections of the admissions office, according to an external review of lawmaker and regent influence at the flagship campus.
"While it is impossible to conclude with absolute certainty from a review of the data and selected files alone that any one particular applicant benefited from undue influence or pressure exerted on the admissions process, it is readily apparent that certain applicants are admitted at the instigation of the president over the assessment of the admissions office," the report states.
And Powers and his chief of staff, Nancy Brazzil, "misled" a previous inquiry into outside influence on admissions by answering specific questions but making "material omissions," the new report found.
"At minimum, each failed to speak with the candor and forthrightness expected of people in their respective positions of trust and leadership," the report states.
But the review, commissioned by the University of Texas System and completed by the risk management firm Kroll Associates, found no evidence that applicants were admitted "as a result of a quid pro quo or other inappropriate promise or exchange."
And it found that the total number of "arguably less-qualified" applicants who benefited from the president's oversight was "relatively small." The report identified 73 enrolled applicants who were admitted with a combined SAT score of less than 1100 and a high school GPA of less than 2.9 — but added that while political connections may have "influenced the admission decision in a small number of cases," other cases suggested "the possibility of alumni/legacy influence."
Powers said at a Thursday press conference that every time he intervened on behalf of an applicant, he acted in what he believed was the best interest of the university. He said similar processes exist at "virtually every selective university in America."
"I inherited this process, which was well known by regents, former chancellors, the board of regents office, and UT System officials, many of whom, as the report notes, asked me to intervene on their behalf," he said. "... No spots at the university were saved and no one was displaced by this practice. The students in question were simply added to the incoming class."
And he fired back against UT System Regent Wallace Hall, who instigated the investigations into Powers' admissions practices, saying Hall too had "exerted influence over the admissions process." He declined to provide details.
Hall declined to comment on Thursday.
UT System Chancellor Bill McRaven said Thursday afternoon that he'd read the report a half dozen times and that he'd be taking no disciplinary action against Powers or any other university officials. He said there was no willful misconduct and no criminal activity occurred.
"I came in. I looked at the report. I read the report. I made my decision solely on the words that are in the report," McRaven said.
But the report still lends credence to some allegations made by Hall, who has been mired in conflict with state legislators over his investigations into Powers. Among other accusations leveled against UT-Austin's administration over the last several years, Hall alleged that lawmakers had undue influence over the admissions process by way of recommendation letters. In response to Hall's individual investigations into the flagship university, legislators investigated, threatened to impeach and ultimately censured the regent — a historic but mostly symbolic gesture.
The report deflects some of the blame from Powers, who is planning to resign in June, adding: "Several other important constituents are at least partially complicit for this ad-hoc system of special admissions. For example, the board of regents sends approximately 50 to 70 names of applicants to the president's office each year."
It also found that no law, statute, regents rule or university policy outlines how heavily to weigh "external" recommendations — such as letters or phone calls — in the admissions process.
Among the report's specific examples of outside influence on admissions:
A

n employee in Powers

'

office left a voicemail with the

UT L

aw School

admissions department

after speaking with two members of the Legislature about a pair of applicants.

The voicemail

said, "If we can go ahead and admit those kids, [President Powers] says it's very important." Acceptance letters were sent to both applicants two days later. The report noted that both applicants had "solid grades, valuable work and public service experience, and other positive holistic attributes."

In several instances, the sons and daughters of university officials may have been given special admissions treatment. One UT System official called Brazzil while the official's son was applying to UT-Austin and said, "I just want you to know my … son is applying to the university." Brazzil replied, "Okay, we'll take care of that."

During the tenure of UT-Austin President Larry Faulkner, which ended in 2005, one official saw a note from a a UT System regent that said every graduate of a specific high school should be admitted to UT.

In 2012, a regent inquired about a list of applicants. The general counsel to the board of regents told the regent which applicants had been admitted and which had been denied. The regent called and congratulated the family of one of the applicants, and later found out that the student had actually been denied admission. The regent demanded the university correct the mistake by changing its admission decision, and the applicant was let in.

The admissions office and the president's office held routine "end-of-cycle" meetings to make final decisions on candidates not already admitted. Those involved in the meetings made efforts to minimize the paper trail – including shredding notes. "One administrative assistant usually brought to these meetings a stack of index cards that were subsequently destroyed," the report notes.

Former UT Law School Dean Larry Sager reported to investigators that when he would not or could not admit someone a lawmaker had asked Powers' chief of staff about, he would be asked to personally call the lawmaker to relay the news.

Chief of Staff: I need to talk to you about some candidates. I need the law school to admit xxx.

Sager: Why?

Chief of Staff: Because it is something Senator XXX wants a lot.

Sager: Nancy, I can't admit him.

Chief of Staff: Will you call the senator and tell him?

Sager: Yes.
Brazzil declined to comment for this article.
Hall's allegations prompted an initial review by the UT System of nearly 80 recommendation letters written by lawmakers over a four-year period. The acceptance rate among undergraduates in that group was more than double the acceptance rate of a larger group of similar applicants. The findings in that report were considered preliminary; in June, then-Chancellor Francisco Cigarroa announced that a more in-depth review of UT-Austin's admissions wold be conducted by an outside firm.
In a letter to McRaven on Wednesday, Cigarroa, who had seen an early copy of the report, called it "troubling and disappointing that the Kroll report identified that President Powers was not transparent, candid and forthright" in the previous inquiry.
On Thursday, Hall's supporters said the outside firm's findings were a clear vindication of his investigations into the university.
"The unnamed members of the Texas Legislature — the House and the Senate — described in the investigation must be named and forced to resign," conservative activist Michael Quinn Sullivan wrote on his Empower Texans website.
State Rep. Dan Flynn, the Canton Republican who co-chaired the legislative committee that investigated Hall, said he stands by the committee's actions. He said the new report doesn't vindicate Hall. And he said there's no "smoking gun" that implicates Powers.
Board of Regents Chairman Paul Foster concurred, saying it was "not an alarming report."
"I'm glad we did it, and I'm glad it's concluded, and I think it will serve to benefit the system," he said.
The board of regents had initially agreed to pay up to $145,000 for the report, which was to be completed in October. But the regents extended the contract in December, when board members capped the amount they were willing to pay at $405,000 and set the deadline for Jan. 31, 2015. At the time, a system spokeswoman said, "the resources needed by Kroll to complete the investigation have gone beyond what was initially contemplated, and additional services are needed in order to fully address the scope of work."
The release of the review coincided with the first board meeting for the newly hired McRaven, who has sought to end the tensions between lawmakers, UT-Austin administrators and regents. On his first day as chancellor, McRaven wrote in an email to the UT community that it was time to "resolve those arguments and look to the future. My number one priority will be to rebuild the trust between all stakeholders — all of those who want to see the best from UT institutions."
Reporters Ryan McCrimmon and Eva Hershaw contributed to this report.
Disclosure: The University of Texas at Austin is a corporate sponsor of The Texas Tribune. Paul Foster is a major donor to The Texas Tribune. A complete list of Tribune donors and sponsors can be viewed here.
Texans need truth. Help us report it.
Independent Texas reporting needs your support. The Texas Tribune delivers fact-based journalism for Texans, by Texans — and our community of members, the readers who donate, make our work possible. Help us bring you and millions of others in-depth news and information. Will you support our nonprofit newsroom with a donation of any amount?
Yes, I'll donate today
---
Information about the authors
Explore related story topics