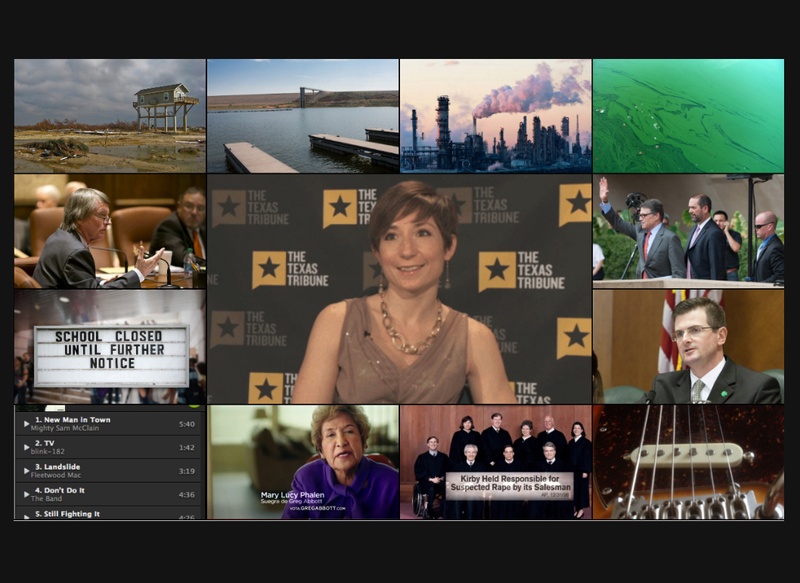 In a nod to a profile of Jeff Miller, a California transplant who is serving as Gov. Rick Perry's new strategist, written by the Tribune's Jay Root, we start this week's news-inspired playlist with Mighty Sam McClain's "New Man In Town."
The easiest way to enjoy the playlist is to download Spotify, which is a free program. But even without it, you can still follow along. Here are the other selections for the week:
Both Greg Abbott, the Republican gubernatorial nominee, and Wendy Davis, his Democratic counterpart, released television ads this week, so we have "TV" by Blink-182. With the race to be the next member of the Texas Senate now decided, we mark the easy victory of state Rep. Brandon Creighton, R-Conroe, over state Rep. Steve Toth, R-The Woodlands, with "Landslide" by Fleetwood Mac.
Emails that were sent in July imploring University of Texas System Chancellor Francisco Cigarroa not to fire University of Texas at Austin President Bill Powers were made public this week, as alluded to by the addition of "Don't Do It" by The Band. The next song, Ben Folds' "Still Fighting It," was inspired by three charter schools that, many months after the Texas Education Agency tried to shut them down, are still open and pushing back against a process they claim is overly simplistic.
The Texas Tribune thanks its sponsors. Become one.
Texas' top environmental regulator recently suggested that the state may ignore a proposed directive from the Obama administration to reduce carbon emissions from power plants, so we included "I Won't Do That" by Joe Louis Walker. The Trib's Neena Satija wrote about how a water crisis in Ohio may serve as a warning for Texas, so we have "Ohio" by Over The Rhine.
Water systems in the Panhandle and South Plains last week started drawing water from a once-empty lake that is now just over 4 percent full, inspiring the selection of "Dust and Water" by Antony & The Johnsons. Six years after Hurricane Ike, lawmakers are still grappling with preparation for the next big storm, prompting us to put Mary Gauthier's stormy "It Ain't The Wind, It's the Rain" on the playlist.
And finally, we close with Django Reinhardt's "Farewell Blues," since our managing editor, Brandi Grissom, is leaving us for a great gig at the Los Angeles Times.
Enjoy!