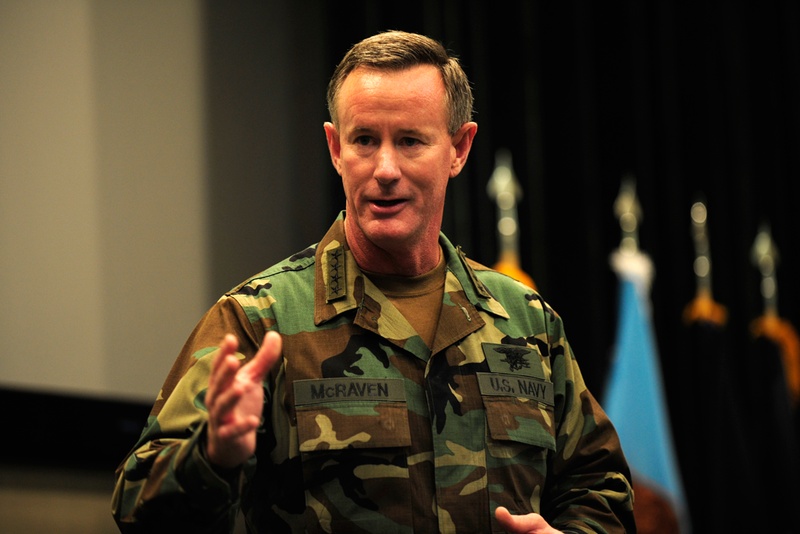 Admiral William H. McRaven, who has famously advised students to make their beds, was named the sole finalist to be the next University of Texas System chancellor. So, we start this week's playlist in his honor, with Dr. John's "Make Your Own Bed Well."
The easiest way to enjoy the playlist is to download Spotify, which is a free program. But even without it, you can still follow along. Here are the other selections for the week:
Ross Ramsey wrote about state Rep. Scott Turner, R-Frisco, a candidate for speaker whose bank account might be greater than his odds of victory, so we included "Longshot" by John Fogerty. Aman Batheja wrote about unconventional campaign advertising, including Republican gubernatorial candidate Greg Abbott's placement of ads in movie theaters, so we have The Drifters singing "Saturday Night at The Movies."
Five Republican nominees for seats in the Texas Senate voiced public opposition to a proposal that would allow a controversial new form of betting on horse races in Texas, inspiring the selection of "My Racing Thoughts" by Jack's Mannequin.
The Texas Tribune thanks its sponsors. Become one.
Neena Satija wrote about how Austin is addressing rising temperatures, which is why we have Nelly's "Hot in Herre," which is followed up with "Evaporated" by Ben Folds Five, since she also penned a story about attempts in Wichita Falls to prevent water loss.
Then there's "How Much Is Enough?" by Bad Religion, which was added in light of state lawmakers questioning officials over what's being accomplished with the millions of dollars in extra spending aimed at shoring up security along the Texas-Mexico border.
Texas State Technical College System unveiled a new center that will aim to better align college curriculum and workforce needs, so we have the Talking Heads with "Found A Job." As the influx of kids into the state from Central America puts foster care rules in the spotlight, we also have Delta Spirit singing "Children."
And by special request, as a nod to Congress' handling — or lack thereof — of the border crisis, we close with MC5's "Borderline."
Enjoy!