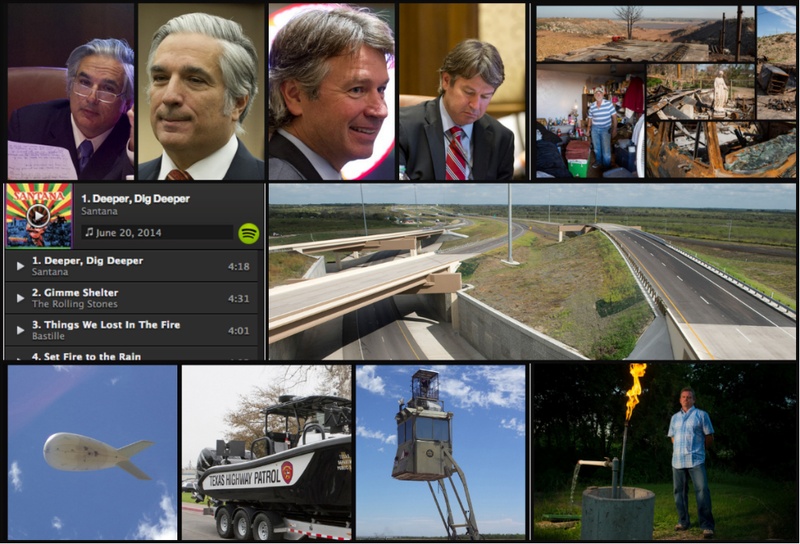 Because the University of Texas System announced that it would be launching a full investigation of allegations of favoritism in admissions at the University of Texas at Austin, this week's playlist starts with Santana's "Deeper, Dig Deeper."
The easiest way to enjoy the playlist is to download Spotify, which is a free program. But even without it, you can still follow along. Here are this week's other selections:
For the surge of unaccompanied minors from Central America coming over the border — a growing issue that state and federal officials are attempting to address — we added "Gimme Shelter" by The Rolling Stones.
Roughly one month after a fire destroyed 225 homes near Fritch, the town's future is uncertain, so we have Bastille's "Things We Lost In The Fire." And then, because so much methane has migrated into the water wells of some Texans that they can light their flowing water ablaze, we have Adele's "Set Fire to the Rain."
The Texas Tribune thanks its sponsors. Become one.
Then there is Jackson Browne's "Running On Empty," which was added in light of news that the company behind a 41-mile toll road is low on cash and in danger of default. According to a new University of Texas/Texas Tribune poll, a majority of Texas voters believe men make more than women for equal work, so "It's a Man's, Man's, Man's World" by James Brown is up next.
Former U.S. House Majority Leader Tom DeLay was back in court this week, inspiring the selection of Gary Glitter's "Hello Hello I'm Back Again." The University of Texas Law School Foundation attempted to get conservative activist Michael Quinn Sullivan to retract some of his comments about how they operate, prompting us to put "You Can't Say That" by The Undertones on the playlist.
Concerns were raised about the Railroad Commission of Texas' practice of preventing staffers from talking to members of the media, so we added "I'm Not Talking" by The Yardbirds. And finally, we close with a nod to the Tribune's new page for watchdog journalism with — what else? — Baha Men's "Who Let The Dogs Out?"
Enjoy!