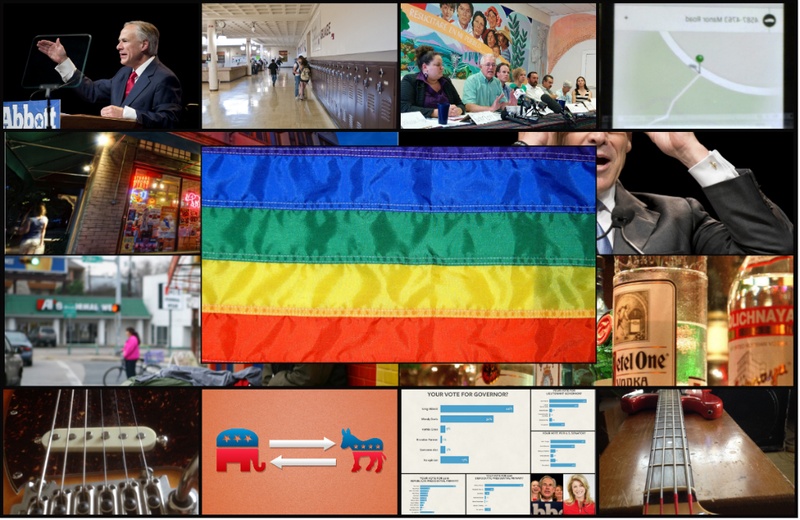 In honor of Gov. Rick Perry's headline-generating comparison of homosexuality to alcoholism, we start this week's Texas news-inspired playlist with Tina Turner singing "Addicted to Love."
The easiest way to enjoy the playlist is to download Spotify, which is a free program. But even without it, you can still follow along. Here are the other selections for the week:
A new round of polling by the University of Texas and the Tribune showed little change in the gubernatorial race between Republican Greg Abbott and Democrat Wendy Davis, so we have "Still The Same," by Rod Stewart. With polling also finding that Texans generally hold a negative view of Washington, D.C., we added "Down on Washington," by Turnpike Troubadors.
The hardline planks on immigration in the state GOP's platform may complicate Abbott's Hispanic outreach efforts, so we have Avril Lavigne's "Complicated." Meanwhile, in his capacity as attorney general, Abbott asked the Obama administration this week for $30 million in emergency funding for state-based border security operations. For that we've included Paramore's "Emergency."
The Texas Tribune thanks its sponsors. Become one.
Because new transportation services like Uber and Lyft are now operating in Texas cities — in some cases potentially in violation of local laws — we have "Ride Along" by John Hiatt. It's followed by The Blind Boys of Alabama performing "Give A Man A Home," since federal officials are looking for help from local shelters and immigrants' rights groups to house an influx of undocumented immigrants.
A federal lawsuit was filed this week alleging that inadequate supervision from the state has led to "grossly deficient" English language instruction for Texas public school students — so we put "We No Speak Americano" by Yolanda Be Cool and DCUP on the playlist.

The Trib's Ross Ramsey observed that Democratic lieutenant governor Leticia Van de Putte's best hope of victory in the general election is if voters split their ballots, so we included "Split Decision," by Steve Winwood. Because he also wrote about how, while some Democrats are looking for November victories, others are more focused on the long game, we close with Uncle Tupelo's "The Long Cut."
Enjoy!