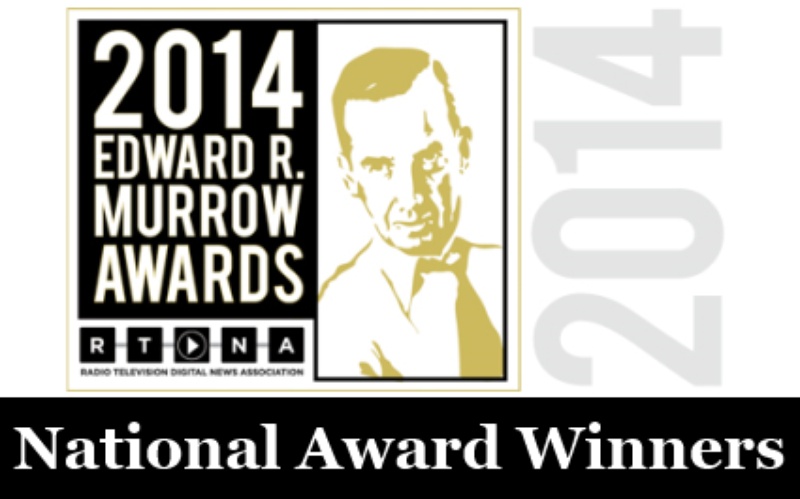 I'm excited to report that The Texas Tribune has won two national Edward R. Murrow Awards from the Radio Television Digital News Association: one for overall excellence and another for best website for video.
What a treat it is to be honored alongside The Washington Post, ABC News, NPR and other venerable media outlets — and better yet, with awards named for one of the best-respected journalists of the last century. Earlier this year, we found out we won five regional Murrows as well (all told, we've been recognized by RTDNA 11 times in the last four years), along with the Gannett Award for Innovation in Watchdog Journalism from Investigative Reporters and Editors and assorted other recognitions.
Any time your peers pronounce your work to be worthy of such acclaim, it's a big morale boost — and certainly we're clinking real and metaphorical glasses at HQ today. But a bigger cause for celebration is the impact we're having. The journalism we produce, the events we convene, the data sets we dynamically and innovatively present are reaching more and more people in more and more places on more and more platforms. The mission we embraced nearly five years ago — to raise the level of engagement and promote a civil discourse on politics, public policy and state government — is being realized every day.
If you believe, as we do, that the Tribune is making Texas a better place and Texans more thoughtful and productive citizens, this would be a great time to support us! Click here to make a tax-deductible gift.
The Texas Tribune thanks its sponsors. Become one.
In the spirit of Ed Murrow's famous sign-off, "Good night and good luck," please join me in saying, "Good day and good going" to a truly exceptional group of journalists. Big congrats to them for their amazing achievements.