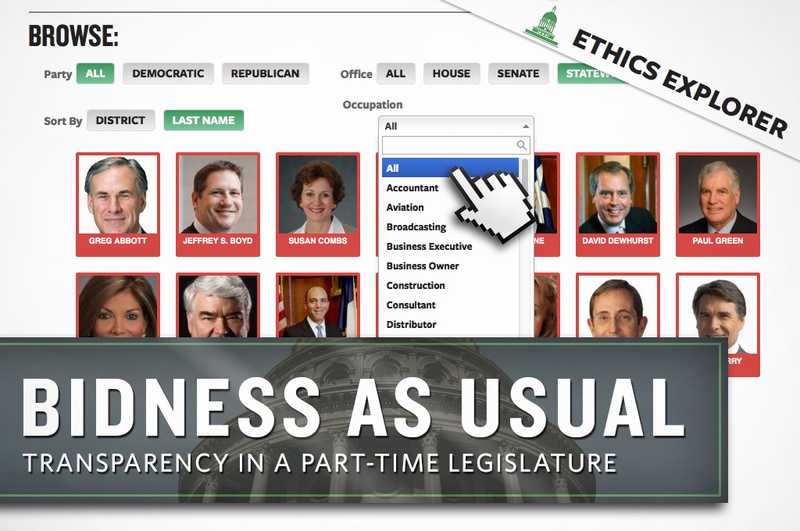 In the great-news-to-wake-up-to department, The Texas Tribune has been honored by Investigative Reporters and Editors with the "Gannett Award for Innovation in Watchdog Journalism" — a prize for our legislative livestream, our Ethics Explorer data app and our 2013 watchdog series, Bidness as Usual.
Judges said the livestream — which we've expanded in a big way in recent months with the help of our fall Kickstarter campaign — in conjunction with "relentless, constantly updated watchdog reporting," brought transparency to a state Legislature with a history of opaqueness.
"Through the livestream combined with the interactive documenting of conflicts of interest and financial relationships, the team has given us all unfettered access to the entire Texas Legislature," they wrote. "This is an example of truly innovative thinking by a small team that allows a broad, national audience to have meaningful access to important state-level stories."
Previous winners of the Gannett award include California Watch for "Broken Shield" and ProPublica for "Dollars for Docs."
The Texas Tribune thanks its sponsors. Become one.
Other IRE honorees this year include the Guardian US for "The NSA Files," ProPublica for "The Prescribers" and Reuters for "The Child Exchange." (See the full list here.)
You can revisit our Bidness as Usual project here, and check out the Ethics Explorer here. We'll also continue to livestream political events throughout the 2014 election cycle.