Despite Smelly Controversy, Sriracha Factory Not Heading to Texas Soon
Huy Fong Foods founder David Tran took a self-styled "sriracha delegation" of Texas officials on a tour of his California hot sauce factory on Monday.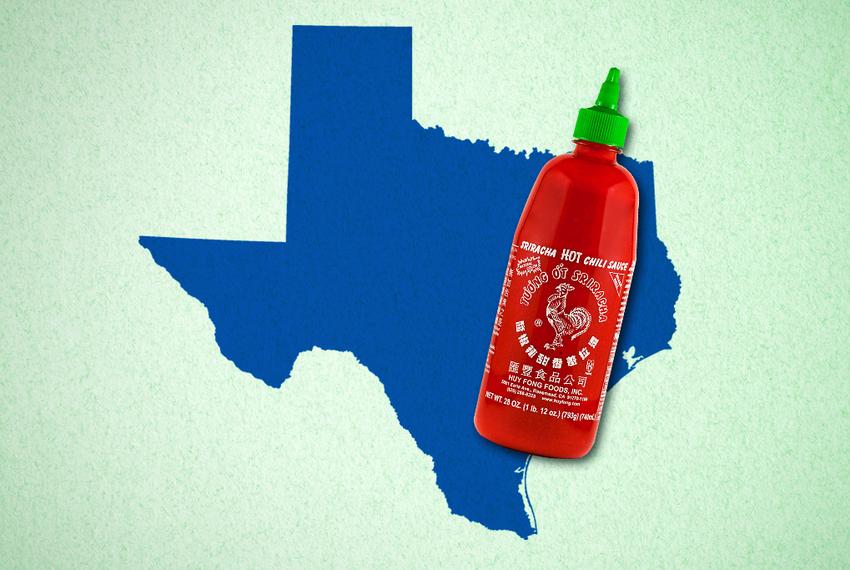 IRWINDALE, Calif. — With a Texas flag flying overhead, David Tran founder of Huy Fong Foods, the maker of the famous spicy red sauce sriracha, escorted an entourage of Lone Star state officials around his massive southern California plant Monday. There were pleasantries and smiles, but whether there are any Texas hot sauce jobs in the offing was no clearer after the morning of mutual financial flirtation.
"I feel very happy; I have a lot of support," said Tran, an ethnic Chinese whose family was forced out of Vietnam decades ago and traveled to the U.S. on a ship called Huey Fong, the inspiration for his company's name. "If I can create more jobs for the U.S.A., I will do it."
State Rep. Jason Villalba, R-Dallas, has led the charge to bring the Huy Fong Foods sriracha factory to Texas since residents in its current host city complained of itchy eyes and unbearably spicy smells. Villabla was joined by state Sen. Carlos Uresti, D-San Antonio, and representatives from the offices of Gov. Rick Perry and Agriculture Commissioner Todd Staples for a tour of the plant. Since residents complained of the plant's aromatic output, California congressmen and other politicians have risen to Huy Fong's defense. And the Irwindale City Council had backed off a plan to deem the factory a public nuisance. But the council may vote on the issue again on Wednesday, and Villalba hasn't backed off of his hopes to woo the company to Texas.
Tran said Monday the odor controversy hasn't convinced him to leave California. He told reporters forcefully that he has no intention to move his business, which has been in Irwindale since 2010 and made $80 million in gross revenue last year.
Tran said that the Lone Star State could be a viable place for relocation if that becomes necessary, or for expansion, since the market for sriracha is growing exponentially. The current factory, Director of Operations Adam Holliday said, may be close to capacity. About 80 people work full-time at the Irwindale facility, but during harvesting season, which begins in late July, hundreds more are hired.
Villalba, the leader of the self-styled "sriracha delegation," donned a handkerchief printed with the company's signature plastic bottles with the rooster design and proudly showed it to Tran as they toured Huy Fong's 650,000-square-foot factory set against the backdrop of Irwindale's picturesque mountains and canyons. The tour lasted nearly an hour. Tran showed the delegation the factory's giant pepper-grinding machines and the operation that produces the company's famous bottles.
After the tour, Villalba told Tran, "We'll take care of you," implying that in Texas there wouldn't be a dispute with local residents about spicy smells emanating from his factory.
Inside the factory, the scent of garlic and jalapenos was strong at times, but the smell wasn't noticeable a short distance from the facility.
"I don't see anybody sneezing or coughing," Uresti said. "You have to scratch your head and wonder why a city council would want to shut this down."
The smells, though, would not typically be noticeable in May. They are most pungent after July, when the jalapeño harvest begins and tons of fresh peppers are processed.
"You pass by, you don't know that we make hot sauce," Tran told reporters after a closed-door meeting the Texas delegation.
Villalba and Uresti repeatedly said they were not on a "job-poaching" mission, but they repeatedly touted Texas' business-friendly climate, noting that Toyota recently moved its headquarters from California to Plano. The next step, they said, would be for Tran to visit Texas, which he said he planned to do "in the near future."
Actually moving or expanding into Texas wouldn't be easy, though. Tran works with a single pepper grower, Underwood Farms, and expects to get 58,000 tons of fresh chile peppers this season. In 2011, according to the U.S. Department of Agriculture, Texas produced only 8,000 tons of chile peppers.
Crop yields in California and New Mexico are also much higher than they are in Texas — Underwood Farms can grow more than 10 times as many chiles on the same amount of land as Texas growers did in 2011. And most of the chile peppers grown in Texas are green; Huy Fong exclusively uses red chile peppers.

Craig Underwood, of Underwood Farms, said his business has produced all of Huy Fong's chile peppers for 25 years. The company accounts for 75 percent of his revenue. A move to Texas would also be difficult because the weather patterns are very different, he said, and could make growing the chile peppers challenging.
Still, Tran said, Texas is a more viable state than most others because it's possible to grow chiles there. While other states have expressed interest in his business, Tran said he has only had in-depth negotations with Texas officials, and he likes what he knows of the state so far.
"First-come, first-serve," he told reporters, grinning.
But if Tran's conversations with his chile supplier are any indication, Texas lawmakers might not want to bet big on getting sriracha to move to the Lone Star State soon. Underwood said he is securing more land in the San Joaquin Valley for the sole purpose of supplying Huy Fong Foods.
"We talked to him," said Underwood, describing a recent chat with Tran, "and he said, 'Don't worry.'"
Quality journalism doesn't come free
Perhaps it goes without saying — but producing quality journalism isn't cheap. At a time when newsroom resources and revenue across the country are declining, The Texas Tribune remains committed to sustaining our mission: creating a more engaged and informed Texas with every story we cover, every event we convene and every newsletter we send. As a nonprofit newsroom, we rely on members to help keep our stories free and our events open to the public. Do you value our journalism? Show us with your support.
Yes, I'll donate today
---
Information about the authors