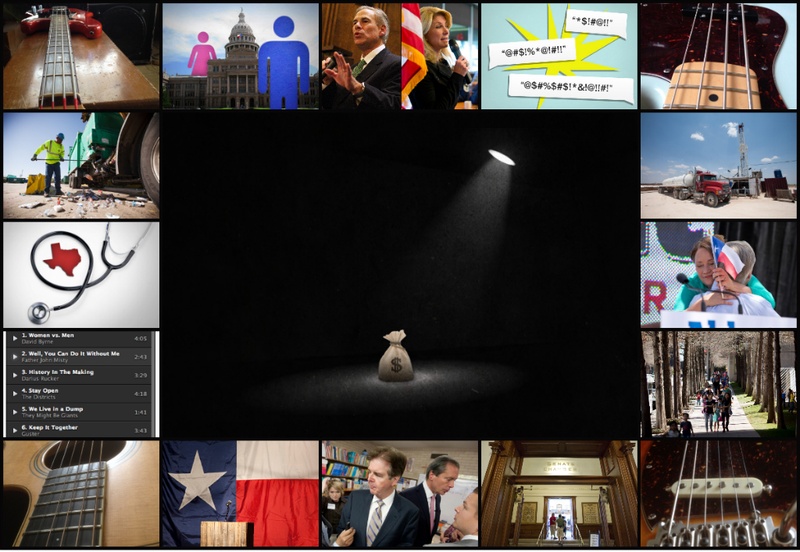 With the debate heating up around equal pay issues in the gubernatorial race, we begin this week's Texas news-inspired playlist with David Byrne's "Women vs. Men."
The easiest way to enjoy the playlist is to download Spotify, which is a free program. But even without it, you can still follow along. Here are this week's other selections:
State Sen. Dan Patrick, R-Houston, pulled out of a debate with Lt. Gov. David Dewhurst, whom he is battling in a runoff, because the debate was going to be closed to the press. So our second song is "Well, You Can Do It Without Me" by Father John Misty. That's followed by Darius Rucker's "History in the Making," which was added because of our profile of Cecilia Abbott, who could become the first Latina to be first lady of Texas.
As a charter school that serves high school dropouts fights state-mandated closure, we added "Stay Open" by The Districts. And then we have "We Live in a Dump" by They Might Be Giants, because allegations of dangerous chemicals being dumped in West Texas have stirred concerns about oversight of the drilling industry.
The Texas Tribune thanks its sponsors. Become one.
In an effort to improve recycling, the city of Houston could encourage its citizens to stop separating their trash and leave the sorting to professionals. So we put Guster's "Keep it Together" on the playlist. Meanwhile, advocates for more pedestrian-friendly urban cores and communities say interest in making Texas cities more walkable is on the rise, inspiring the addition of John Prine's "Taking a Walk."
We included "We Are Young" by Fun. because of a push in Texas to improve Obamacare enrollment among young adults. And that's followed by Meat Loaf's "Two Out of Three Ain't Bad," which is one side of the ongoing discussion about whether the Texas Senate should maintain its traditional two-thirds rule.
Finally, in acknowledgment of the vitriol that campaigns on both sides of the aisle must contend with as they attempt to interact with constituents on social media, we close with The Doubleclicks' "Love Song for Internet Trolls."
Enjoy!