States' Plan to Save Rare Bird Stirs Debate in Texas
Environmental officials in five states, including Texas, say interest in a plan to save the lesser prairie chicken should persuade the federal government not to list the bird as "threatened" under the Endangered Species Act.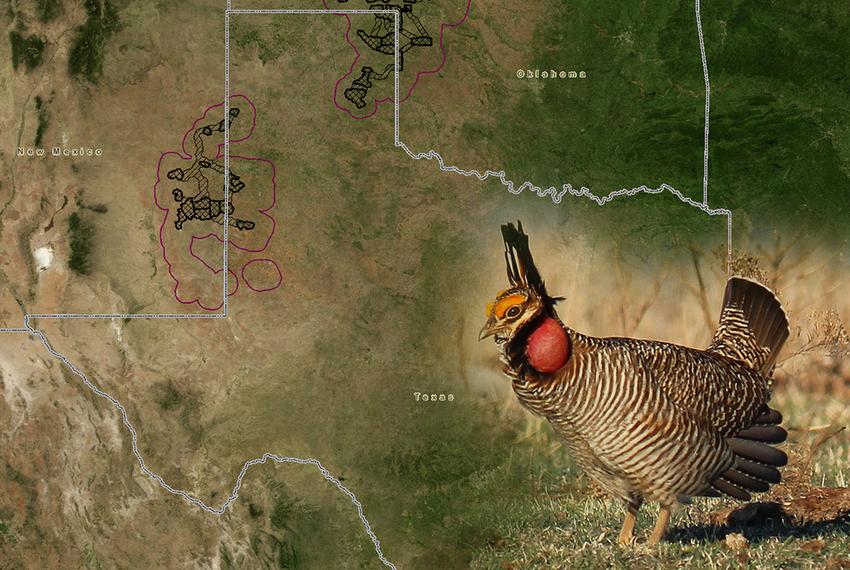 Environmental officials in five states, including Texas, say surging interest in a conservation plan to save the quickly disappearing lesser prairie chicken should persuade the federal government not to list the bird as "threatened" under the Endangered Species Act.
The wide-ranging plan aims to help energy companies, developers and landowners, who say such a designation could threaten their activities in areas where the chicken roams, which include West Texas and the Panhandle. If the bird is listed, penalties for harming it could include heavy fines and even jail time.

As of this week, 17 major companies that operate in Texas, New Mexico, Oklahoma, Kansas and Colorado have agreed to pay $15 million over the next three years into a conservation fund and to commit land to the program. The money would go to landowners, who could be paid as much as $47 per acre per year to conserve prairie habitat for the bird. The Western Association of Fish and Wildlife Agencies, which is in charge of the effort, is trying to sign up several more companies before the U.S. Fish and Wildlife Service makes its decision, which is expected by the end of the month.
"It's a race to the finish line right now," said Bill Van Pelt, the association's grasslands coordinator. He added that even if the U.S. Fish and Wildlife Service lists the species, participants in the plan would be protected from any penalties.
But wildlife advocates are skeptical that the plan would help the species recover from a steep decline. The population of the iconic bird, known for its elaborate mating ritual, was cut in half last year amid the drought and the continuing eradication of the bird's prairie grassland habitat in the western and midwestern U.S.
"We think that the species must be listed," said Ya-Wei Li, an attorney with the Washington, D.C.-based nonprofit Defenders of Wildlife. Li said the plan requires only short-term conservation actions by landowners and might not help the bird's population in the long run.
No matter how many companies or landowners agree to participate, he said, "you need more chickens on the landscape." Given that just 17,000 of the birds exist nationwide today, Li said, the prospects for its recovery without significant action are grim.
While the birds are believed to roam on more than 3.5 million acres in Texas alone, companies have only committed 2.5 million acres of land to the program across the five states, and fewer than 700,000 of the acres are in Texas. Texas landowners have only offered up about 75,000 acres of habitat that they would be willing to conserve in exchange for pay. Van Pelt said those numbers would grow significantly and that dozens of other landowners participate in separate conservation plans for the bird.
Along with wildlife advocates, another dissenter also happens to be a powerful state official: Comptroller Susan Combs, who nearly derailed Texas' participation in the effort last fall. Combs has complained that there wasn't enough public input in developing the plan and expressed suspicion about working with other states.
"How can four other states make important land use control decisions for landowners and industries in Texas?" Combs wrote in a letter last year to the Western Association of Fish and Wildlife Agencies.
Proponents of the plan say it is a historic agreement that would preserve both wildlife and economic growth. The conservation effort, known as the Range Wide Plan because it spans the entire five-state range of the bird's known home, aims to offset damage to the bird's habitat in one area by preserving or restoring habitat elsewhere. If participating companies harm undisturbed prairie chicken habitat, they will have to pay extra money into the conservation fund. For instance, if an oil driller decides to put a well in the middle of undisturbed habitat, Van Pelt said, that could cost the company an extra $150,000. Companies can avoid activity that would result in more fees by using a mapping tool created by Van Pelt's organization that shows where prime habitat still exists.
"This is really making our facilities guys and our operational engineers and our drillers try to look ahead," said Matt Thompson, director of governmental affairs for Apache Corporation, which will pay more than $1 million to participate in the program. "If we want to go and site our wells along some place where there are transmission lines already, or where there's degraded habitat, then we can save ourselves a lot of money."

Some of the other companies that have agreed to participate include Continental Resources, Devon Energy, ConocoPhillips and the Occidental Petroleum Corporation.
Noticeably absent from that list are oil giants like ExxonMobil, Chevron, SandRidge, BP and Chesapeake Energy, which have signed on to a different plan that the federal government recently began to evaluate. Backed by the Environmental Defense Fund and Katharine Armstrong, an environmental consultant and lobbyist for the Texas Oil and Gas Association, that plan also calls for companies to effectively pay landowners to conserve habitat, but the fees would fluctuate based on market demand. The program would be overseen by a nonprofit called the American Habitat Center, which was set up by ExxonMobil lobbyists.
Combs spokeswoman Lauren Willis said the comptroller supports that plan. Combs and Armstrong were also instrumental in setting up a similar conservation plan for the dunes sagebrush lizard. Combs' office oversees the effort, which has been widely criticized by wildlife groups and Texas Republican lawmakers, like state Sen. Kel Seliger of Amarillo, who say it lacks transparency.
The U.S. Fish and Wildlife Service decided last year not to list the dunes sagebrush lizard under the Endangered Species Act, prompting a lawsuit from Defenders of Wildlife. Should the agency make the same decision for the lesser prairie chicken, another lawsuit could be coming.
"There's a very, very strong likelihood that at least one environmental NGO will challenge any decision not to list the species," said Li, the group's attorney. "It is something that we would certainly consider."
Disclosure: BP America and BP Corporation North America were corporate sponsors of The Texas Tribune in 2010-12. Apache Corporation was a corporate sponsor in 2011-12. (You can also review the full list of Tribune donors and sponsors below $1,000.)
Quality journalism doesn't come free
Perhaps it goes without saying — but producing quality journalism isn't cheap. At a time when newsroom resources and revenue across the country are declining, The Texas Tribune remains committed to sustaining our mission: creating a more engaged and informed Texas with every story we cover, every event we convene and every newsletter we send. As a nonprofit newsroom, we rely on members to help keep our stories free and our events open to the public. Do you value our journalism? Show us with your support.
Yes, I'll donate today
---
Information about the authors