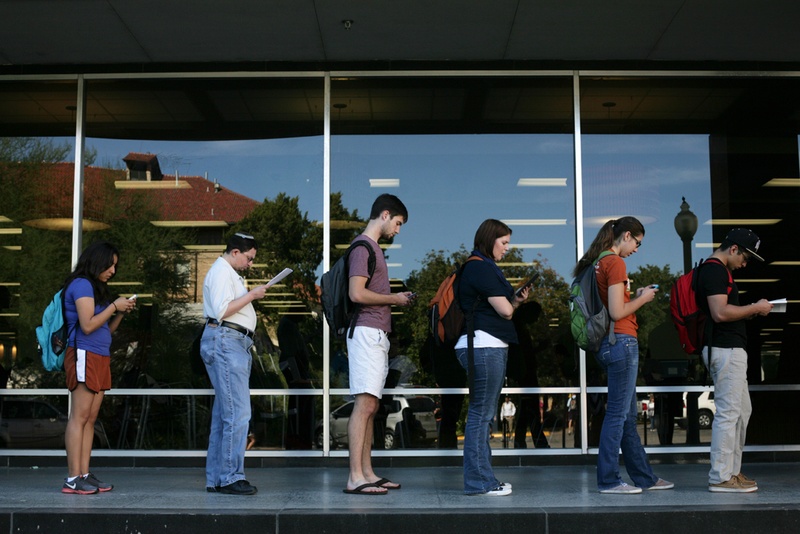 Hey, Texplainer: I heard there is more to today's elections than, well, today's elections. What's this about caucuses?
After many Texans cast their votes on Tuesday, the state's Republican and Democratic parties will start organizing themselves for political conventions.
In the past, both the Democratic and Republican parties have held precinct caucuses or conventions in county districts to elect who will attend the county conventions, which will be held this year on March 22. The precinct conventions generally also give members a chance to introduce new rules or laws that they would like to see for their party, said Spencer Yeldell, the spokesman for the Republican Party of Texas.
But this year, that's changing. While the Republican Party will continue to follow the same schedule, the Democrats will combine their precinct conventions with their county conventions and put the whole thing off until later this month.
The Texas Tribune thanks its sponsors. Become one.
"We've decided to take off of election night," said former state Rep. Glen Maxey, the director of county affairs at the Texas Democratic Party.
Holding conventions on the same night of the elections, in a school auditorium or wherever the voting is going on, is confusing and often unnecessary, Maxey said.
"In an off year, nothing major happens at the precinct caucuses," Maxey said. "We decided it was crazy to have a meeting just for the sake of having a meeting. It was very expensive and time consuming as well."
Party officials have not yet decided if they will continue these changes for the 2016 presidential elections, he added.
Precinct conventions are important because they are the first step in electing delegates to state and national conventions, said Yeldell, the GOP spokesman.
"The Republican precinct conventions are usually after everybody has voted," Yeldell said.
The Texas Tribune thanks its sponsors. Become one.
But he added that many Republican counties are not holding them on Tuesday, but will instead be holding them right before the county conventions on March 22 — just like the Democrats.
At the county conventions, the parties will decide who will attend their state conventions in June. The Republicans will meet in Fort Worth; the Democrats in Dallas.
Bottom line: The Democrats are delaying their usual election night precinct conventions until March 22, when they hold county conventions. The state's Republicans will hold some tonight and combine others with the county conventions.