Abbott: Let's Move On After Nugent Apology
UPDATED: Attorney General Greg Abbott said he wants "to move beyond" the controversy sparked by campaign appearances he made with conservative rocker Ted Nugent.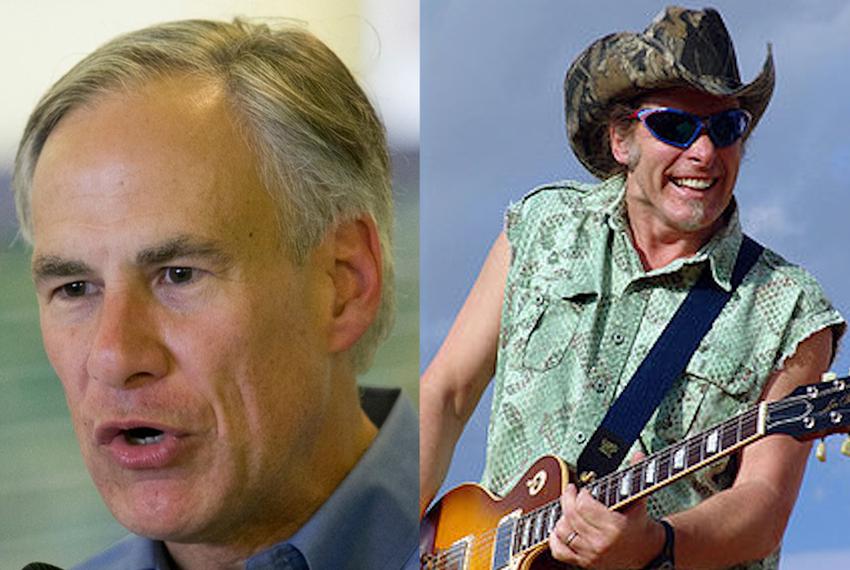 Updated Friday, Feb. 21 at 4:56 p.m.:
After coming under fire for campaigning with rocker and conservative firebrand Ted Nugent, Attorney General Greg Abbott said he wants to move on from the controversy given that Nugent has apologized for calling President Barack Obama a "sub-human mongrel."
"I believe Ted Nugent recognized his language was wrong and he rightly apologized," Abbott said in a statement. "This is not the kind of language I would use or endorse in any way. It's time to move beyond this, and I will continue to focus on the issues that matter to Texans."
In an interview with conservative radio host and CNN political commentator Ben Ferguson, Nugent said he wasn't apologizing directly to Obama, though.
"I do apologize — not necessarily to the president — but on behalf of much better men than myself," he said Friday in the interview.
Nugent appeared to indicate that he was sorry for causing heartburn to Texas Republican leaders, including Abbott, according to CNN.
"I apologize for using the term," he said. "I will try to elevate my vernacular to the level of those great men that I'm learning from in the world of politics."
Original story:
*Editor's note: This story has been updated throughout.
Texas Attorney General Greg Abbott's inaugural get-out-the-vote events on the first day of early voting weren't exactly standard meet-and-greets. The likely Republican nominee for Texas governor was accompanied by Ted Nugent on two campaign stops in North Texas.
The legendary rocker has a history of making headlines for his inflammatory comments about nearly every controversial topic imaginable. Last year he wrote in a WorldNetDaily commentary that immigrants "should be treated like indentured servants," and he has a record of using vulgarities to demean women, likening them to "fat pigs" in a 2012 interview on VH1.
But on Tuesday morning, he played it safe, calling Abbott "the epitome of what our Founding Fathers wanted.
"Greg Abbott and only Greg Abbott will keep Texas free — will keep Texas Texas," Nugent said.
He also argued that veterans are "heartbroken about what the liberal Democrats are doing to the Constitution."
Nugent doesn't generally mince words when it comes to his political views. The rock guitarist wore a Confederate flag T-shirt to Gov. Rick Perry's 2007 inaugural ball and said critics could "drop dead" if they didn't like it. He has called Hillary Clinton a "bitch" and worse. And ahead of the 2008 presidential election, Nugent referred to then-U.S. Sen. Barack Obama as a "piece of shit" and invited him to "suck on my machine gun."
He went after Obama again last month, referring to the president as a "subhuman mongrel."
News of Abbott's appearance with Nugent, a Republican, generated a flurry of news stories and thousands of tweets — many of them referring to the entertainer's smash talk and controversial past. State Democratic Party leaders criticized Abbott for campaigning with Nugent. Several of them are hosted a teleconference Tuesday prior to the campaign event to condemn Abbott and call on him to cancel the appearances, and Sen. Wendy Davis, the likely Democratic nominee for governor, said in a statement that "Greg Abbott's embrace of Ted Nugent is an insult to every Texan — every man, woman, husband and father."
Matt Angle, director of the Democratic Lone Star Project, which has provided consulting and research to Sen. Wendy Davis' gubernatorial campaign, said the appearance with Abbott undermines his highly publicized efforts to crack down on child sex predators given that Nugent has admitted to having sex as an adult with underage girls.
"Greg Abbott campaigning with Ted Nugent is an insult to every Texan and exposes in Abbott a fundamental and unacceptable moral deficiency," Angle said. "This is an example of Greg Abbott believing he can in one instance talk about protecting women and children and then in the very next instance affiliate with and tightly embrace somebody who has admitted to preying on young women."
At Tuesday's event, Abbott didn't mention the outrage over Nugent's appearance. He spoke of finding ways to alleviate crowded highways — "a guy in a wheelchair can go faster than cars on I-35" — and said he wanted to invest billions more in the state's transportation infrastructure. And he mentioned his wife's ethnicity, saying that, if he's elected, she will be the first Latina first lady in the state of Texas.
In response to the frenzy over Nugent, Abbott campaign spokesman Matt Hirsch said that Abbott does not "endorse or agree with" everything Nugent says, but added that they welcome "the support of everyone who supports protecting the Constitution."
"He is a forceful advocate for individual liberty and constitutional rights — especially the Second Amendment rights cherished by Texans," Hirsch said.
Nugent's attack on the left played well with the standing-room-only crowd. "It's pretty Republican here in Denton," said Susan Wells, who drove in from Robson Ranch, a retirement community 15 minutes outside of town.
Shelby Sementelli and Aamena Ahmed contributed to this report.
Texas Tribune donors or members may be quoted or mentioned in our stories, or may be the subject of them. For a complete list of contributors, click here.
Texans need truth. Help us report it.
Our Fall Member Drive is underway, and we need your support. The Texas Tribune is a critical source of truth and information for Texans across the state and beyond — and our community of members, the readers who donate, make our work possible. Will you join as a member with a tax-deductible donation of any amount?
Yes, I'll donate today
---
Information about the authors
Explore related story topics