Davis Calls on Abbott to Apologize for "Third World" Remark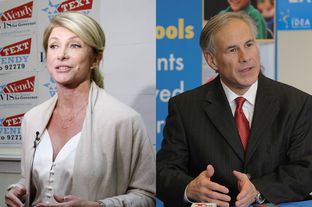 Enlarge
Laura Buckman / Bob Daemmrich
In a letter to The Monitor in McAllen, Democratic gubernatorial candidate Sen. Wendy Davis called on her expected Republican opponent, Greg Abbott, to apologize for remarks he made last week in which he compared corruption in South Texas to similar practices in a "third world" country.
"I join you in calling for Attorney Gen. Greg Abbott to apologize for his offensive and erroneous comment that problems facing South Texas resemble 'third-world country practices that erode the social fabric of our communities and destroys Texans' trust in government," Wendy wrote in the letter, adding that his comparison was untrue, hurtful to the state and harmful to economic development in border communities.
The Monitor had previously written its own editorial in which it also called on Abbott to apologize for his remarks.
Abbott made the comment in question last week when announcing new policy proposals in which he called for a dramatic increase in spending for border security through increased boots on the ground and high-tech equipment. In his remarks, Abbott referred to recent drug cartel bribery investigations in South Texas that allegedly involve a state district judge and others.
"The creeping corruption resembles third-world country practices that erode the social fabric of our communities and destroy Texans' trust and confidence in government," Abbott said last week in Dallas.
Davis joins several Democrats who called Abbott out for his remarks last week. Battleground Texas, a Democratic group working to increase voter turnout and make Democrats competitive in the state, has led the march against Abbott's comments. It launched a Twitter campaign, "Somos Texas," or "We Are Texas," to denounce the comparison.
The Abbott campaign did not immediately respond to a request for comment.