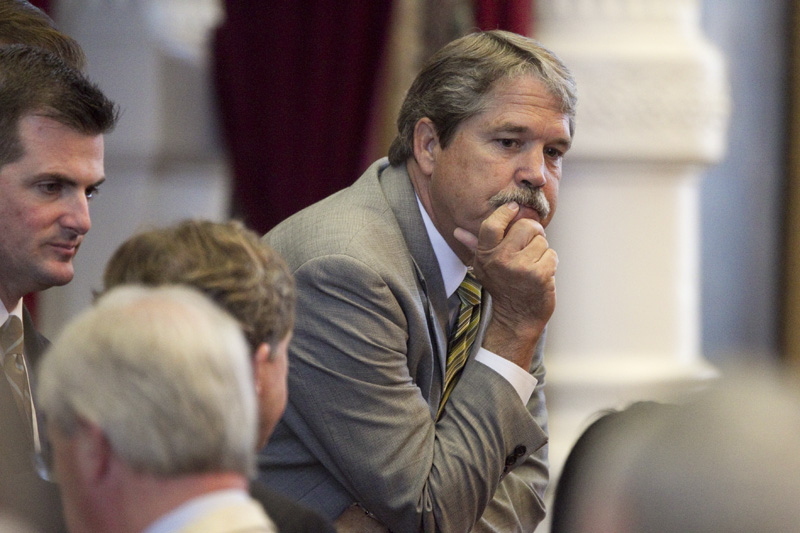 Updated, Jan. 28, 5:33 p.m.:
Patricia Grady, the candidate for the 212th District Court backed by state Sen. Larry Taylor and Texans for Lawsuit Reform, said late Tuesday afternoon that she needed to set the record straight, emphasizing that she is not supported by trial lawyer Steve Mostyn. She was responding to a statement issued earlier Tuesday afternoon by Bret Griffin who was appointed by Gov. Perry to the open seat.
"The reason my opponent attacked me is because I'm endorsed by Texans for Lawsuit Reform," Grady said. "His biggest supporters are trial lawyers, especially one local attorney. I think it's significant that the State Senator who lives in Friendswood — as does the new judge — does not support him."
She added, "I have no connection with Mostyn and I'm shocked that someone running for a public position of trust would stoop to such fabrications to distract from their own real issues. Unfortunately, his intentional fabrication underscores what a poor choice he was for the bench."
Updated, Jan. 28, 3:50 p.m.:
Gov. Perry's appointee to the 212th District Court, Bret Griffin, responded Tuesday afternoon to the criticism of his appointment with the following statement:
"I am honored to be appointed by Governor Perry. He is the longest serving governor in Texas history and has been a champion of conservative causes. Although I am not privy to why he chose me, I can only assume it is because of my wealth of legal experience that includes being a felony prosecutor and defending TWIA in Hurricane Ike claims. I understand one of my opponents, Pat Grady, is supported by trial lawyer Steve Mostyn, who sued TWIA and also supports Wendy Davis. I have many friends, some are lawyers but most are not and in my court I will treat everyone fairly, no matter who they are and will not be beholden to any group or individual. In all my efforts — I try to do the right thing for the right reason the first time.
"Rarely do you see Texans for Lawsuit Reform and Steve Mostyn agree on anything — but here they do. They both want Patricia Grady as a judge. Obviously, Texans for Lawsuit Reform and Mr. Mostyn, and his various PACs, like to try to influence elections from their offices in Austin or Houston. That is their right as citizens. I am simply grateful for the support of so many Galveston County voters who know me and know my record and my strong support for the Constitution. It is my hope that Galveston County voters can't and won't be fooled by these outside political groups."
Updated, Jan. 28, 2:53 p.m.:
Larry Taylor's colleague from across the aisle, Kirk Watson, D-Austin, tweeted his support on Tuesday afternoon, replying to this tweet from Taylor:
Needless to say, I'm disappointed by Governor Perry's unprecedented action. http://t.co/KiixaEEUpK

— Larry Taylor (@Taylor4Senate) January 28, 2014
With this tweet:
@Taylor4Senate U should b disappointed. Bad breach of a tradition/rule. Trads/rules assure more diverse views & prevent abuse of raw power.

— Kirk Watson (@KirkPWatson) January 28, 2014
Watson's action underscores that senators will act to defend the Senate's institutions. In this case, that means preserving a senator's prerogative to raise an objection to a nomination in his or her home district and to have that stick. This is usually enforced by the Senate refusing to act on an appointment if the hometown senator obects. But because Griffin's appointment happened with the Legislature not in session and with an election slated to happen before lawmakers reconvene, Perry's action effectively is untouchable.
Updated, Jan. 28, 1:23 p.m.:
Add Texans for Lawsuit Reform, also a usually staunch ally of Perry, to those upset by the governor's appointment of Bret Griffin as district judge. Like Taylor and the Hispanic Republicans of Texas, TLR backs Patricia Grady for the 212th District Court. The tort reform group released the following statement:
"We oppose Bret Griffin because we do not think he is qualified for the judgeship and because he has close personal and financial ties to Tony Buzbee, a personal injury trial lawyer who is extremely active in the 212th District Court in Galveston. Mr. Griffin once worked for Buzbee and Griffin's wife is a business partner of Buzbee's. Buzbee fully funded Griffin's previous, failed election bid for a judgeship.
"Buzbee is notorious for his public brag about judge shopping in South Texas, where he says he is allowed to handpick juries favorable to his plaintiff's case. The 212th District Court deserves a judge who will be fair and impartial to all parties and lawyers who come before the Court, which is why TLRPAC supports Patricia Grady and opposes Bret Griffin."
In addition to the accusation of judge shopping in South Texas, opponents of the Griffin appointment are also critical of Buzbee for his association with Steve Mostyn during legal action against the Texas Windstorm Insurance Association in the years after Hurricaned Ike that led to payout of claims exceeding $500 million. These claims were handled in the 212th District Court and Griffin's opponents believe that Buzbee therefore is pushing someone for the bench with whom he has close ties.
Updated, 5:49 p.m.:
Perry spokeswoman Lucy Nashed responded to Taylor's objections with this statement: "The governor appoints individuals who are qualified and willing to serve, and makes decisions in the best interests of Texans. Mr. Griffin will take the same oath as every judge before him, and is duty-bound to administer justice fairly and impartially."
Original story:
State Sen. Larry Taylor, R-Galveston, is not happy about Gov. Rick Perry's decision to appoint Bret Griffin to a district judgeship in Taylor's district over the senator's objections.
The seat for the 212th District Court was open because of the decision by Susan Criss to resign from the bench in order to pursue the open HD-23 seat.
"It is unfortunate that Governor Perry, whom I have worked with closely for over 10 years, has chosen to appoint Bret Griffin over my objection," Taylor said in a strongly worded statement. "It is an unprecedented action for a governor to overrule the objection of the hometown senator whose district includes the appointee."
He continued: "This appointment is being made at the behest of Gov. Perry's new friend, Tony Buzbee, a personal injury trial lawyer who has certainly benefitted from and has even bragged about his success in friendly legal venues. Bret Griffin is too close to Mr. Buzbee. He has worked for Buzbee, his wife works for Buzbee, they are partners in a business venture and Buzbee almost fully funded Mr. Griffin's last campaign for judge. Now, more than ever, the people of Galveston County deserve an impartial judge who will run a fair court. This appointee does not meet that test and that's why I am supporting Patricia Grady. She is the most qualified in this race and she will not be beholden to anyone."
Perry appointed Buzbee this year to the Texas A&M University System's board of regents. The website for the Buzbee Law Firm includes on its homepage a quote from a New York Times Magazine profile describing him "as one of the most successful trial lawyers in Texas (and thus the country)…"
In addition to Taylor's support, Grady's candidacy for the 212th District Court was also endorsed by the Hispanic Republicans of Texas.
Texas Tribune donors or members may be quoted or mentioned in our stories, or may be the subject of them. For a complete list of contributors, click here.