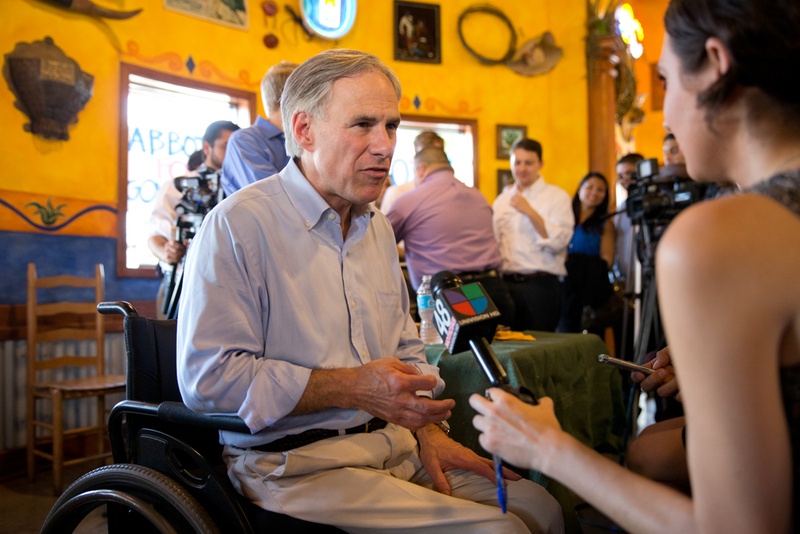 Republican gubernatorial candidate Greg Abbott on Monday launched a Spanish-language website, echoing his party's attempts to appeal to more Hispanic voters in the state.
"I am working with all Texans on our common dream — the American Dream — that is firmly lodged in liberty, not government," Abbott, the state's attorney general, said in a statement. "The Hispanic community and I share a belief that faith, family and free enterprise are the keys to a strong and prosperous future for Texas."
The Spanish-language website, vota.gregabbott.com, resembles Abbott's English-language site but includes some differences. The homepage and biography page on the Spanish-language site feature a family photo of Abbott, his daughter and his wife, Cecilia, who is of Hispanic descent. The attorney general appears by himself in the English-language version.
On the homepage of the English-language website, Abbott is depicted holding a gun in a photo above a heading that reads "Protecting the 2nd Amendment." The Spanish-language version features a photo of a child above the heading "Creando Escuelas mas Seguras" (or "Creating Safer Schools").
The Texas Tribune thanks its sponsors. Become one.
The "Issues" page on the English-language site leads with a section on repealing the Affordable Care Act, but that section is listed fourth in the Spanish-language version.
The Abbott campaign in 2012 launched a Spanish-language Twitter account, which on Monday was updated for the first time since October.
Since announcing his candidacy last summer, Abbott has tried to court the state's Hispanic vote, making various campaign stops in border cities and speaking with Spanish-language news channels like Univision. Abbott has said Hispanic values align more closely with Republican beliefs on social issues and economic matters.
Texas Democrats have dismissed the GOP's outreach efforts, claiming that the party's stances on issues like education and immigration do not resonate with Hispanics.
In the general election, Abbott is expected to face Democrat Wendy Davis, who has yet to launch a Spanish-language website.
Texas Tribune donors or members may be quoted or mentioned in our stories, or may be the subject of them. For a complete list of contributors, click here.