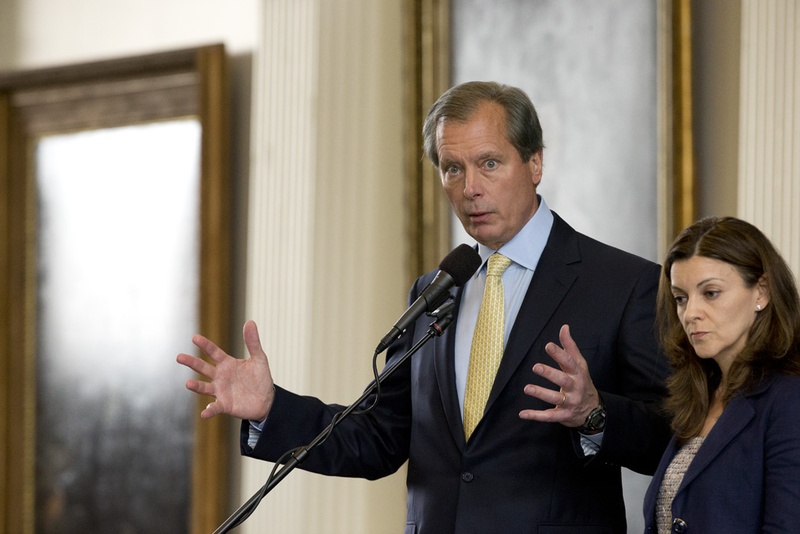 This week, Lt. Gov. David Dewhurst called for the impeachment of President Obama, so we begin our 10-song playlist inspired by the week's news with a similar call subtly made seven years ago by Neil Young in his song "Let's Impeach the President."
Pamela Willeford, the former U.S. ambassador to Switzerland and Liechtenstein, alleged that, in 2011, when she asked Gov. Rick Perry's chief of staff why the governor and his appointed regents were "going after" University of Texas at Austin President Bill Powers, he replied, "Because we can." That's also the name of a song by Bon Jovi, which is next on the list.
Before the federal government reopened, eight Democrats in Texas' congressional delegation sent a letter to U.S. House Speaker John Boehner on Monday outlining the effects of the shutdown on the state, inspiring the inclusion of "The Letter" by Hayes Carll.
Meanwhile, concerns are on the rise about the state's aging water infrastructure, so we have "Dam Would Break" by Toad the Wet Sprocket. A new University of Texas/Texas Tribune Poll showed a wide margin of support for a water measure that will be on the November ballot, so we also have Hayden Panettiere singing "We Are Water."
The Texas Tribune thanks its sponsors. Become one.
The Texas Parks and Wildlife Department is handling increased demand in hunting courses from Texans seeking instruction in Spanish, so we have "La Caza" by Juan & Junior. Representatives from the MD Anderson Cancer Center and IBM announced a project that uses a supercomputer to help physicians recommend treatments for cancer patients, so "Dear Mr. Supercomputer" by Sufjan Stevens makes an appearance.
TxDOT released the names of the top 25 toll scofflaws in Texas. The violators owe thousands of dollars in unpaid tolls, with the largest bill totaling more than $230,000. For them, we have "Price You Gotta Pay" by Mr. Big.
Next up is Taj Mahal's rendition of "The Cuckoo," because some farmers and ranchers in West Texas worry that efforts to provide federal protection for the yellow-billed cuckoo will hurt their industry.
And finally, Kinky Friedman announced his bid for agriculture commissioner as a Democrat, so we close with him singing "Sold American."
Enjoy!
Texas Tribune donors or members may be quoted or mentioned in our stories, or may be the subject of them. For a complete list of contributors, click here.