Cruz's Marathon Speech May Not Have Lasting Effect on Cornyn
U.S. Sen. John Cornyn's decision not to "#StandWithCruz" raised a firestorm of criticism from the Tea Party grassroots. But it isn't likely to have a long-term effect on the senior senator's political viability, experts say.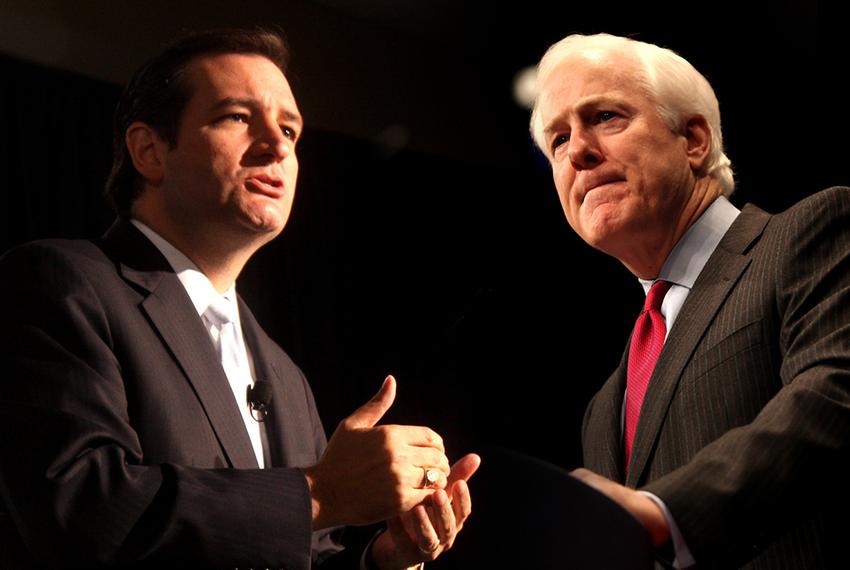 WASHINGTON — U.S. Sen. John Cornyn did not help Ted Cruz with the junior senator's largely symbolic 21-hour speech that began Tuesday and ended Wednesday. And he tacitly disparaged Cruz's attempt to block Senate Democrats from removing language that would defund federal health care reform from a House-passed bill to keep the government running.
His decision not to "#StandWithCruz" raised a firestorm of criticism from the Tea Party grassroots and across social media. But the furor isn't likely to have a long-term effect on Cornyn's political viability, experts say.
Hours after Cruz wrapped up Wednesday, Cornyn congratulated him on his "marathon speech" while reasserting his own position that a government shutdown wouldn't "advance the cause" of defunding Obamacare.
Cornyn again defended his stance Thursday when he tweeted, "Killing the House defundit bill would not kill Obamacare, just the opposite. Why would I vote against a bill I am for?"
"Sen. Cornyn believes that this is a very good opportunity to defund Obamacare, but if we block the bill, it's more likely that we will shut down the government and Obamacare will continue," echoed Megan Mitchell, Cornyn's communications director.
Political operatives say Cornyn's balancing act is unlikely to cause lasting damage, even though the Tea Party has an outsize influence on Texas GOP primaries.
"He'll be overwhelmingly re-elected," said Fort Worth-based Republican political consultant Bryan Eppstein. "Sometimes there is smoke where there is fire, or other times it is a smoke machine. So those who say that there is criticism of Sen. Cornyn, I think that's a smoke machine."
On the issue of defunding federal health reform, there's very little air between Cruz and Cornyn. "There are differences in Washington, not about the goals. There are differences about the play calling," said Ray Sullivan, former chief of staff to Gov. Rick Perry and a Republican political consultant.
But glaring differences between Texas' two senators in both seniority and personality give the perception that the gap is wider. Cornyn is an experienced and respected leader who twice chaired the National Republican Senatorial Committee; Cruz ran against business as usual in Washington on promises to dismantle traditional government.
Cornyn is "by nature and personality a quieter, more judicious leader so there are stylistic differences." Sullivan said. "He does not generally seek out a lot of attention or limelight."
Cruz, meanwhile, has used that limelight to his advantage; the first-term senator is already being talked about as a potential presidential contender.
Cornyn's decision to stay out of the spotlight for Cruz's 21-hour speech has drawn much criticism from grassroots conservatives. Look no further than the torrent of negative comments on his Facebook page or on Twitter.
Some seemed particularly indignant that the senior senator was charting a different course from Cruz, who many have suggested has drawn Cornyn farther right. (In an interview with Politico this week, Cornyn joked that "recent events would probably run counter to that narrative.")
Cornyn already has two challengers in March's GOP primary — Erick Wyatt, an Iraq War veteran, and Linda Vega, a Texas lawyer, according to the Cook Political Report, a nonpartisan group that monitors elections across the country. But both candidates are largely unknown. And time is running short; Texas' filing deadline is Dec. 9.
"Even in a primary situation, it is just very, very hard to get well-known enough in Texas to where voters know you well enough to vote for you," said Jennifer Duffy, a senior editor at the Cook Political Report.
Sullivan said that even if a better-known challenger does crop up, Cornyn's decision not to back Cruz's strategy won't be hard to explain on the campaign trail.
"He will have ample opportunity to explain his tactical decisions and his approach to eliminating Obamacare," Sullivan said. "In the short term, Sen. Cruz is doing a good service, and Sen. Cornyn will, I'm sure, be called on to explain his positions."
The Medill News Service is a content partner of The Texas Tribune and is providing reports from Washington, D.C.
Texas Tribune donors or members may be quoted or mentioned in our stories, or may be the subject of them. For a complete list of contributors, click here.
Support public-service journalism that's always free to read.
It's been a busy year. Through it all, The Texas Tribune's journalists have not missed a beat. And with redistricting starting in earnest next week and the 2022 elections on the horizon, we know our journalism will continue to be fundamental for Texans everywhere. Support our work today so we can be there for you in 2022 and for whatever else 2021 might throw at us.
Yes, I'll donate today