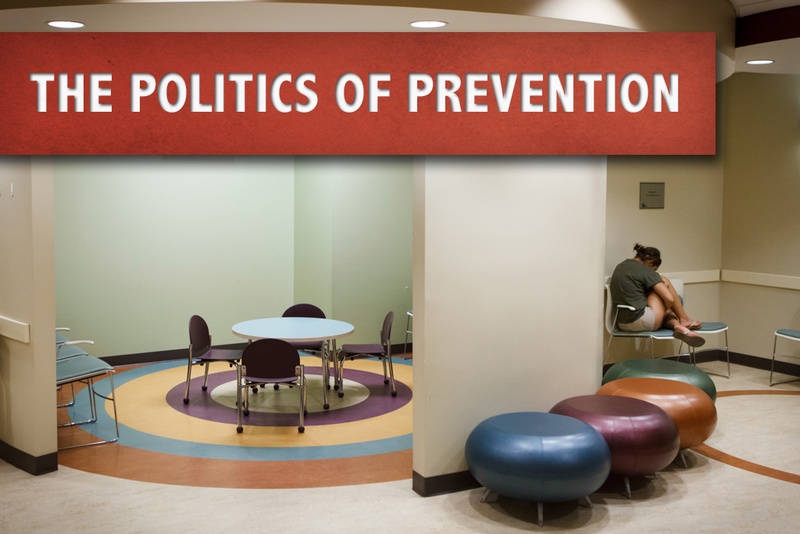 The Politics of Prevention is an occasional series on the effects of state policy on women's health services.
More in this series
---
Updated Aug. 29, 11 a.m.:
Despite pleas from reproductive rights advocates to amend proposed rules to enact strict regulations on abortion facilities, the Department of State Health Services' governing council gave tacit approval to them on Thursday.
The council did it in an unusual way — by not taking a vote on the rules. Though the Rev. William Lovell, a council member from Dallas, made a motion for the council to either vote on the proposed rules or send them back to DSHS staff for additional changes, no one seconded his motion. Without a vote of any kind, the rules move one step closer to taking effect.
The lack of a vote "was unusual and that hasn't happened in recent history," Carrie Williams, a DSHS spokeswoman said after the meeting.
Abortion rights advocates raised concerns at the meeting that the proposed rules could endanger women by cutting off access to 37 of the state's 42 existing abortion facilities. Those 37 facilities would not meet the new requirements that they qualify as ambulatory surgical centers.
The advocates recommended that the council exempt existing clinics that have a proven record of providing safe and legal abortions; extend the timeframe for existing clinics to get into compliance; or exclude rules that apply to ambulatory surgical centers but do not make sense for abortion facilities.
Dr. Lewis Foxhall, a member of the advisory council appointed by Gov. Rick Perry, said after the meeting that he personally chose not vote to approve the rules because they did not take into account the challenges faced by clinicians.
"There was just no latitude provided, so it made it very difficult to support the rules," he said. "I hope people, both individuals and groups and the clinicians impacted by the statute, will take the opportunity to comment during these next 30 days so hopefully those issues can be reevaluated at the executive commissioner's level."
Lisa Hernandez, the DSHS council's attorney, said Thursday that the council did not have the authority to amend the proposed rules as the reproductive rights advocates proposed, or to make them less stringent.
"We do not have the authority to adopt rules that would grandfather any of the provisions in statute for existing providers," she said. "We feel like to do so would violate the intent of House Bill 2."
The proposed rules will now be sent to Health and Human Services Commissioner Kyle Janek for final approval before being posted for 30 days for public comment. Most of the rules, including a provision that requires physicians to have active hospital privileges, will automatically take effect on Oct. 29. Additional rules requiring abortion facilities to meet the standards of ambulatory surgical centers must be approved by Jan. 1 and are scheduled to take effect Sept. 1, 2014.
Jessica Luther, a writer and activist, told the council that when similar laws were approved in Pennsylvania and Virginia, the state health departments eased the burden on women by granting waivers to existing clinics. She urged the council, "before ruling out your ability to give waivers, that you look at the way Pennsylvania and Virginia handled that after similar rules were passed there."
Original story:
As the state health department prepares to implement strict abortion facility regulations approved by lawmakers in July, abortion rights advocates continue to voice concerns that the rules will endanger women by limiting access to safe, legal abortion.
At an open meeting on Wednesday, the Department of State Health Services laid out draft rules to enact the provisions in House Bill 2, the omnibus abortion regulation bill signed into law by Gov. Rick Perry in July. The majority of the 39 people who registered to testify on the draft rules asked the council to approve amendments that would ease the burden on women, especially those who are poor or live in rural areas where existing clinics would not meet the new standards.
"There is a great deal of uncertainty on what the full impact of this law will be, and you have the power to lessen that," Jade Chang Sheppard, a board member of Planned Parenthood in Austin and a Democratic candidate for House District 50, testified at the meeting. The proposed rules could effectively shut down abortion facilities, she said, noting that two facilities that perform abortion in Midland and Bryan have already closed.
"This bill was not pushed through the Legislature to ensure women's health and safety," Sheppard said. "Instead, it was used to restrict access to abortion — a constitutional right — in the name of political gain."
HB 2, approved by lawmakers during the second special session this year, contains four main provisions: It would ban abortion at 20 weeks post-fertilization and recognize that the state has a compelling interest to protect fetuses from pain; require doctors performing abortions to have active hospital admitting privileges within 30 miles of the abortion facility; require doctors to administer abortion-inducing drugs in person, rather than allowing women to take them at home; and require abortions — including drug-induced ones — to be performed in facilities that meet the standards of ambulatory surgical centers, or ASCs.
Thirty-six of the state's 42 existing abortion facilities would not meet the proposed standards.
The regulations will take effect on Oct. 29, with the exception of the requirement that facilities meet the ASC standards. The agency must adopt rules by Jan. 1, 2014, to meet that requirement, and those regulations would take effect Sept. 1, 2014.
The DSHS council considering the rules plans to meet Thursday morning to decide whether to approve the draft rules. If the rules are approved, they will be sent to Health and Human Services Commissioner Kyle Janek for approval, and then posted for 30 days for stakeholders to provide public comments before any additional action is taken.
"I urge you to keep in mind the ways that your agency can play a part in ensuring women have access to safe care," Heather Busby, executive director of NARAL Pro-Choice Texas, said at the meeting. "Please enact regulations that will help these providers with a proven track record of providing a high standard of care keep their doors open."
Busby and other abortion rights advocates asked the council to amend the rules to exempt existing clinics that have a proven record of providing safe and legal abortions, to allow clinics to apply for waivers from the rules and to exclude rules that apply to ASCs but do not make sense for abortion facilities. As an example, she cited a requirement that ASC facilities have separate locker rooms for men.
Carrie Williams, the spokeswoman for DSHS, said that it was not within the department's power to grandfather existing abortion facilities or to provide exemptions to the rules, because that authority is not granted in HB 2.
Kathy Perkins, the assistant commissioner for regulatory services at DSHS, who laid out the draft rules for the council, also said the rules do not incorporate all of the ASC licensure requirements. The department excluded some rules that would not apply to abortion facilities, such as licensure fees.
"This bill does not require abortion facilities to be licensed as ambulatory surgical centers," Perkins said. "It requires them to meet the standards of ambulatory surgical centers, and that is a key difference."
She added, "There are some things in the abortion rules that are different or maybe more stringent than the ambulatory surgical center rules, so those would take precedence." For example, the state requires abortion facilities to be inspected annually, whereas licensed ASCs are inspected every three years, so the department kept that provision to ensure abortion facilities were inspected more often.
"We are trying to conform with what HB 2 directs us to do," Perkins said, explaining that the department did not add any additional rules that strayed outside the scope of the legislation.
In addition to meeting the standards of ASCs, the draft rules require licensed abortion facilities to have a written transfer agreement with a hospital, and doctors that perform abortions to have active admitting privileges at a hospital that also provides obstetrical or gynecological health services within 30 miles of the abortion facility. Those physicians would also be required to provide a phone number the patient could use to contact medical personnel at any time of day to request assistance for complications or ask questions related to the abortion procedure, and the name and phone number of the nearest hospital to the patient's home in case of emergency.
Representatives of Texas Alliance for Life and Texas Right to Life testified in support of the draft rules. John Seago, legislative director for Texas Right to Life, said the structural requirements of ASCs, such as wider hallways, would ensure that women could safely be moved out of the facility on a stretcher in the case of an emergency.
"There is no such thing as a safe abortion — at least one human being dies in every abortion," said Brian McAuliffe, the only additional person to offer public testimony in support of the draft rules. A former employee of a crisis pregnancy center, McAuliffe urged the committee to enforce the rules as soon as possible to protect women and unborn fetuses.
Dr. Kristine Hopkins and Dr. Joe Potter, researchers at the University of Texas at Austin conducting the Texas Public Policy Evaluation Project, a three-year study on the impact of state budget cuts to family planning services, testified that the rules would have a disproportionate negative impact on women seeking drug-induced abortions and women in rural areas, who would be forced to travel much longer distances to reach facilities that meet the standards of the proposed rules.
"Essentially what this bill is saying is not to be a poor woman in Texas," Nancy Cardenas, a senior at UT-Austin who grew up in the Rio Grande Valley, told the committee. Women living in poor areas often rely on Planned Parenthood and Whole Woman's Health because the state has failed to ensure access to health services, she said. "We deserve access to health care, just as much as anyone else."
This story was produced with the support of the Dennis A. Hunt Fund for Health Journalism, a program of the USC Annenberg School of Journalism's California Endowment for Health Journalism Fellowships, and in partnership with Kaiser Health News, an editorially independent program of the Henry J. Kaiser Family Foundation, a nonprofit, nonpartisan health policy research and communication organization not affiliated with Kaiser Permanente.
Texas Tribune donors or members may be quoted or mentioned in our stories, or may be the subject of them. For a complete list of contributors, click here.