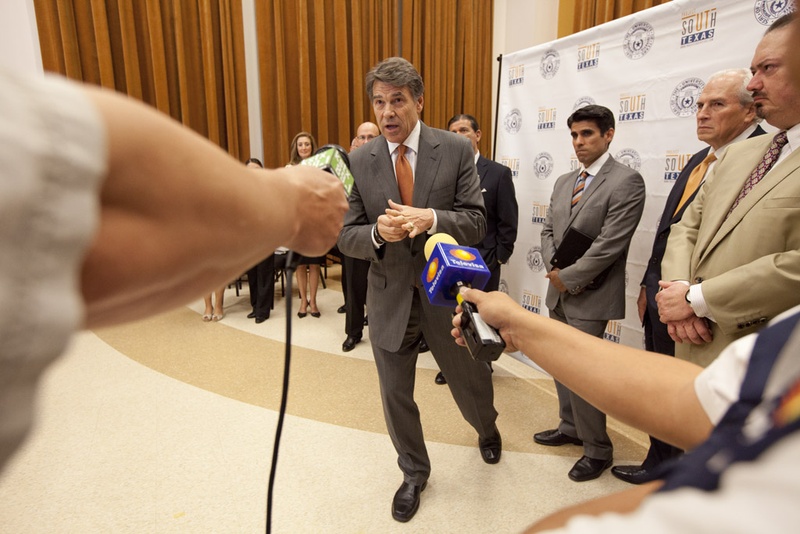 Gov. Rick Perry's office is disputing reports that the state is negotiating with the federal government to draw down $100 million in additional financing under a rule created by the Affordable Care Act.
Politico reported on Tuesday that Texas is taking advantage of the Community First Choice program, which was set up under "Obamacare" to increase federal Medicaid matching funds for home attendant services, so that more people with disabilities could receive community-based services.
Allison Castle, a spokeswoman for Perry, said none of the governor's health policy aides have been involved in negotiations with the federal government over the Affordable Care Act.
But Perry — who has consistently denounced federal health reform, refused to set up a state-run insurance exchange and resisted pressure from health advocates to expand Medicaid eligibility to cover poor adults — endorsed a bill during the last legislative session directing the state's Health and Human Services Commission to maximize federal matching funds to improve rates for attendant care.
The Texas Tribune thanks its sponsors. Become one.
"The bottom line is it has nothing to do with Obamacare," Castle said.
The Texas Health and Human Services Commission, the agency charged with implementing Senate Bill 7, is the one that sought increased federal funding through Community First Choice, which spokeswoman Stephanie Goodman called "a pretty straightforward process available to all states that provides an increase in the federal match rate for certain services."
"There are no 'talks' or 'negotiations,'" she said in an email, adding that the program does not expand who is eligible for Medicaid services.
Ironically, Republican lawmakers amended SB 7 to add language demonstrating their vehement opposition to Obamacare; the bill says HHSC may not expand Medicaid eligibility without legislative approval.
The bill's author, Sen. Jane Nelson, R-Flower Mound, clarified the intent of the legislation in a letter sent to the agency in June. She wrote that the law should extend basic attendant services to persons with physical and intellectual disabilities and that the state's 2014-15 budget "assumes an enhanced federal match for a cross-disability population." She did not specifically address whether the state would receive that enhanced rate by participating in the federal Community First Choice Option program.
This story was produced in partnership with Kaiser Health News, an editorially independent program of the Henry J. Kaiser Family Foundation, a nonprofit, nonpartisan health policy research and communication organization not affiliated with Kaiser Permanente.
The Texas Tribune thanks its sponsors. Become one.
Texas Tribune donors or members may be quoted or mentioned in our stories, or may be the subject of them. For a complete list of contributors, click here.