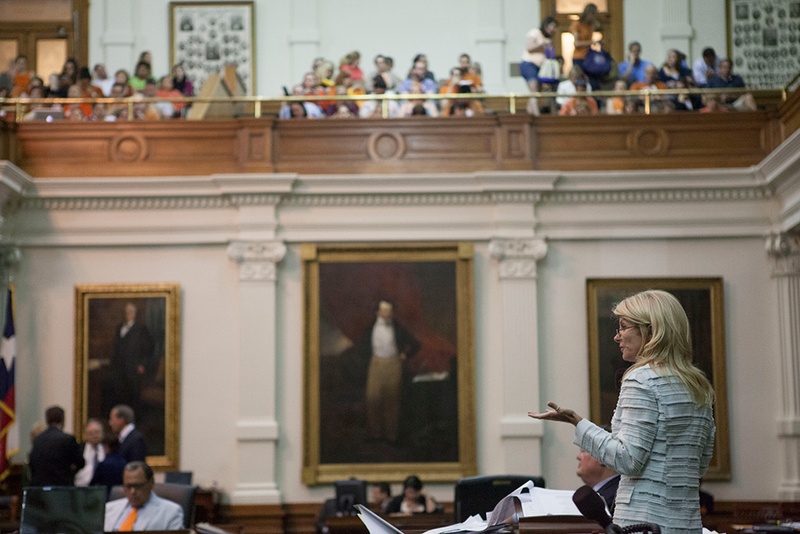 Each week, we make a 10-song playlist inspired by Texas political news from the previous seven days. This time, we are focusing entirely on Tuesday. If you don't know what happened, here's a hint: We begin with Tut Taylor's "Southern Filibuster."
The easiest way to enjoy the playlist is to download Spotify, which is a free program. But even without it, you can still follow along. Here are this week's other selections:
In case you missed it: State Sen. Wendy Davis, D-Fort Worth, successfully filibustered a bill to death that would have established new restrictions on abortions and abortion facilities. This required her to stand, without leaning, and talk about the legislation for most of the day. Our second song is "Still Standing" by Monica featuring Ludacris.
Much attention has been paid to the pink sneakers Davis wore to help her get through the ordeal more comfortably. The brand reportedly got a sales boom out of it, and our playlist got the addition of Paolo Nutini's "New Shoes."
The Texas Tribune thanks its sponsors. Become one.
During the filibuster, Davis' remarks were highly scrutinized by her Republican colleagues, who were eager to — and did — call a point of order if they felt she went off topic. Her Democratic colleagues requested guidance on what topics would be considered germane, but answers from Lt. Gov. David Dewhurst were not forthcoming. No doubt Davis could relate to Brandi Carlile's "What Can I Say."
With less than two hours to go until the midnight deadline, Republicans landed a third and final point of order on Davis, seemingly grinding her effort to a halt. But her fellow Democrats stepped in, further eating into to the time by peppering the presiding officer with parliamentary questions. The next song is Joe Cocker's "With a Little Help From My Friends."
In the final minutes, lawmakers struggled to cast a final vote on Senate Bill 5 over the din of the crowd in the Senate gallery and the Capitol rotunda. The Senate had essentially bid "Farewell to Decorum," which happens to be the name of a song by Dallas' own The Killdares.
A vote on the bill was cast, but wasn't wrapped up until after midnight. An initial record of the vote indicated that it had occurred in the early moments of Wednesday. But it was quickly changed to show it occurring in the final seconds of Tuesday. This prompted significant confusion and suspicion, as well as the addition of "Change of Time" by Josh Ritter to our playlist.
Ultimately, as Foreigner put it in the song "Too Late," it was decided that the Senate had missed its deadline. Dewhurst blamed the failure of Senate Republicans to get the bill to the governor on the behavior of what he called an "unruly mob." We also added "The Mob Rules" by Black Sabbath.
Despite all the drama, the matter is not settled. Gov. Rick Perry has called lawmakers back for a second special session to make another attempt at passing the bill. We close our playlist accordingly, with Ray Charles and Norah Jones singing "Here We Go Again."
The Texas Tribune thanks its sponsors. Become one.
Enjoy!
Texas Tribune donors or members may be quoted or mentioned in our stories, or may be the subject of them. For a complete list of contributors, click here.