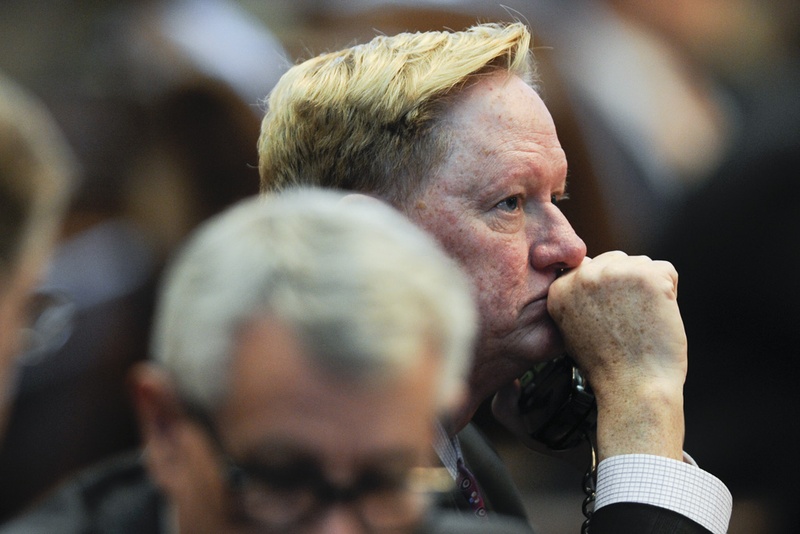 Altered versions of amendments attached to the budget in the House specifically limiting the authority of the University of Texas System regents survived the conference committee process and remain in the final report on Senate Bill 1, the budget bill.
In the latest version of the budget, no state money can be used to pay or reimburse any expenses by members of the UT System board who have not been confirmed by the Texas Senate, not including the student regent.
Regents are also prohibited from using any money from the Available University Fund — the payouts from the Permanent University Fund, a major endowment — to pay for the board's travel, food and meeting expenses.
Additionally, the board may not spend state money on an investigation of any of the system's institutions or the administrators of an institution without providing at least seven-days notice to the Legislative Budget Board regarding the cause and scope of the investigation.
The Texas Tribune thanks its sponsors. Become one.
The current UT System board generated controversy the spring by pursuing a plan to pay for an investigation of the University of Texas at Austin School of Law, which many lawmakers thought was unnecessary.
In March, House Appropriations Chairman Jim Pitts, R-Waxahachie, publicly accused the regents of being on a "witch hunt" targeting UT-Austin President Bill Powers. "I hope we'll be able to end these witch hunts," Pitts said at the time.
The restrictions on the UT System board that remain in the budget are somewhat gentler variations of more stringent amendments originally added by Pitts.
One would have prevented the UT regents from spending any state appropriations on their travel or lodging. Another would have stripped the board of almost all of its discretion over how Available University Fund monies were spent.
A third amendment sought to ban the board from spending public dollars on investigations of the system's universities and their executive administrators. While that has been changed to a rule that merely requires notification prior to spending money, a requirement that the board, at the end of each year, provide a detailed report on all investigative activities to the LBB and the governor's office remains in the bill.
Texas Tribune donors or members may be quoted or mentioned in our stories, or may be the subject of them. For a complete list of contributors, click here.