A Well-Timed Budget Note From the Attorney General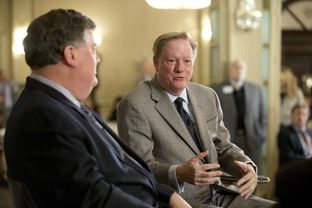 Greg Abbott's letter doesn't have any new information in it, but the timing takes away what some — probably those further from the budget conversations than closer — saw as a possible solution for the Legislature's financial logjam.
The attorney general said what budgeteers already know: Spending from the Rainy Day Fund counts against the constitutional spending cap. The question over that goes a long way back, but a ruling from the Texas Supreme Court settled things: It's not free money.
That leaves two outs, if lawmakers want to spend more than the constitutional limit on growth would allow. They can vote to spend more than the limit, a simple matter that might, in some districts, have real political costs. Or they can ask voters to change the constitution — this is the idea behind the Senate's SJR 1 — and to set aside money for water and transportation and education.
The first option requires a simple majority in the House and in the Senate (it's a majority to bust the spending cap; two-thirds to get into the Rainy Day Fund). It would push the state past the spending limits and take care of the big, expensive things legislative leaders and the governor have said they require of this Legislature: water, roads, education and tax cuts.
Lots of members think it would be simple, effective and that it would get a lot of them beat in next year's primaries.
The second option requires two-thirds majorities from the House and the Senate. They would ask voters to bust the cap instead of doing it themselves. One risk is that voters might say no, taking away any wiggle room for lawmakers looking to balance the public's demand for spending on various programs with its demand for small government that doesn't cost much.
They could always cut spending, an idea that everybody likes until they see the cuts that would be necessary to take care of water and transportation spending, not to mention education and tax cuts.
The trick here is to put together the votes for some combination of ideas that will satisfy Republican primary voters and the leadership's to-do list without crossing any of the lines in the sand drawn by lawmakers who variously don't want to bust the spending cap, spend money from the Rainy Day Fund, leave public education cuts from 2011 in place, go home without any water plans or transportation funding or tax cuts.
Abbott's timing — prompted directly by a request from Appropriations Chairman Jim Pitts, R-Waxahachie, and indirectly by the Senate's proposed constitutional amendments — was pretty good. They've removed an imaginary and magical solution that might have untied the knot without any hard work.
Now they can really negotiate.