Texplainer: Who Oversees Texas' Fertilizer Plants?
Hey, Texplainer: Which state and federal agencies were responsible for overseeing and regulating the fertilizer plant in West that exploded last week?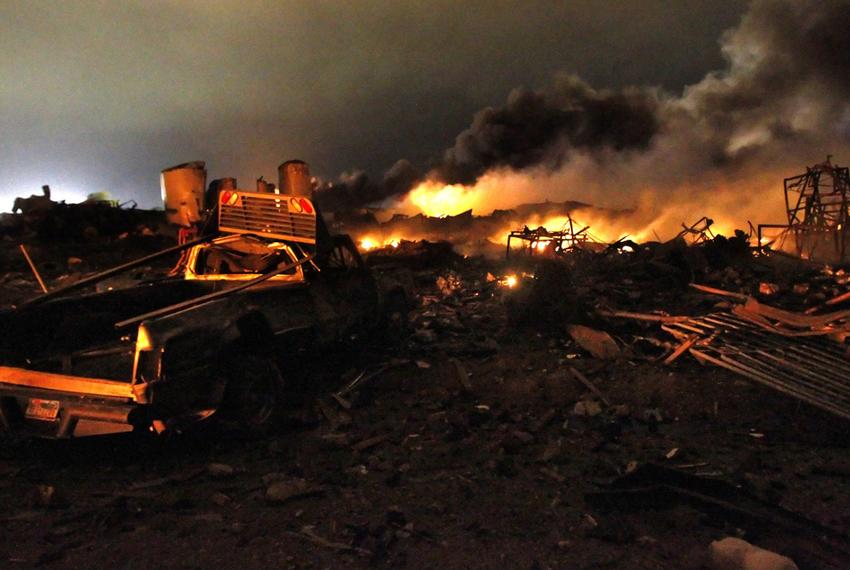 Texplainer

Welcome to The Texas Tribune's "Texplainer" series, where we answer questions from readers like you.
More in this series
Hey, Texplainer: Which state and federal agencies were responsible for overseeing and regulating the fertilizer plant in West that exploded last week, killing 14 and injuring at least 200?

There's no single agency responsible for inspecting fertilizer plants and enforcing their regulations; the task falls to a wide range of state and federal agencies. Here's a look at what the agencies do — and the role they played in monitoring the West facility.
1) The Texas Commission on Environmental Quality monitors and enforces air quality and emissions at such plants.
Larry Soward, a former TCEQ commissioner who is now interim director for the nonprofit Air Alliance Houston, said the agency generally inspects plants about once a year, unless a complaint is filed, which would spur a separate investigation. But Neil Carman, the clean air program director of the Sierra Club's Lone Star chapter, told The Texas Tribune that not all fertilizer plants receive routine checks by the commission. Carman, who from 1980 to 1992 served as an inspector and investigator for the predecessor to the TCEQ, said that because the West plant was relatively small, it would've been inspected "at most once every five years."
The plant was constructed in 1962, prior to state and federal requirements to obtain permits for emission of air pollutants, but lost its "grandfathered" status in 2004 when state law required older plants to follow new regulations.
The facility currently has two permit authorizations with the TCEQ. The first is for two 2,000-gallon anhydrous ammonia storage tanks, and was issued in 2006 after a "technical review" of the plant. The other is for "material loading and storage operations of dry fertilizer materials," which was issued after the last inspection of the plant by the TCEQ in 2007.
2) The Office of the State Chemist, which oversees the Texas Feed and Fertilizer Control Service, enforces regulations on firms that are responsible for distributing feed or fertilizer to the last point of sale. Texas has 592 such plants, including the one in West. Documents show the agency visited the plant four times in 2012 and four times in 2011 to analyze chemicals for proper labeling. Tim Herrman, the agency's director, said that the West plant was last inspected on April 5 after it filed a complaint against one of its suppliers.
3) The federal Pipeline and Hazardous Materials Administration, which oversees hazardous materials while they are in transport, fined the West plant $5,250 in 2012 after a routine inspection found improper labeling of storage and a failure to "develop and adhere to a security plan."
Joe Delcambre, a public affairs specialist for the agency, said the regional office in Houston assesses different "risk criteria" to determine when and where inspections should take place; he said the agency also works with local and state agencies to enforce regulations.
4) According to The Washington Post, the federal Occupational Safety and Health Administration, an agency that oversees workplace safety, last inspected the facility in 1985, when the company was fined $30 for a "serious violation for storage of anhydrous ammonia."
Bloomberg reports that there are now 2,200 OSHA inspectors for the country's 8 million workplaces and 130 million workers. In Texas, OSHA conducted 4,448 inspections in the last fiscal year; a report by the AFL-CIO found that at this pace, it would take OSHA 126 years to visit every workplace.
5) Plants that store large amounts of ammonium nitrate, a chemical that can be used in bomb-making, are subject to oversight from the U.S. Department of Homeland Security (DHS). According to Reuters, the plant was storing 1,350 times the amount of ammonium nitrate that would normally trigger such oversight. Reuters reported that West Fertilizer did not self-report the amount of ammonium nitrate to DHS as required. Sam Mannan, director of the process safety center at Texas A&M University, told Reuters that the task of regulating the handling and storage of ammonium nitrate falls on local and state agencies, and not OSHA or the EPA.
6) Filings with the Texas Department of State Health Services show the plant had 270 tons of the chemicals on hand last year. Carrie Williams, a spokeswoman with the agency, said in an email that facilities that store hazardous materials are required to submit an annual report to DSHS — but that the agency doesn't officially regulate them. She said that such plants must self-report with DHS.
Bottom line: No single agency at the state or federal level has direct oversight of Texas' fertilizer plant — which is part of the reason it's been difficult to determine why the blast occurred and how it could've been prevented.
Texas Tribune donors or members may be quoted or mentioned in our stories, or may be the subject of them. For a complete list of contributors, click here.
Texans need truth. Help us report it.
Our Fall Member Drive is underway, and we need your support. The Texas Tribune is a critical source of truth and information for Texans across the state and beyond — and our community of members, the readers who donate, make our work possible. Will you join as a member with a tax-deductible donation of any amount?
Yes, I'll donate today
---
Information about the authors
Explore related story topics