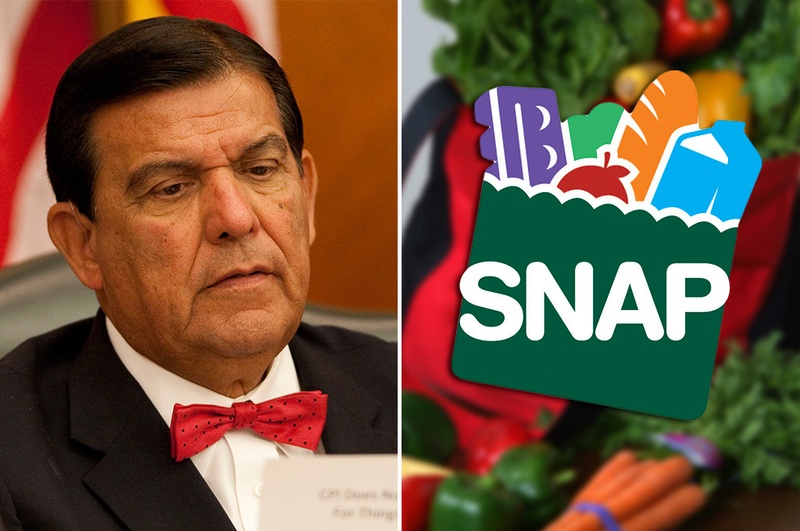 Updated, April 23, 5 p.m.:
The one in four Texas children who are food insecure could be assured a free meal every school day — breakfast — if a bill approved by the Senate on Tuesday continues to advance.
"Passage of this bill is crucial because so many Texas children rely on school meals during the academic year," Sen. Eddie Lucio Jr. said in a statement. "One in four Texas children are food insecure, meaning they are not certain where their next meal will come from. This bill helps close the gap between a hungry child and a healthy child."
Senate Bill 376, authored by Lucio, would require schools with 80 percent or more of their students qualifying for free or reduced-price meals to offer free breakfast to each student. The measure is cost-neutral and potentially profitable, according to the bill's analysis, because the schools could qualify for additional financial incentives.
The bill now moves to the House for further consideration.
Original story, Feb. 11:
*Correction appended.
The state must do more to help Texans living without consistent access to food, food bank leaders and policy analysts said Monday.

The leaders and other experts met with state Sen. Eddie Lucio Jr., D-Brownsville, who called a roundtable to discuss ideas on combating hunger in the state. About 20 individuals met in the Civil Rights Room at the Capitol to discuss possible legislation and the impact of food insecurity on Texans, especially children.
About 18 percent of Texans currently live without consistent access to food, according to a recent study by the group Feeding America.
Lucio said hunger is "an emotional issue" for him because he grew up in a family that sometimes struggled to make ends meet.
"There is something special to be able to work with people like you who really care," Lucio said at the meeting.
Getting healthy food to children should be a primary goal of the state, said Celia Cole, the CEO of the Texas Food Bank Network. A quarter of Texas children live in households without access to enough food, according to the Feeding America study.
"If I had to summarize what I think the purpose of the Legislature is, it is to nurture our children," Cole said. "Children who suffer from food insecurity can't learn. It affects their ability to grow into successful adults, and it affects their health."
Expanded access to school breakfast and lunch, as well as providing more food at schools during the summer, would help many children, she said. Senate Bill 376, filed by Lucio, would require schools to offer free breakfast during the school year to eligible students if at least 80 percent of their students qualify for free or reduced-cost breakfast.
Leaders of policy and advocacy organizations at the roundtable said they supported efforts to increase breakfast availability.
"Breakfast is not just about feeding kids," it's also about proper learning, said Rachel Cooper, a senior policy analyst for the Center for Public Policy Priorities. "How are they going to care about the Alamo if they haven't eaten since the day before?"
Legislators and anti-hunger advocates also need to ensure that all Texans who are eligible for the federal food stamps program, the Supplemental Nutrition Assistance Program, are accessing it, Cole said. Right now, only about two-thirds of eligible Texans are taking advantage of SNAP, she said.
It is in Texas' interest to help sign up more eligible citizens for SNAP because the federal program doesn't cost the state, Cole said.
State initiatives to fight obesity go hand in hand with anti-hunger efforts, said Dr. David Lakey, commissioner of the Department of State Health Services.
"If you don't have a place to buy nutritious food, you eat high-caloric food and can be obese," Lakey said. "It's a difficult challenge for us as a state."
The state should encourage the distribution of healthy food, including produce, through incentive programs and partnerships, said Lauren Dimitry, a health policy associate at Texans Care for Children.
Support for community gardens and urban agriculture could help more Texans access fruits and vegetables, Dimitry said. She praised SB 133, which would allow residents to create community gardens on some underutilized state lands.
Lucio said he hopes the roundtable will be the first of many gatherings of experts invested in combating hunger in Texas and said he will work to reduce hunger in Texas throughout the 83rd session.
*Editor's note: This story has been corrected to state Senate Bill 376, filed by Lucio, would require schools to offer free breakfast during the school year to eligible students if at least 80 percent — rather than 10 percent — of their students qualify for free or reduced-cost breakfast.
Texas Tribune donors or members may be quoted or mentioned in our stories, or may be the subject of them. For a complete list of contributors, click here.