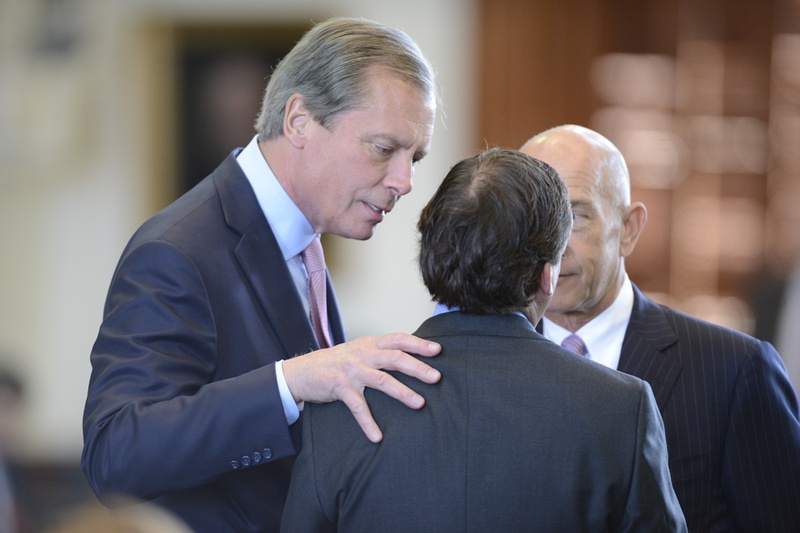 Lt. Gov. David Dewhurst indicated Wednesday that he shares the concerns of Texas senators who have called on the University of Texas System regents to use the attorney general's office for an external review of the University of Texas Law School Foundation.
The regents' intent to commission an external review of the foundation's now-defunct forgivable loan program for some faculty members of the University of Texas at Austin School of Law has been a flashpoint of controversy since it was approved at a tense March 20 meeting on a 4-3 split vote. The program has already been reviewed internally, but the regents opted to set aside the previous report — citing "fact discrepancies" — and start anew with outside investigators.
"With two prior audits revealing shortcomings that, I have been told, have since been fully corrected, spending an additional $500,000 of taxpayer and university money appears to many of our senators as a pretext to criticize the UT-Austin leadership," Dewhurst said.
A recent external review of another matter cost the system about $530,000, though UT Regent Alex Cranberg said at the meeting where the law school foundation review was approved that he hoped it would cost substantially less.
The Texas Tribune thanks its sponsors. Become one.
A majority of Texas senators have attached their name to a letter sent to Gene Powell, the chairman of the regents board, advising the regents to save money by using the attorney general's office for the review. The AG's office has previously looked over and agreed with the system's now-tabled internal review. Powell responded that no decision about how to proceed would be made until his staff met with the attorney general's, which he said will happen in the "next few weeks."
"I have spoken with Attorney General Greg Abbott about this issue," Dewhurst said in his statement, "and he agrees that his office has unique expertise in conducting investigations at no additional cost to Texas taxpayers."
Dewhurst also endorsed Abbott's ability to review the matter. "There is no question that the attorney general can and will conduct an impartial investigation," he said, "and he expressed that the has the resources and is willing to conduct an independent inquiry, should the UT System Board of Regents request that he do so."
Texas Tribune donors or members may be quoted or mentioned in our stories, or may be the subject of them. For a complete list of contributors, click here.