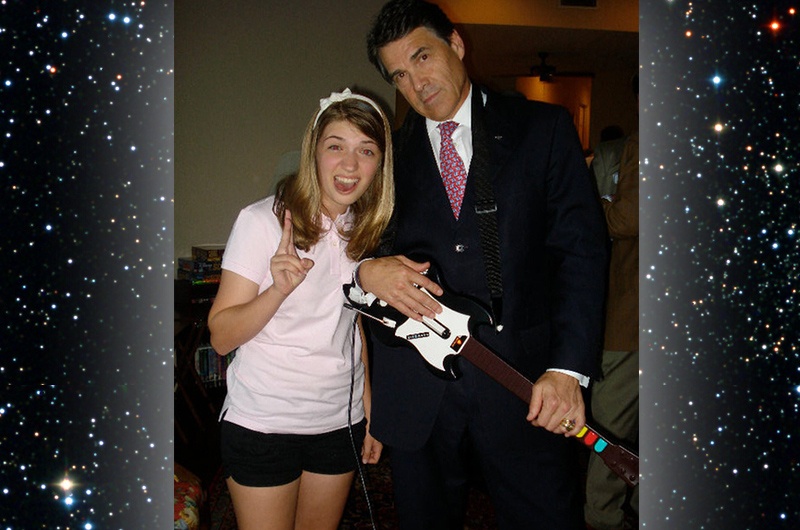 Much to the internet's delight, a picture of Gov. Rick Perry playing Guitar Hero with a teenager surfaced this week. We commemorate it on our latest playlist with Bread's "Guitar Man."
You can download Spotify (for free) to fully enjoy the experience. But even if you don't have the program, here's the rest of the latest playlist:
At the beginning of the week, there were fears that federal inaction to prevent automatic budget cuts — aka the sequester — could have serious consequences, with the calls for action reflected in the Elvis Presley song "A Little Less Conversation." Of course, that action never came, which is how we get to The Hold Steady's "Sequestered in Memphis." Yes, there is a Memphis, Texas.
It was announced that Perry's chief of staff, Ann Bishop, will return to her former job as the head of the state's Employees Retirement System. For her, we have "Going Back" by Phil Collins. And for lawmakers who criticized a colleague who proposed boosting disclosure requirements to include government contracts with businesses in which lawmakers or their family members own at least a 50 percent stake, we have Harold Melvin & The Blue Notes singing "If You Don't Know Me By Now."
The Texas Tribune thanks its sponsors. Become one.
The week also featured more discussion of Texas' refusal to expand Medicaid, inspiring the inclusion of Bruce Springsteen singing "How Can a Poor Man Stand Such Times and Live?" on the playlist. We wrote about the progress on the Texas stretch of the Keystone XL pipeline, so we added The Chantays' classic instrumental track, "Pipeline."
Lynyrd Skynyrd's "That Smell" is on the list as a reference to the acquittal of a woman whose conviction was based almost entirely on evidence from dog-scent lineups. Otis Redding's "Open the Door" refers to legislators who grew frustrated with the security policies at the Governor's Mansion.
And finally, in honor of Saturday's runoff election for the Senate District 6 seat, Blaze Foley's "Election Day."
Here's the playlist:
Texas Tribune donors or members may be quoted or mentioned in our stories, or may be the subject of them. For a complete list of contributors, click here.