Appeals Court Issues Acquittal in Dog-Scent Murder Case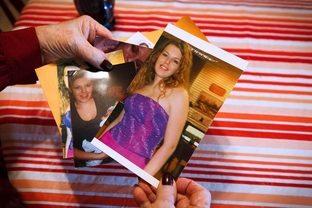 The Texas Court of Criminal Appeals on Wednesday issued an acquittal in the case of Megan Winfrey, 24, who has been behind bars since 2007 in a murder case in which her conviction was based almost entirely on evidence from dog-scent lineups.
Winfrey, along with her father, Richard Winfrey, and her brother Richard Winfrey Jr. were charged with the 2004 murder of school janitor Murray Burr in Coldspring. Richard Winfrey Jr. was acquitted by a jury in 2009. Richard Winfrey Sr. was convicted in 2007, but the Court of Appeals acquitted him in 2009, ruling that the dog-scent evidence was insufficient for his conviction.
The court's decision Wednesday in Megan Winfrey's case was based largely on the one it issued when it acquitted her father, finding that the state's evidence against her was insufficient. In her case, the San Jacinto district attorney had argued that along with dog-scent evidence, her suspicious behavior amounted to enough evidence to support her conviction. Prosecutors alleged, among other things, that she attempted to thwart DNA testing by shaving her pubic hair and that teachers at her school overheard her make threatening remarks about Burr and his money. The court disagreed with the prosecutors.
"Basing a finding of appellant's guilt on this evidence and all of the other evidence is, at best, 'mere theorizing or guessing' about [the] appellant's possible guilt rather than a reasonable inference based upon evidence and facts presented," the court wrote in its majority opinion.
Shirley Baccus-Lobel, Winfrey's lawyer, said she was unsure when Megan Winfrey would be released to be reunited with her father and brother and her daughter, who was an infant when her mother was imprisoned.
"I'm about to have a heart attack," said Richard Winfrey Sr., when he learned the news of the court's decision. He and his son have been living in North Dakota since Richard Winfrey Sr.'s release from prison, working in the oil fields to earn money for Megan Winfrey's legal fees. "I want to see my daughter and my granddaughter together and my son and my whole family back together. It's just a miracle."
San Jacinto County District Attorney Richard Countiss said he would review the court's opinion and make a decision about whether to seek a rehearing, which could delay Megan Winfrey's release. But he added he was not optimistic that such a request would be successful.
Countess said that he planned to talk to with local law enforcement officials to see whether there are any suspects to pursue or other avenues of investigation to discover who might have murdered Burr.
"This is a case I inherited when I took office," he said, adding, "This is just one of those hard cases you have to deal with."
Texas Tribune donors or members may be quoted or mentioned in our stories, or may be the subject of them. For a complete list of contributors, click here.