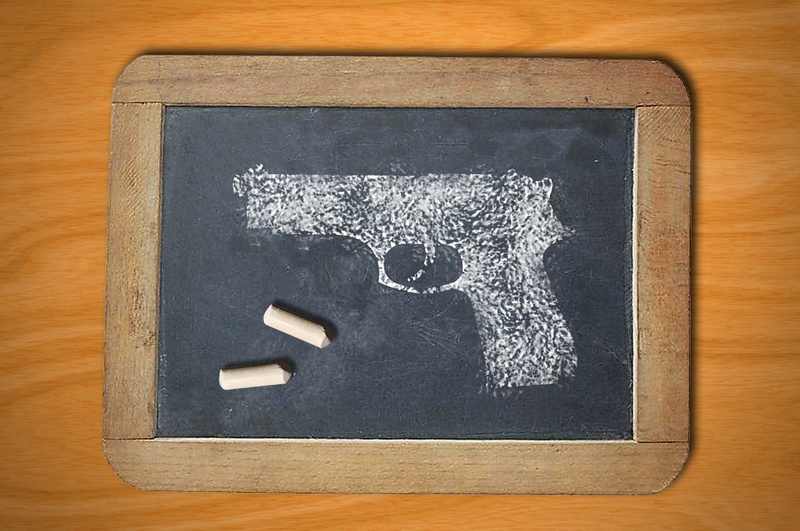 State Rep. Jason Villalba, R-Dallas, has filed a bill that would allow Texas schools to appoint "school marshals" — employees who could carry guns in an effort to protect students from violence.
"We're going to make sure the person serving is essentially a peace officer," Villalba said. "We've created a new class of law enforcement."
House Bill 1009, which Villalba is calling the Protection of Texas Children Act, would allow marshals with proper training and certification to be able to "use lethal force upon the occurrence of an attack in the classroom or elsewhere on campus."
"Whoever is serving as the school marshal acts immediately," Villalba said, explaining how the bill would help in "active shooter" situations. "The whole point of this is to reduce response times from minutes down to seconds."
The Texas Tribune thanks its sponsors. Become one.
Under current law, school districts in Texas can already grant written permission for employees to carry firearms on campus. Harrold ISD, a district in northwest Texas with roughly 100 students, allows teachers to carry concealed handguns under what it calls a "Guardian Plan," set up in the wake of the 2007 shooting at Virginia Tech.
Villalba's proposal, however, would regulate the process of designating and training the marshals. His bill would mandate mental health evaluation, active shooter and emergency situation training, and firearms proficiency requirements for the marshals, which would be paid for either by school districts or the employees themselves. There would be one armed employee for every 400 students, marshals who would be unidentifiable except to the school principal, law enforcement and school district administrators. The employees designated as school marshals would purchase and maintain their own weapons. A school district could also opt to provide the funding for training, which would involve about 80 hours of classroom work and simulations.
The proposal has its critics: Brian T. Woods, the superintendent of the Northside Independent School District in San Antonio, told The Texas Tribune that he was critical of approaches to school security that do not take into account mental health problems. "The notion of putting a police officer in every school no matter what is a very simplistic answer to a complex issue," he said.
At a Senate hearing last week, educators and law enforcement officers weighed in on the state of current laws. Dallas ISD Police Department Chief Craig Miller said that in the past, officers have "questioned whether or not the level of force they used was appropriate," and that he doesn't "want to see a teacher put in that position."
Lt. Gov. David Dewhurst has called for state funding dedicated to training school employees to carry concealed handguns.
Texas Tribune donors or members may be quoted or mentioned in our stories, or may be the subject of them. For a complete list of contributors, click here.