Tolling Texans: Toll Projects Proliferate as State Coffers Fall Short
Amid a lack of public financing to meet the state's transportation needs, Texas officials are increasingly looking to toll projects, some boosted by investments by private firms.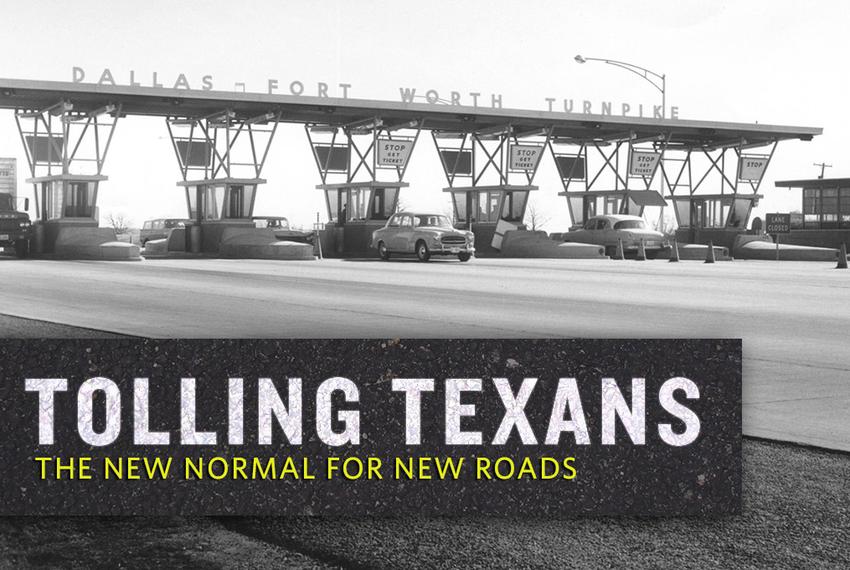 ---
A series on the growth of toll roads and lanes around the state.
The first major toll road in Texas, which opened in 1957, was a 30-mile, six-lane stretch of highway between Dallas and Fort Worth. A drive from one end to the other cost 50 cents.
By 1977, tolls had generated enough revenue to recoup the cost of the road's construction. The tollbooths were dutifully removed. Drivers know the Dallas-Fort Worth Turnpike today as Interstate 30.
Fast forward 35 years and I-30, while still free, is surrounded by billions of dollars in road projects featuring toll roads or lanes. It is a similar story on a smaller scale in the state's other urban centers as well as in some communities along the border with Mexico. As public officials across fast-growing Texas look for ways to build more roads amid a lack of public financing, toll revenue or investment from private firms hoping to collect that toll revenue are repeatedly emerging as the antidote.
In the view of many critics, tolling in Texas has shifted from an if-we-absolutely-must option to the default approach for major road projects.
"The day will surely come when, if you want to get from point A to point B, you're not going to have a choice but to get on a toll road," state Sen. John Carona, R-Dallas, warned at a panel discussion at The Texas Tribune Festival in September on transportation financing. "Well then, suddenly, a toll is just another tax. Let's not kid one another."
Fueling the current tolling boom is the transportation financing system in Texas, which falls far short of the state's needs. Federal and state gas taxes are the primary revenue source for road construction and maintenance. Despite rising construction costs and the improving fuel efficiency of cars, Texans pay the same 38.4 cents in federal and state taxes per gallon of gas as they did nearly 20 years ago. In recent years, the Texas Department of Transportation has borrowed billions of dollars to finance transportation projects.
A 2009 report by an advisory committee said Texas should invest about $4 billion more per year on its current road system just to prevent congestion from worsening. As proposals to raise more transportation revenue have failed to draw sufficient political support, charging a toll is now seen as one of the few viable paths to developing major routes.
"It's a tool you have to utilize in today's economic climate with the resources that we have," Phil Wilson, TxDOT's executive director, said in September. He also stressed that various officials from local communities must approve a toll project before it can move forward.
During the last six years, Texas has built more than 150 miles of toll roads. Well over 100 miles of additional toll projects are in the works.
The Houston and Dallas-Fort Worth areas lead the state in collecting tolls. The Harris County Toll Road Authority and the North Texas Tollway Authority are the country's ninth- and 10th-largest toll agencies in terms of revenue, collecting $881 million in 2011, according to the International Bridge, Tunnel and Turnpike Association.
Michael Morris, transportation director for the North Central Texas Council of Governments, credits tolls for the $14 billion in new road projects under construction in the Dallas-Fort Worth area.
"If you're the fourth-largest region in the country and you're growing by 1 million people every 10 years, you have to do something," Morris said.
"Whatever money we have now, it has to go to the maintenance of the system. So if we're going to have to build capacity, we're going to have to do it with new toll lanes or a new toll road."
Yet toll projects are extending to smaller and poorer parts of Texas like El Paso and Brownsville. In Hidalgo County in South Texas, the three toll road projects in development are viewed as preferable to raising taxes on the community at large, said Mike Perez, the McAllen city manager.
"The feeling is if you want to use it, you should pay for it," Perez said. "That's what I see in McAllen. There's a kind of hesitancy toward 'Let's all go together and pay for it so 20 percent can use it.'"
Adding to the increase in toll projects is interest from the private sector to build and run them. The easy-to-explain financing of the original Dallas-Fort Worth Turnpike — drivers pay tolls only until the bonds issued to finance the road's construction are paid off — is now often replaced by comprehensive development agreements designed to last for decades.
Cintra, a toll operator based in Spain, is the lead company in three large Texas toll projects, including the state's first privately operated toll road, a segment of State Highway 130 from Austin to Seguin that opened in October. The terms of all three contracts allow Cintra to collect tolls on the roads for roughly 50 years.
Nicolas Rubio, the president of Cintra's American arm, based in Austin, said contracts for such long periods are the only way companies like his can recoup the large upfront investment they make in building the roads and maintaining them.
"When you really look at these projects, the bulk of the revenues are back-ended, and you need to be patient until you can be able to get back that money," Rubio said.
He pointed to the LBJ Express, a project that will rebuild parts of Interstate 635 and Interstate 35E in Dallas and add toll lanes. A consortium led by Cintra is providing $2.2 billion in financing for the $2.7 billion project, and will maintain the corridor through 2061 in exchange for a portion of the toll revenue.
In 2009, TxDOT estimated that the project would yield $18.1 billion for a private firm over the life of the contract, public records show.
The first segment of the LBJ Express is expected to open toward the end of 2013, years earlier than would have been possible without private money, according to TxDOT.
Last year, the Legislature gave the department approval to pursue partnerships with private firms on seven road projects. Some business leaders are pushing for the approval of more such agreements while others hope that lawmakers create a more reliable revenue stream for the state's highway fund.
Amid the debate, some communities are proceeding cautiously with their initial forays into tolling. El Paso's first toll lanes will open next year along part of the César Chávez Border Highway despite concerns that the area is too poor for the project to draw enough paying drivers. El Paso officials added a clause to the city's agreement with TxDOT that requires the toll lanes to convert to free ones if, after 15 years, the project is not paying for itself.
State Rep. Joe Pickett, D-El Paso, said the clause ensures that El Paso is not stuck with underused toll lanes while traffic on the road's free lanes continues to worsen.
"It's not going to make us any money for a long time," Pickett said. "They're going to have to at least work on this and make sure it's something people are going to want to use."
This story is the second part in a four-part series on the growth of toll roads and lanes around the state. To view Part 1, an interactive map of toll projects around the state, click here. To view Part 3, which examines why toll lane projects are poised to spread across the state in the coming years, click here. To view the final part, a look at the long-term impact of Gov. Rick Perry's failed bid to build the Trans-Texas Corridor, click here.
Texas Tribune donors or members may be quoted or mentioned in our stories, or may be the subject of them. For a complete list of contributors, click here.
Texans need truth. Help us report it.
Our Fall Member Drive is underway, and we need your support. The Texas Tribune is a critical source of truth and information for Texans across the state and beyond — and our community of members, the readers who donate, make our work possible. Will you join as a member with a tax-deductible donation of any amount?
Yes, I'll donate today
---
Information about the authors
Explore related story topics