College Funding Turns on Definition of "Provide"
The state of Texas used to cover half of the costs of higher education at state colleges and universities. Now it's around 13 percent at the University of Texas at Austin and 22 percent at Texas A&M University in College Station.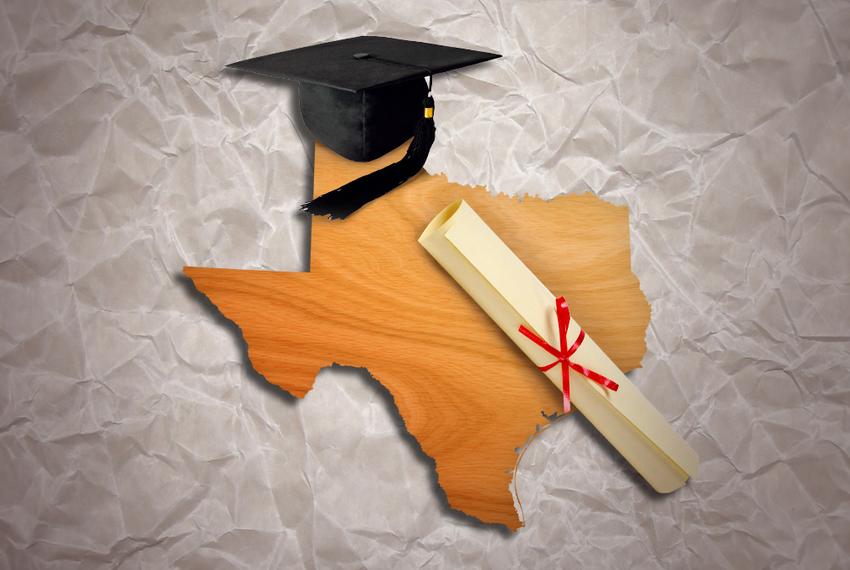 The Texas Constitution says the state will "provide for the maintenance, support and direction of a University of the first class."
In 1984, that meant about half of every dollar in higher education came out of the state budget. Today, it's closer to 13 percent at the University of Texas at Austin and 22 percent at Texas A&M University in College Station.
So, at that level, is the state really providing for the sort of education championed in its founding document?
That's fodder for debate. Lawyers could probably generate a room full of words over the obligations imparted by the word "provide." The bigger question is whether the state is doing enough, and whether doing enough — whatever that entails — necessarily requires more money.
Public education is the subject of ongoing litigation over state financing and constitutional requirements and such, a recurring battle that is almost universally expected to end with lawmakers changing spending patterns and perhaps trying to find more money for schools. But that's a different fight, because the state government is only part of a system that also includes local school districts that pay a share with locally raised taxes.
State colleges and universities get their money from a variety of sources, and some argue that the state isn't legally obligated to pay more or less than it does.
"I'm sure somebody out there is trying to sell a lawsuit on that one, too," state Sen. Kel Seliger, R-Amarillo, said when asked about the state's share of financing. He is the new chairman of the Senate's higher education committee and is boning up on finance and other issues in advance of the legislative session that begins in January. Seliger, a former mayor, is willing to look at all of the arguments, but he does not appear to be in the mood to answer higher-education questions with a checkbook.
"One could argue that just the establishment of that great university meets that obligation," Seliger said of UT-Austin. "Another question is, would that university be what it is without the participation of the state?"
He answers questions about Texas A&M the same way. "Do we have great universities? Yes," he said. "Would an awful lot of people like to see the state do more? Sure they would. A lot of people would like a lot more state money, but not more state. Improvement does not necessarily mean the infusion of more cash."
Legislators used to set tuition rates and also budgeted what the schools would get from the state. That had a certain political balance to it, because they were directly on the hook for the cost of education to parents and students, on one hand, and to taxpayers, on the other.
They gave that up a decade ago. Legislators still decide how much taxpayers should pay to keep state colleges and universities running, but the schools set their own tuition rates. If the state does not give them as much money as they need, they raise tuition. Legislators, no longer on that hook, can stand with their constituents and holler at the schools for making it so expensive to go to college.
Some of the state's burden has shifted to students and other financing sources. The state pays a lower percentage of the total cost than it used to, and the consumer price of education has gone up. It's still a political balancing act, but the tuition bill doesn't come due on election day, as it once did.
That's not to say lawmakers are disengaged, or that voters are happy with the tuition hikes they have seen over the last decade. The latest proposal from UT-Austin would put undergraduate tuition and fees at more than $10,000 a year for in-state students. Tuition made up 5 percent of the school's budget in 1984-85; now it's 25 percent. The providers are stirring.
"We need to look at the sources of all their money and how it's spent," Seliger said. "It might be that they need our help in deciding how their resources should be allocated. That would make some people unhappy, but it might be what's needed."
After all, the Constitution says they have to provide — it just doesn't say how.
Texas Tribune donors or members may be quoted or mentioned in our stories, or may be the subject of them. For a complete list of contributors, click here.
Texans need truth. Help us report it.
Our Fall Member Drive is underway, and we need your support. The Texas Tribune is a critical source of truth and information for Texans across the state and beyond — and our community of members, the readers who donate, make our work possible. Will you join as a member with a tax-deductible donation of any amount?
Yes, I'll donate today
---
Information about the authors
Explore related story topics