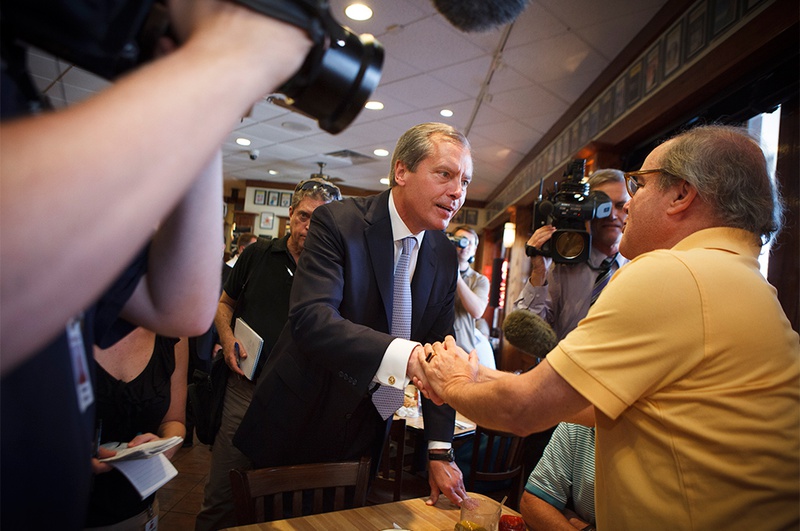 WASHINGTON — Lt. Gov. David Dewhurst attracted more support from single-candidate Super PACs than any other nonpresidential candidate this election season, according to a report released this week by Public Citizen, a Washington-based consumer advocacy organization.
Dewhurst's U.S. Senate candidacy attracted two Super PACs solely devoted to him, and together they spent more money on his campaign than Gov. Rick Perry attracted in single-candidate Super PAC expenditures for his failed presidential bid, according to the report.
The two Super PACs devoted solely to Dewhurst, the Texas Conservatives Fund and Conservative Renewal, together spent more than $6.4 million on the lieutenant governor.
The U.S. Senate candidate with the second-highest amount of support from single-candidate Super PACs was U.S. Rep. Connie Mack, R-Fla., who received $1.1 million from Freedom PAC. Perry received more than $4.1 million from Make Us Great Again and Americans for Rick Perry.
The Texas Tribune thanks its sponsors. Become one.
As a Super PAC, the Texas Conservatives Fund was not legally allowed to coordinate with the Dewhurst campaign. But Rob Johnson, Dewhurst's former chief of staff, was the PAC's executive director.
The Texas Conservatives Fund and Conservative Renewal were both backed by GOP mega-donors. Dallas billionaire Harold Simmons gave $1 million to the Texas Conservatives Fund and $500,000 to Conservative Renewal as part of the $18.8 million he has given to Republican Super PACs this election cycle.
Of the $20.5 million Houston homebuilder Bob Perry has donated to Republican Super PACs this election season, $400,000 went to the Texas Conservative Fund. Of Las Vegas casino mogul Sheldon Adelson's $36.5 million to such groups, $250,000 went to Conservative Renewal.
Cal Jillson, a political science professor at Southern Methodist University, said Dewhurst's support came from familiar names in Texas politics.
"David Dewhurst's campaign was run on his own resources and those of the Texas political establishment," Jillson said. "Bob Perry and Harold Simmons have been among the biggest political donors in Texas over the last 20 years."
Both Simmons and Bob Perry also gave $5,000 to Dewhurst's campaign committee.
The Texas Tribune thanks its sponsors. Become one.
Jillson said Ted Cruz, who defeated Dewhurst in the Republican primary, has not seen the mega-donors' support shift to him yet because of Cruz's weak Democratic opponent. But Cruz might still see some checks before the general, he said.
"Oftentimes the major donors give money to have the door open," Jillson said.
Cruz has received $6.9 million from Super PACs, according to the Center for Responsive Politics. But that support has come from established Super PACs, not single-candidate PACs. Most of his support has come from the Club for Growth, a national conservative group based in Washington.
There are no Super PACs on the Democratic side in the Texas senatorial race.
Super PACs are a result of the U.S Supreme Court's Citizens United ruling, which permitted unlimited corporate spending to influence elections.
Single-candidate Super PACs, particularly those founded, funded or managed by the candidates they support, call into question the court's rationale in the decision, said Taylor Lincoln, director of research for Public Citizen's Congress Watch division and the report's primary author.
"Once the spending is not independent, you're seeing the dissolution of the campaign finance laws," Lincoln said. "I think our report debunks the Supreme Court's theory. It leaves it intellectually baseless."
Texas Tribune donors or members may be quoted or mentioned in our stories, or may be the subject of them. For a complete list of contributors, click here.