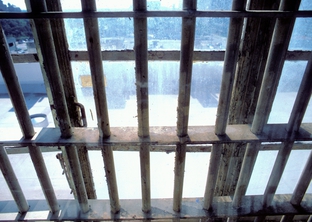 Summer is simmering to a start in Texas, and inmates and their families are renewing their annual calls for cooler conditions in the state's lockups.
While advocates worry particularly about heat conditions in a prison unit with recent water shortages, the U.S. Fifth Circuit Court is now considering arguments in a lawsuit against the Texas Department of Criminal Justice alleging that the sweltering living quarters constitute cruel and unusual punishment.
TDCJ spokesman Jason Clark said that the agency recognizes its responsibility to provide adequate water for inmates and that it strives to mitigate the effects of extreme heat.
"The agency is committed to making sure that all offenders and staff are safe," he said.
Just 19 of the 97 TDCJ prison facilities are fully air-conditioned. Another 37 are partially air-conditioned, and nine are ventilated with tempered air that is blown over cooled coils.
At the Connally Unit in Kenedy, about 60 miles southeast of San Antonio, a malfunction with the city's water well has caused shortages for weeks. The unit is not air conditioned, and with the Texas summer setting in, temperatures in the area are expected to rise into the triple digits soon. Advocates are worried for the prisoners' safety.
Normally, inmates are provided ice water to cool off during the hot summer months and stave off the adverse affects heat can have on the brain and other organs. The current water shortage should not excuse prison officials from providing adequate drinking water, Michelle Smith, prisoners' rights attorney with the Texas Civil Justice Project, wrote in a letter Tuesday to the criminal justice department.
Excessive heat is even more worrisome, she said, for inmates who are elderly or ill, and she urged TDCJ to move those who are at high risk to other units while the water problems are fixed.
"Under the United States Constitution, prison officials must provide remedies for heat, including fans, ice water, and showers. Failure to do so is cruel and unusual punishment," Smith wrote.
On Wednesday, Clark said water pressure had been restored at Connally and normal operations resumed, although the city asked the unit to conserve water. Now, he said, inmates are showering every other day. During the water interruptions, he said, TDCJ brought in three 500-gallon water trucks and a 6,000-gallon water tanker. Ice and water, he said, were distributed throughout the unit.
TDCJ is monitoring the water situation, Clark said.
Many of the prisons were built long before air conditioning was standard and prison officials have said that Texas taxpayers have little appetite to spend money to make scofflaws more comfortable during their incarceration.
Clark said a detailed analysis of the cost to provide air conditioning at all TDCJ units had not been done, but retrofitting the facilities, he said, would be "extremely expensive."
Inmates can buy fans to keep cool, and when the temperatures skyrocket, prison officials implement system-wide protocols to prevent overheating. Inmates are allowed more water, additional showers, and work hours and outside activity are reduced. Prison staff are trained to identify signs of heat-related illness.
The letter from the civil rights project comes just two weeks after the federal court in New Orleans heard arguments in its lawsuit against TDCJ alleging that the conditions are unconstitutional.
The Texas Civil Rights Project sued the TDCJ in 2008 on behalf of Eugene Blackmon, a 63-year-old minimum-security inmate with high blood pressure who was serving three years in the Garza East Unit in Beeville. Blackmon is now out of prison, but he said he suffered dizziness, nausea and headaches when the temperature in his cell soared up to 130 degrees Farenheit.
The civil rights organization said in oral arguments on June 5 that they weren't calling for air conditioning in all the prison units, but instead for appropriate accommodations for the high temperatures.
Prison officials argued in court documents that Blackmon did not show he suffered physical injury and that the issue was moot since he was no longer in that prison.
If the lawsuit is successful, it could affect prison conditions in the hot, humid southern states of Texas, Louisiana and Mississippi.