The Texas Weekly Index: How the New Districts Perform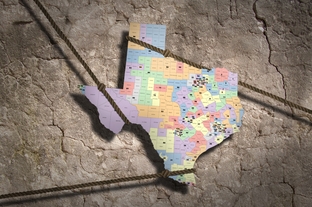 The new maps issued this week by federal judges in San Antonio bear strong resemblance to the maps drawn last year by the Republican supermajority in the Legislature. It shouldn't come as a surprise to find that those plans would, at least on paper, maintain the GOP advantage in the House, the Senate, and especially in the state's congressional delegation.
The court's maps include 97 districts in which statewide Republicans, on average, beat their Democratic opponents in the 2008 and 2010 elections. Nine districts — four of them currently occupied by Republican incumbents — are swing districts where one party or the other prevailed by less than 10 percentage points in the last two elections. Because of paired incumbents in some districts, there are eight open seats on the House maps; two of them are Democratic districts by the numbers and the rest are Republican districts. That number doesn't include 28 districts where the incumbents have decided to leave for one reason or another. With candidate filing reopening now that the redistricting maps are out, the number of open seats will almost certainly change.
On the new maps, 20 Senate districts — including one held by a Democrat, Wendy Davis of Fort Worth — voted Republican in statewide contests over the last two election cycles. Four senators have said they won't seek reelection.
In Congress, the Republican advantage is even bigger. Of the 36 districts, only 11 voted Democratic over those two election cycles and 25 voted for Republicans. One of those 25 is occupied by Democrat Lloyd Doggett, D-Austin, who'll move to a new district to run this year. And another has a small Republican TWI and is by almost any measure a swing district. That's CD-23, where U.S. Rep. Francisco "Quico" Canseco, R-San Antonio, is the incumbent. The congressional map includes four new seats that came to Texas because the population grew faster here than in other states. In addition, two members of the Texas delegation have said they won't seek reelection.
(You can download the attached files to get .pdf versions of the charts.)