Texas Joins Lawsuit to Challenge Contraceptive Rule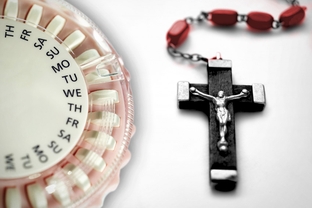 Enlarge
Graphic by Todd Wiseman / Esther Groen
Texas has joined six other states and a handful of Catholic organizations in a lawsuit challenging the constitutionality of a new health care rule approved by the federal government that would require all employers to include coverage for contraceptives in employees' health care benefits.
"Obamacare's latest mandate tramples the First Amendment's freedom of religion and compels people of faith to act contrary to their convictions," Texas Attorney General Greg Abbott said in a news release. "The very first amendment to our Constitution was intended to protect against this sort of government intrusion into our religious convictions."
Gov. Rick Perry in a statement commended Abbott for taking "much-needed action" in "an ongoing battle over out right to practice our faiths, and live our lives, without Washington interference."
"As is becoming all too predictable, the Obama Administration is continuing its unprecedented and unconstitutional intrusion into every facet of American life," he said.
The lawsuit alleges that the so-called contraception rule violates the First Amendment and the Religious Freedom Restoration Act by mandating religious organizations to provide coverage that violates their religious beliefs and allowing the federal government to "troll through an organization's religious beliefs" to determine whether the employer qualifies for an exemption.
---
Use this Tribune interactive to explore the other lawsuits brought by the Texas attorney general against the federal government.
---
Opposition to the contraception rule has been heated in Texas. Catholic-run businesses have been vocally opposed to the rule. Seton Healthcare Family, a nonprofit hospital system that serves 1.8 million Texans, vowed not to change its policies to include contraceptives in employees' health care coverage.
But many religious organizations that opposed the rule, including Seton, were appeased when President Obama revised the contraception rule this month to exempt religious organizations. The rule now requires insurance companies to ensure that women who work for exempted religious organizations receive contraceptive coverage.
The majority of Americans — 54 percent — approved of the revision of the rule to exempt religious organizations, according to a national poll reported by Politico. "An overwhelming majority of voters, 71 percent, said they believe health insurance plans should cover birth control as preventive care for women," according to the Politico article. "But they were narrowly split, 47 to 48 percent, on whether the government should require employers to provide workers insurance that covers birth control for free."
The revision was deemed a compromise nationally, but some organizations in Texas, such as the Texas Association of Business, still argued that the rule would force religious organizations to violate their religious beliefs.
Abbott said in the release that the "so-called 'accommodation' was nothing but a shell game: the mandate still requires religious organizations to subsidize and authorize conduct that conflicts with their religious beliefs."
The lawsuit also alleges that the "practical effect" of the contraceptive rule "will force religious employers to drop health insurance coverage" in order to avoid violating their religious beliefs. The attorney general's office says that would cause an increase in the number of enrollees in state-run health care programs such as Medicaid.
"Texans will not sit silently while the Obama administration continues to violate our religious liberty with more unconstitutional mandates," Lt. Gov. David Dewhurst said in a statement on the decision to join the lawsuit.
The Texas Association of Business is a corporate sponsor of The Texas Tribune.
Texas Tribune donors or members may be quoted or mentioned in our stories, or may be the subject of them. For a complete list of contributors, click here.