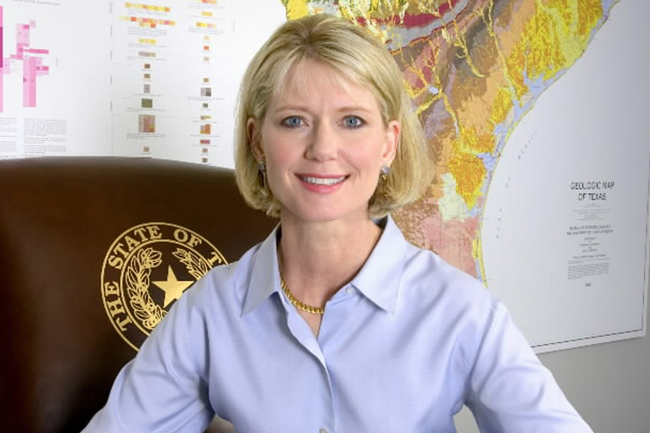 Elizabeth Ames Jones sent Gov. Rick Perry a letter this week quitting the Railroad Commission, but that didn't stop Sen. Jeff Wentworth's questions about whether she was eligible to serve there.
Jones is challenging Wentworth in the Republican primary for his San Antonio seat in the Senate. She's from San Antonio and reestablished her residency there before jumping into the Senate race.
Wentworth, citing a constitutional requirement that statewide officials live in the capital city, said that move made her ineligible for the commission.
Her first attempt to change the subject was a letter to Attorney General Greg Abbott, asking for his opinion on the question. After she wrote that, former Travis County Judge Bill Aleshire, a Democrat, filed a lawsuit asking Comptroller Susan Combs to stop paying Jones' salary, what with her being ineligible. Among other things, that lawsuit froze the Abbott letter; the AG doesn't generally weigh in once things are in the courts.
The Texas Tribune thanks its sponsors. Become one.
Then Jones decided to quit. Wentworth, however, didn't: He's now insisting she should return the salary she was paid between the time she declared her residency in San Antonio and the time she quit.
All of which leads to this: She'd much rather be talking about why Wentworth should go. Instead, he and another candidate in the race, Donna Campbell, have kept her job-hopping in the center ring.
The resignation gives the governor an opportunity to appoint a new commissioner to replace Jones. Three Republicans are in the race to replace her, and all three would presumably like the appointment. State Rep. Warren Chisum, R-Pampa, is ineligible, since he voted on the state budget that includes the salaries of the commissioners (he contests that, citing an attorney general's opinion from the 1960s). Christi Craddick and Roland Sledge are also in the hunt. Sledge issued a press release saying he had sent his application to Perry.
Aides to the governor say he hasn't make a decision.
Texas Tribune donors or members may be quoted or mentioned in our stories, or may be the subject of them. For a complete list of contributors, click here.