In the Money: Campaign Balances at Year-End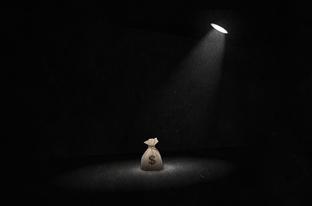 Enlarge
Illustration by Todd Wiseman
Once upon a time, a campaign account with $100,000 or more was a peculiar thing; if not rare, then at least one of a small group.
But that was back in the day: At the end of last year, there were 284 such committees, according to the campaign finance reports filed with the Texas Ethics Commission.
Another 28 committees got to the end of the year with $1 million or more in the bank. At the top of the list — winner and still champ, in this category — is Attorney General Greg Abbott, with $12 million in the bank. The next politician on the list (in the #4 position overall) is Comptroller Susan Combs, who has $6.1 million in the bank.
This isn't even an election year for either one of them.
Two political action committees affiliated with the Texas Association of Realtors were in the #2 and #3 positions, with $7.2 million and $6.1 million, respectively.
The top 100 committees held a total of $109.1 million at year-end. A total of 2,617 committees had at least some money on hand; all of them together held $173.3 million at the end of the year.
The full lists are on the Texas Ethics Commission's website (look here), but here's the leader board:
Top 100: Cash Balance at 2011 year-end
| Rank | Filer name | Balance |
| --- | --- | --- |
| 1 | Texans for Greg Abbott | $12,037,960 |
| 2 | Texas Association of Realtors Issues Mobilization PAC | $7,184,852 |
| 3 | Texas Association of REALTORS PAC | $6,119,493 |
| 4 | Friends of Susan Combs | $6,056,149 |
| 5 | Whitmire, John | $5,113,361 |
| 6 | Texans for Joe Straus | $4,013,869 |
| 7 | Texans For Lawsuit Reform PAC | $3,942,560 |
| 8 | Texans For Rick Perry | $2,471,480 |
| 9 | Texans for Dan Branch | $1,703,144 |
| 10 | Ellis, Rodney G. | $1,656,688 |
| 11 | Watson, Kirk P. | $1,551,539 |
| 12 | Texans for Todd Staples | $1,514,406 |
| 13 | Eltife, Kevin P. | $1,443,353 |
| 14 | Fraser for Texas Senate | $1,408,726 |
| 15 | Seliger, Kelton G. | $1,309,418 |
| 16 | West, Royce | $1,242,274 |
| 17 | Texas Dental Association PAC | $1,222,224 |
| 18 | Zaffirini, Judith | $1,203,493 |
| 19 | Wolens, Steven D. | $1,178,591 |
| 20 | Hegar Jr., Glenn A. | $1,177,917 |
| 21 | Craddick, Tom | $1,158,212 |
| 22 | Texans for Don Willett | $1,110,936 |
| 23 | Texas Farm Bureau Friends Of Agriculture Fund Inc. | $1,110,383 |
| 24 | Texas Medical Assn. PAC | $1,073,213 |
| 25 | Friends of Barry Smitherman | $1,059,591 |
| 26 | David Dewhurst Committee | $1,039,307 |
| 27 | Solomons, Burt | $1,010,711 |
| 28 | Texans for Dan Patrick | $1,004,940 |
| 29 | Nelson, Jane | $950,603 |
| 30 | Atmos Energy Corporation PAC | $895,772 |
| 31 | Greenberg Traurig, P. A. PAC | $864,600 |
| 32 | Paxton Jr., W. Kenneth | $853,876 |
| 33 | Armbrister, Kenneth | $829,341 |
| 34 | Farmers Employee & Agent PAC of Texas | $823,114 |
| 35 | Chisum, Warren D. | $755,623 |
| 36 | Pitts, James R. | $748,979 |
| 37 | Texas Society Of Certified Public Accountants PAC | $733,210 |
| 38 | Associated Republicans of Texas Campaign Fund | $726,739 |
| 39 | Texans for Kay Bailey Hutchison | $725,328 |
| 40 | Texans for Joan Huffman | $704,433 |
| 41 | Texas Credit Union League PAC | $701,883 |
| 42 | Republican State Leadership Committee PAC and Individual Account | $699,745 |
| 43 | Davis, Wendy R. | $681,362 |
| 44 | Texans for Tommy Williams | $676,965 |
| 45 | HDR, Inc. PAC | $660,648 |
| 46 | Mednax, Inc. Federal PAC | $643,340 |
| 47 | Texans for Ted Cruz | $616,062 |
| 48 | Eissler, W. Robert | $612,736 |
| 49 | Craddick, Christi L. | $609,477 |
| 50 | Guillen, Ryan A. | $609,045 |
| 51 | Texans for Kelly Hancock SPAC | $580,368 |
| 52 | Compass Bancshares, Inc. PAC | $579,938 |
| 53 | Friends of Tony Garza | $548,241 |
| 54 | Border Health PAC | $544,753 |
| 55 | Hunter, Todd A. | $535,275 |
| 56 | United Services Automobile Association Employee PAC | $531,499 |
| 57 | Texas Bankers Assn. Bankers PAC | $519,034 |
| 58 | McCall Ph.D., James B. | $511,231 |
| 59 | Texas Trial Lawyers Assn. PAC | $509,368 |
| 60 | Service Corp. International PAC | $491,587 |
| 61 | MetroTex Association of REALTORS PAC (MetroTex-PAC) | $491,404 |
| 62 | Turner, Sylvester | $490,008 |
| 63 | Texas Apartment Assn. PAC | $484,742 |
| 64 | MAVERICK PAC TEXAS | $468,922 |
| 65 | Friends of Dr. Greg Bonnen | $465,613 |
| 66 | Harris, Chris | $464,989 |
| 67 | Ogden, Stephen E. | $461,560 |
| 68 | Citizen Leader PAC | $450,638 |
| 69 | Cook, Byron Curtis | $447,454 |
| 70 | Texas State Teachers Assn. PAC | $445,510 |
| 71 | Texas and Southwestern Cattle Raisers Association State PAC | $444,350 |
| 72 | Comerica Inc. PAC | $434,667 |
| 73 | Lopez, Leticia | $429,561 |
| 74 | Kolkhorst, Lois W. | $421,061 |
| 75 | Howard, Charles F. | $412,142 |
| 76 | Patterson, Jerry E. | $411,507 |
| 77 | Annie's List | $386,851 |
| 78 | Hinojosa, Juan | $386,058 |
| 79 | Nichols, Robert Lee | $378,998 |
| 80 | Owens Corning Better Government Fund | $378,298 |
| 81 | Alvarado, Carol | $370,523 |
| 82 | Texas Deer Association PAC | $366,649 |
| 83 | Jackson, James M. | $364,823 |
| 84 | First Command PAC | $351,251 |
| 85 | RNDC PAC | $351,106 |
| 86 | Friends of Susan King | $350,786 |
| 87 | Keffer, James L. | $347,691 |
| 88 | Chesapeake Energy For Texans | $345,073 |
| 89 | Martinez Fischer, Trey | $333,161 |
| 90 | NRG Energy Inc. PAC | $330,669 |
| 91 | Texas Optometric PAC | $330,498 |
| 92 | NuStarpac | $330,152 |
| 93 | Shapiro, Florence | $329,966 |
| 94 | Texas Federation of Republican Women PAC | $329,717 |
| 95 | Geren, Charles L. | $321,102 |
| 96 | Laubenberg, Jodie A. | $319,883 |
| 97 | Texas Automobile Dealers Assn. PAC | $316,008 |
| 98 | Ritter, Allan B. | $315,294 |
| 99 | Reyna, Rose Guerra | $314,663 |
| 100 | Duncan, Robert L. | $313,085 |
Source: Texas Ethics Commission