On the Records: Leppert Releases Tax Returns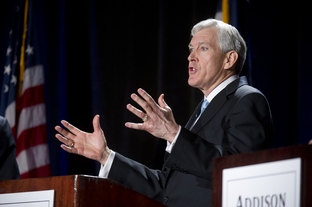 Former Dallas Mayor Tom Leppert today released his tax returns for 2008 through 2010, following the lead of his fellow Republican U.S. Senate candidates. Leppert reported an adjusted gross income of $443,000 in 2010, with $95,856 in total taxes.
In 2009, Leppert reported $1.2 million in adjusted gross income with $310,576 in taxes, and almost $1.5 million in profit with $344,061 in taxes for 2008.
According to a news release, Leppert and his wife, Laura, gave $536,450 to charities on behalf of the Leppert Family Foundation, which is used as their primary method of making charitable contributions. Leppert had $302,833 worth of tax-deductible charitable gifts listed on his tax returns, including a $150,000 donation made to the Leppert Family Foundation in 2008. The $302,833 does not represent any donations made on behalf of the foundation.
The release of Leppert's tax returns is the fourth in a line of similar releases by his fellow Senate candidates. Former ESPN analyst Craig James began the process with his release of tax filings from 2006 to 2010 late last week. James urged his fellow candidates to follow his lead and also release five years of returns. Lt. Gov. David Dewhurst released returns only from the last two years. Soon after Dewhurst, former Solicitor General Ted Cruz also released his returns. Like James, Cruz also released tax documents from the last five years.
As the Tribune did with previous candidates, we have embedded the returns below for viewing.
Charity Letter
2010
2009
2008
Texas Tribune donors or members may be quoted or mentioned in our stories, or may be the subject of them. For a complete list of contributors, click here.