On the Records: Dewhurst Releases Two Years of Tax Returns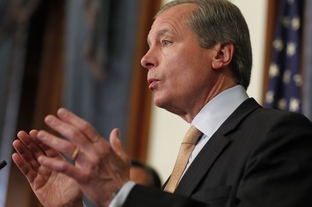 Following the lead of fellow Republican U.S. Senate candidate Craig James, Lt. Gov. David Dewhurst has released his tax returns from 2009 and 2010, along with an estimated return that reports an expected adjusted gross income of $5 million in 2011.
Dewhurst reported a total income of $1.01 million and tax payment of $281,188 in his 2010 report, and a $1.4 million loss and tax payment of $443,646 reported in his 2009 report.
In a press statement, the Dewhurst campaign highlighted the charitable contributions by Dewhurst and his wife, Patricia. Dewhurst gave $933,884 and $1,197,000 in 2009 and 2010, respectively, to a number of organizations, including the Boy Scouts of America, the Houston Symphony and Biblica.
James, the former ESPN analyst, released his returns on Thursday and urged his opponents — Dewhurst, former Dallas Mayor Tom Leppert and former Texas Solicitor General Ted Cruz — to release their returns from the past five years in the interest of transparency. Dewhurst followed suit less than 24 hours later, but only released returns from the last two years.
Below we have embedded Dewhurst's 2009 and 2010 tax returns, along with the estimated 2011 return.
Cruz and Leppert also indicated they will be releasing their returns over the next few days. As with James and Dewhurst, the Tribune will publish them when they become available.
2009
2010
2011 (Estimated)
Texas Tribune donors or members may be quoted or mentioned in our stories, or may be the subject of them. For a complete list of contributors, click here.