TribWeek: Top Texas News for the Week of 1/9/12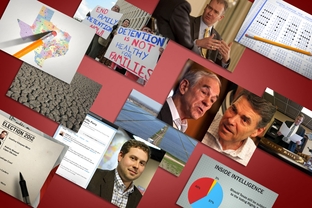 Ron Paul heads south riding the momentum of a second-place finish in New Hampshire, while Rick Perry has already made himself a fixture in the Palmetto State.
Perry launched his campaign for president exactly five months ago in Charleston, S.C. Once a front-runner in the Palmetto State, Perry is now hoping for a comeback to get some much-needed momentum.
Perry, polling in single digits in crucial South Carolina, is stepping up his attacks on the business record of GOP front-runner Mitt Romney.
Rick Perry's 28-year-old son, Griffin, has propelled himself into the headlines — and injected some much-needed energy into his father's decidedly downtrodden candidacy — with his Twitter missives from the campaign trail.
This year, for the first time, students' scores on standardized tests will count 15 percent toward their final grades. It sounds straightforward, but how some districts are applying the so-called 15 percent rule threatens to spark the next political battle over a test that has seen plenty of them.
At this week's TribLive conversation, conservative activist Michael Quinn Sullivan defended the infamous scorecard he publishes grading the fiscal conservatism of state lawmakers, talked about why Empower Texans doesn't post its financial records or disclose its donors on its website and discussed what he doesn't like about Speaker Joe Straus' leadership of the Texas House. Here's the full interview.
If the federal courts don't come up with political maps in the next three weeks, Texas probably won't be able to hold primary elections on April 3.
As the economy begins to show signs of life, efforts are under way at two-year colleges across Texas to make the state's higher-ed offerings more responsive to the labor market.
Michael Morton's lawyer on the fight to obtain DNA testing that ultimately proved Morton's innocence in the death of his wife.
Texas' greenhouse gas battles are about to heat up again. Next month, a federal court hears oral arguments in lawsuits that Texas has filed against the EPA, which began regulating heat-trapping emissions a year ago. But the agency is hardly backing down.
The Obama administration plans to ease restrictions on illegal immigrants trying to re-enter the U.S. after applying for legal status. Some aren't sold that the move is a significant step.
Texas Tribune donors or members may be quoted or mentioned in our stories, or may be the subject of them. For a complete list of contributors, click here.