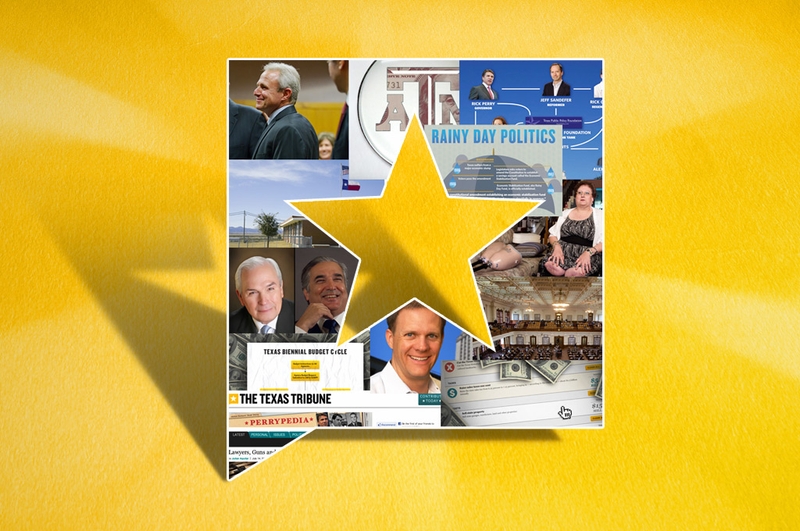 In the spirit of our regular offerings in TribWeek and TribMonth, we present TribYear: 10 of our best stories from 2011.
The Texas Tribune covered its first legislative session in 2011 and its first presidential campaign. A Republican supermajority that took office after the 2010 elections controlled the session. The leading topic of the six-month lawmaking marathon was the budget, followed by redistricting and a host of issues that grew out of the 2010 elections and took root as legislation. Education — both the public and higher varieties — was an important story line in 2011, as were criminal justice issues, health care, immigration and, as always, politics and general government. Herewith, a sampling of some of our best work of the year:
• The governor who would be president, detailed in our PerryPedia.
• Why it's so hard to sue over emergency room mistakes.
The Texas Tribune thanks its sponsors. Become one.
• Thousands of untested rape kits that are gathering dust on property storage room shelves.
• Whether a small town would survive without a school district.
• The fight over higher education accountability (see, for instance, here, here, here, here, here and here).
• Infographics on the Rainy Day Fund and the budgeting process.
• An interactive app that lets you balance the Texas budget.
• Recapping 20 weeks at the Capitol in which the budget held sway.
The Texas Tribune thanks its sponsors. Become one.
• Thirty-one ways the Legislature's work changed Texas on September 1.
• The case of Michael Morton, wrongly convicted of the 1986 murder of his wife.
Texas Tribune donors or members may be quoted or mentioned in our stories, or may be the subject of them. For a complete list of contributors, click here.