TribWeek: Top Texas News for the Week of 12/12/11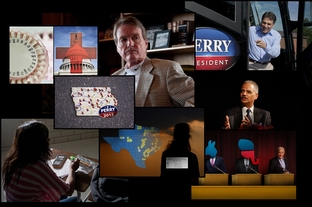 Rick Perry has done something his opponents have been hoping he'd do for years: retire. But it's not what the governor's detractors had in mind.
Our latest interactive shows the demographics of poverty in each Texas county using data from the American Community Survey. Browse the maps to compare poverty rates by age, sex, race and ethnicity, educational attainment and employment.
The warning from U.S. Attorney General Eric Holder was polite but firm: The U.S. Department of Justice will not stand idly by if it feels Texas intends to halt or reverse gains for minority voting rights.
Rules requiring the disclosure of chemicals used in the controversial hydraulic fracturing process will take effect in Texas in February, the Texas Railroad Commission decided this week.
Leading a national downward trend in the use of the death penalty, Texas has executed just 13 prisoners so far in 2011, the lowest number in more than a decade. And juries meted out only eight new death sentences.
It's been a year marked by high profile wars waged by UT President Bill Powers — to some, the university's Dumbledore; to others, a bee in the bonnet of higher education reformers. The latest drama is unfolding in the law school he used to run.
While more Texans are being diagnosed with mental illness every year, experts say there aren't enough psychiatrists or behavioral health professionals to meet growing demand. Use our video and interactive county-by-county maps to find out why.
The U.S. Department of Health and Human Services has turned down Texas' request to run a family planning program that excludes some providers — namely Planned Parenthood. But it approved Texas' request for a waiver to expand Medicaid managed care.
Texas Tribune donors or members may be quoted or mentioned in our stories, or may be the subject of them. For a complete list of contributors, click here.