TribWeek: Top Texas News for the Week of 11/28/11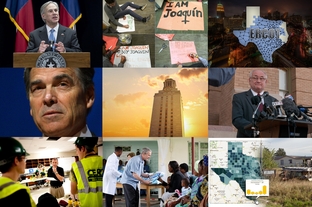 In 2010, 4.4 million Texans lived below the poverty line, according to U.S. Census Bureau data released Tuesday. Poverty has increased in more than 200 counties across Texas since 2007, the year before the recession hit. Use our interactive maps to explore the change in annual poverty rates and the median household income in your county.
In the wake of an illegal immigrant's suicide last week, Texas groups urging passage of the DREAM Act are aiming to make sure what happened to Joaquin Luna doesn't happen to other students.
In a report released Thursday, the state's electric grid operator indicated that next summer could see a repeat of the rolling blackout threats that plagued Texas past summer. The reason: rising demand for electricity and some power plants going offline.
Judge Ken Anderson, the former prosecutor who saw to the wrongful conviction of Michael Morton, said during a marathon deposition that he remembered few of the details from the 25-year-old case and that he did nothing wrong.
Could the state's public universities go through the so-called sunset review process, forcing them to periodically defend their existence to state legislators?
Pending any legal intervention, the three court-issued redistricting maps (House, Senate and Congress) and the State Board of Education map drawn up by the 82nd Legislature are now in effect. Use our interactive to see which district you live in now and who represents you.
Candidates began filing for the March 6 primary elections Monday, while the Texas attorney general asked the U.S. Supreme Court to block legislative and congressional maps drawn by a San Antonio court — even if it means delaying some primaries to May 22.
Rick Perry sharpened his populist tirade against Wall Street financiers and Washington politicians Wednesday, saying Americans had been "snookered" by bogus investments and a string of taxpayer-financed bailouts.
For-profit, alternative certification teaching programs are booming in Texas. Every year since 2007, the two largest programs have produced far more teachers than any other traditional or alternative program.
Former President George W. Bush will take his first post-White House trip to Africa to help combat cervical and breast cancer among women. Meanwhile, his home state is struggling to provide the same services to low-income women.
Texas Tribune donors or members may be quoted or mentioned in our stories, or may be the subject of them. For a complete list of contributors, click here.