Court Proposes New Congressional Maps for Texas
A panel of three federal judges in San Antonio proposed new congressional districts for Texas Wednesday. The map is a proposal; the court is seeking comments from the parties by noon Friday.
A panel of three federal judges in San Antonio proposed new congressional districts for Texas Wednesday. The map is a proposal; the court is seeking comments from the parties by noon Friday.
The court's map creates four new district where minority voters have the upper hand, effectively creating that many new opportunities for Texas Democrats. A spokeswoman for Attorney General Greg Abbott said the judges ignored the law.
"The court's proposed Congressional map seems to depart from the law just as much as its proposed state legislative maps," said Lauren Bean. "The court issued a map without any explanation, but still, it seems apparent that the proposed map misapplies federal law and continues the court's trend of inappropriately venturing into political policymaking rather than simply applying the law. Perhaps worst, in the name of protecting Hispanic voting power, the court seems to be discarding already elected Republican Hispanics in favor of drawing maps that may elect Democratic Hispanics. That is not and should not be the proper role of the court or the proper application of the Voting Rights Act. If the final interim map does not meaningfully change, the Texas Attorney General's Office is prepared to immediately appeal to the U.S. Supreme Court to correct this improper overreach by unelected federal judges."
Democratic gubernatorial candidate Bill White won in 12 of the 36 districts in the new map while losing the state. Barack Obama won in 13 of them, including in CD-23, where U.S. Rep. Francisco "Quico" Canseco, R-San Antonio, is the incumbent. No other Republicans are in districts where the Democrats won (in 2010, White lost the district with 47.8 percent of the vote). No Democratic incumbents got new districts where Republicans won at the top of the ticket.
It looks like U.S. Rep. Lloyd Doggett, D-Austin, and state Rep. Joaquin Castro, D-San Antonio, won't be running against each other. Castro is in a district that doesn't reach Doggett's Travis County. And Doggett has a map that could work for his reelection.
The new congressional map apparently sinks the hopes of former Secretary of State Roger Williams and former Texas Railroad Commissioner Michael Williams. Both men started the election cycle vying for the Republican nomination for the U.S. Senate seat now held by Kay Bailey Hutchison. With the oxygen in that race gulped up by Lt. Gov. David Dewhurst, former Dallas Mayor Tom Leppert and former Solicitor General Ted Cruz, both jumped to congressional races. And now, the districts they chose have been redrawn. Under the court plan, Roger Williams lives in a congressional district represented by Republican Kay Granger, a former Fort Worth mayor. Michael Williams would still be in a district represented by Austin Democrat Lloyd Doggett. But where the Legislature's map gave Doggett a fatal dose of Republican voters, the new district is made for a Democrat. Candidate Williams, in each case, is the odd man out.
U.S. Rep. Blake Farenthold, R-Corpus Christi, now has a district with nearly 200,000 Harris County residents. Former Harris County Tax Assessor-Collector Paul Bettencourt says "people have encouraged me to look at it." Nueces County, where Farenthold is from, has about half as many people in the district.
Texas got four new seats as a result of reapportionment because it grew faster than other states. White and Obama won in three of them; in the new CD-36, both lost.
The court's proposal includes 13 districts where minorities make up more than half of the population, including eight where Hispanics alone are in the majority. One is a new open seat in Tarrant County; state Rep. Marc Veasey, D-Fort Worth, said via text message that he'll be a candidate: "Yes, I'm in and glad that my efforts help make this a reality for Tarrant County residents."
Here's the map (and a link to a bigger version on the Texas Legislative Council's website):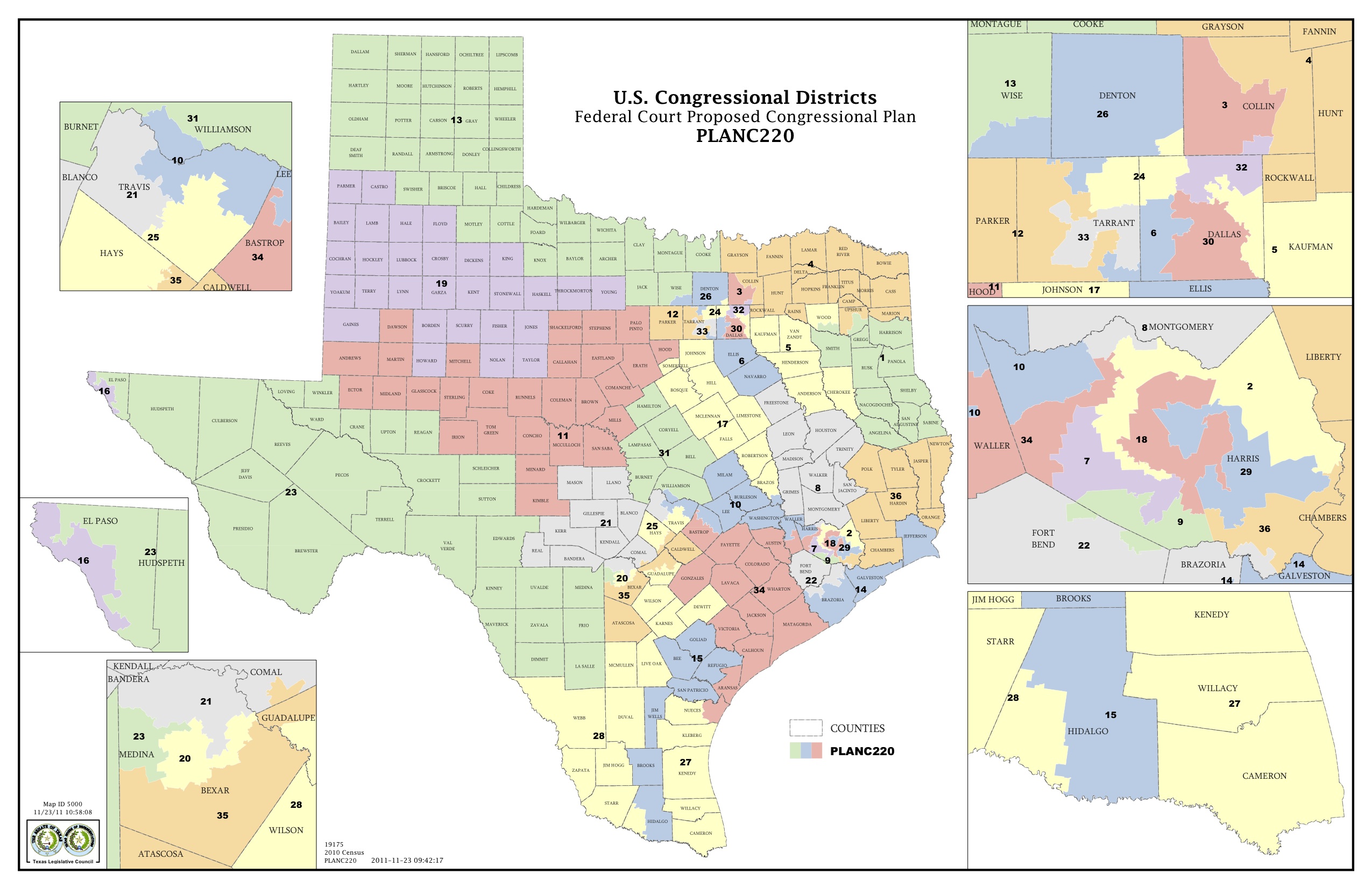 Texas Tribune donors or members may be quoted or mentioned in our stories, or may be the subject of them. For a complete list of contributors, click here.
Support public-service journalism that gets the context right
Your donations make our reporting possible and keep it free for all to access. Support our nonprofit newsroom by May 11, and your gift will help us unlock $25,000 in matching funds from our partners at Tito's Handmade Vodka, the Bernard & Audre Rapoport Foundation and the Suzanne Deal Booth Charitable Trust.
Yes, I'll donate today