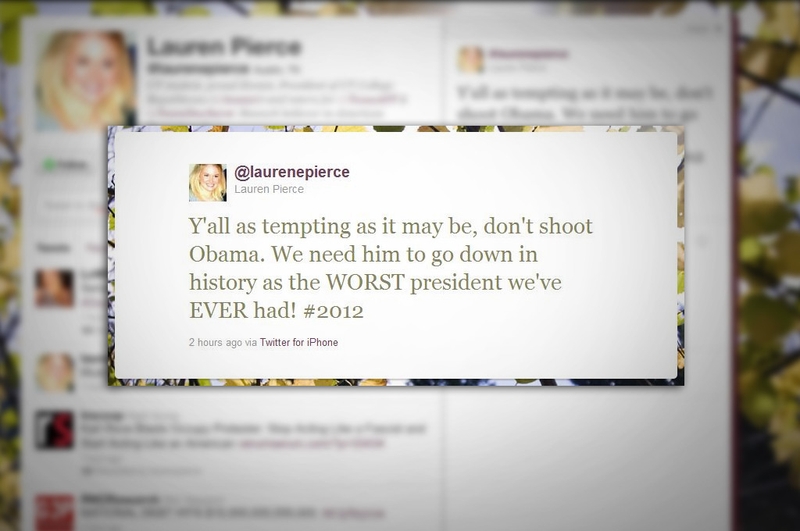 Despite what you may have seen in the media today, Lauren Pierce, president of College Republicans at the University of Texas at Austin, says she really does not have any desire to shoot President Obama.
Earlier today, on the heels of news reports about a young Idaho man allegedly firing shots at the White House, Pierce tweeted to her roughly 480 followers,"Y'all as tempting as it may be, don't shoot Obama. We need him to go down in history as the WORST president we've EVER had! #2012."
In less than an hour and a half, ABC News' political blog The Note had posted a story with the headline "Texas College GOP Leader: Obama Assassination 'Tempting.'"
"This is so stupid," Pierce, an intern for the conservative advocacy group Americans for Prosperity-Texas and for Lt. Gov. David Dewhurst's campaign for U.S. Senate, told the Tribune. "He makes it sound like I'm saying I want to do it, but that's totally not the case."
The Texas Tribune thanks its sponsors. Become one.
Not that she wants anyone else to do it. "I was essentially just saying any kind of assassination attempt is just stupid," she said. "It's not going to do anything."
Any insinuation that she was revealing a murderous desire is "blown out of proportion" and "sensationalist," she said, noting that earlier this week she had a back-and-forth with Gregory Krieg, who wrote the story for ABC News, about Gov. Rick Perry's stance on aid to Israel. (In her Twitter profile, Pierce describes herself as a "proud Zionist.")
Though Krieg isn't the only one looking askance at her tweet. UT student body president Natalie Butler told the Tribune, "I think it's in poor taste."
Pierce is not afraid to put herself out there. In her work with Americans for Prosperity-Texas, she has been a vocal advocate of reforming higher education in the state, as seen in this video:
Peggy Venable, the state director of Americans for Prosperity-Texas, said in an email, "Our President's security is of utmost importance to all Americans. While inappropriate and an error in judgment, I am convinced that Lauren had no ill intent."
The Texas Tribune thanks its sponsors. Become one.
Matt Hirsch, a spokesman for the Dewhurst campaign, was less forgiving in an email, saying, "Rhetoric like this is unacceptable. It does nothing more than distract from the real issues facing our country."
Venable said there is a lesson to be learned. "[Pierce] is a college student and realizes now that Twitter and other new media communications could easily be misconstrued," she said.
Meanwhile, when asked if she would take down the Tweet in question, Pierce, who said she is not a threat and has not been contacted by the U.S. Secret Service, said, "I don't know why I would."
But after she got off the phone with the Tribune, she began walking it back, tweeting, "I apologize for my previous tweet. It was in poor taste and and should never have been written." She quickly followed that with another Tweet, saying, "It's never funny to joke about such a serious matter. I have learned a very valuable lesson." And finally, just to be sure, she said, "Again, I apologize to everyone that was offended."
Then, she deleted the original tweet.
Texas Tribune donors or members may be quoted or mentioned in our stories, or may be the subject of them. For a complete list of contributors, click here.