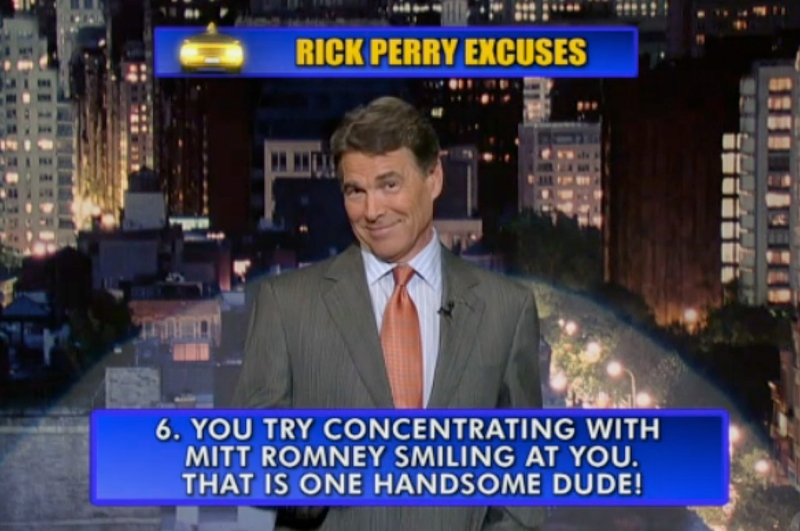 One day after he experienced arguably the most humiliating gaffe of his political career, Gov. Rick Perry poked fun at himself on The Late Show with David Letterman by delivering the night's "Top 10" list.
Letterman couldn't help referring to his guest in his monologue, saying he had a trio of concerns about Perry, including his conservative politics, his debating skills, and "three... crap. What was three?"
Perry entered the stage looking visibly giddy before saluting the audience. He delivered the "Top 10 Rick Perry Excuses" for failing to remember the third federal agency he would abolish during Wednesday evening's CNBC debate.
Here it is.
The Texas Tribune thanks its sponsors. Become one.
The Top Ten:
10. Actually, there were three reasons I messed up last night. 1.) the nerves. 2.) the headache and 3.) ummm ... uh ... oops.
9. I don't know what you're talking about. I think things went well.
8. I was up late last night watching Dancing with the Stars.
The Texas Tribune thanks its sponsors. Become one.
7. I thought the debate was tonight.
6. You try concentrating with Mitt Romney smiling at you. That is one handsome dude!
5. Uh, El Niño?
4. I had a 5-Hour Energy drink six hours before the debate.
3. I really hoped it would get me on my favorite talk show, but instead I ended up here.
2. I wanted to help take the heat off my buddy Herman Cain.
1. I just learned Justin Bieber is my father.
Texas Tribune donors or members may be quoted or mentioned in our stories, or may be the subject of them. For a complete list of contributors, click here.