In the Panhandle, the Dying Art of Windmilling Hangs On — For Now
Thousands of windmills still exist in remote Texas pastures, pumping water from aquifers for cattle to drink. But the dwinding group of men who sell and fix windmills face hard times due to the drought and competition from solar pumps.
CLAUDE — Working 35 feet above the flat earth of the Panhandle, a young man in a baseball cap loosened the bolts attaching a windmill to a steel tower.
"Ready?" came the shout from the ground. "Yeah, go ahead," he hollered back. Slowly, the 500-pound windmill was lowered to the ground. A four-man crew expertly dismantled the wheel and replaced the motor, which had stopped working after it ran out of oil, and within an hour the windmill was hoisted back up and ready to spin.
"This is kind of hard to do when it's windy," said Mike Crowell, the crew's 59-year-old boss, who said his crews sometimes work on as many as nine windmills each day.
Only a few dozen outfits like Crowell's still exist in the Texas Panhandle, practicing the dying art of "windmilling" — fixing the old-style whirligigs that pump water from the aquifers. Windmills were crucial to 19th-century settlers of West Texas and the Great Plains because little surface water existed. Now, thousands of them — far smaller than the giant electricity-producing turbines that have sprouted around West Texas in recent years — still twirl in remote pastures. The windmills go where electricity cannot reach and cattle need to drink, though cheaper solar pumps are starting to push them out.
"Obama wants everybody to go green," said Bob Bracher, the president of Aermotor Windmill, a company that has manufactured windmills for more than 100 years and still makes a few thousand of them each year in a warehouse in San Angelo. "Well, hell, we've been green since 1888."
Much has changed since then. Now, some of Bracher's sales go to what he calls the "enthusiasts' market," meaning people who want a windmill simply for its iconic look.
But the windmiller profession, celebrated by novelists like Larry McMurtry and Annie Proulx, still hangs on in remote corners of Texas. Crowell's family has been working on windmills since 1896, when his grandfather traded 60 horses for a rig to drill wells. He learned the trade from his father and uncle, and now his two sons, both in their 20s, have joined the business. He has high hopes for his five grandsons, who occasionally come to watch the work.
"Some of the best features of being a windmill man is we go out on places that only a cowboy will see once in awhile," said
Crowell, who sometimes works in the scenic Palo Duro Canyon as well as on vast ranches that have 80 or more windmills apiece.
But windmilling can be difficult and dangerous. Crowell needed stitches after another worker atop a windmill dropped a hammer on his head. Work goes on year-round, despite occasionally ferocious winds and ice storms, because if a windmill has stopped pumping water, cattle can die.
"It takes a certain kind of person to be able to stand that type of work environment," Crowell said.
This year, the weather has brought extreme heat and drought — which has meant boom times for both Aermotor and Crowell Water Well Service, Crowell's company. Desperate for new sources of water, Texas ranchers have drilled more wells and ordered more windmills.
"We have been very busy this summer because there's no surface water, and the cattle sure need to drink somewhere," Mr. Crowell said.
Now, however, things have gotten so bad that ranchers have sold huge numbers of cattle, so business is likely to slow during the winter.
"When there's no grass and no cattle, there's no need for water out of windmills," Bracher of Aermotor said.
Windmills also face a competitive threat from solar pumps, which have recently made significant inroads. Crowell says he spends about 70 percent of his time on windmills but also works on solar pumps, which he began seeing in the Panhandle in the late 1990s.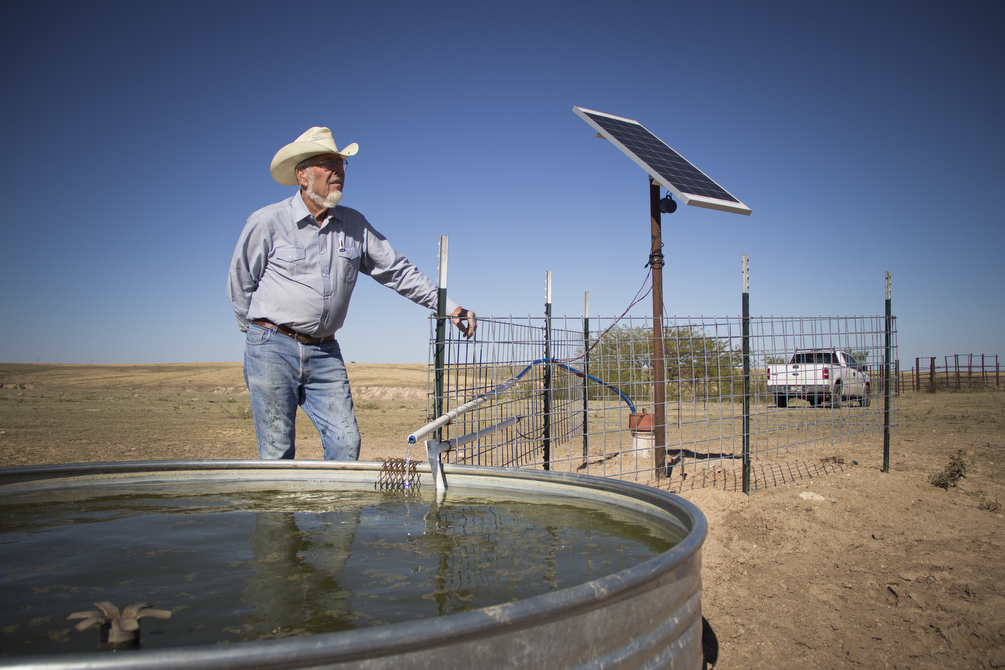 "Nearly every rancher I know is contemplating going solar," said Delbert Trew, who ranches on rolling prairie about 40 miles east of Claude, Crowell's base. He got rid of three windmills about five years ago — they were too expensive to maintain, he said — and bought a solar-powered pump from an Oklahoma company called Robison Solar Systems.
Bill Hoots, a sales executive at Robison, said that things have been "extremely, extremely busy" until recently, though they are now slowing as in the windmill business as ranchers sell off cattle. Dan Prangsgaard, a spokesman for Grundfos, a Danish pump manufacturer, said that growth in the solar pump business has almost tripled in the last two to three years.
Windmills last about 60 years, longer than solar pumps, according to Brian Vick, the lead scientist for renewable energy at a federal agricultural research laboratory in the Panhandle community of Bushland. But windmills need more maintenance and the solar pumps — which are cheaper up front — are better matched to the summertime needs of cattle, he said, because August and September tend to have little wind and lots of sun.
"You have to haul some water out to the cattle during that period sometimes, especially if the winds are low," Vick said.
Ranchers putting in windmills and solar pumps can get substantial subsidies via the Natural Resources Conservation Service, a branch of the federal Department of Agriculture. Under the N.R.C.S.'s Environmental Quality Incentives Program, Texas ranchers have recently been eligible for payments of about $6,000 for a solar pump installation atop a well that's more than 300 feet deep, according to Troy Headings, a civil engineer in Amarillo with the N.R.C.S. The payment runs about $7,260 for a 10-foot diameter windmill, and the rationale, he said, is to make sure cattle graze the entire pasture, "rather than concentrating around one water source and completely denuding that area of grass."
The federal program can cover about 40 to 60 percent of the installed cost of a windmill or solar pump, according to Mr. Crowell.
Will solar pumps ever eclipse windmills in West Texas? Vick, of the Bushland agricultural research laboratory, said that the windmills have "still got a pretty good future for another 20 or 30 years or so."
Plenty of ranchers still swear by the machines, whose design has changed little in a century.
Rocky Farrar, a rancher near Canadian, has about 15 windmills on his land, and although he installed a solar pump a few months ago, he still hasn't turned it on.
"I'm just not ready to do that," Farrar said. "I don't know why." He said he loves the sound of the windmills, which have given him little maintenance trouble over the years.
"I think as long as you have any old-school people left," Farrar said, "you're going to have windmills."
Texas Tribune donors or members may be quoted or mentioned in our stories, or may be the subject of them. For a complete list of contributors, click here.
---
Information about the authors
Quality journalism doesn't come free
Perhaps it goes without saying — but producing quality journalism isn't cheap. At a time when newsroom resources and revenue across the country are declining, The Texas Tribune remains committed to sustaining our mission: creating a more engaged and informed Texas with every story we cover, every event we convene and every newsletter we send. As a nonprofit newsroom, we rely on members to help keep our stories free and our events open to the public. Do you value our journalism? Show us with your support.
Yes, I'll donate today